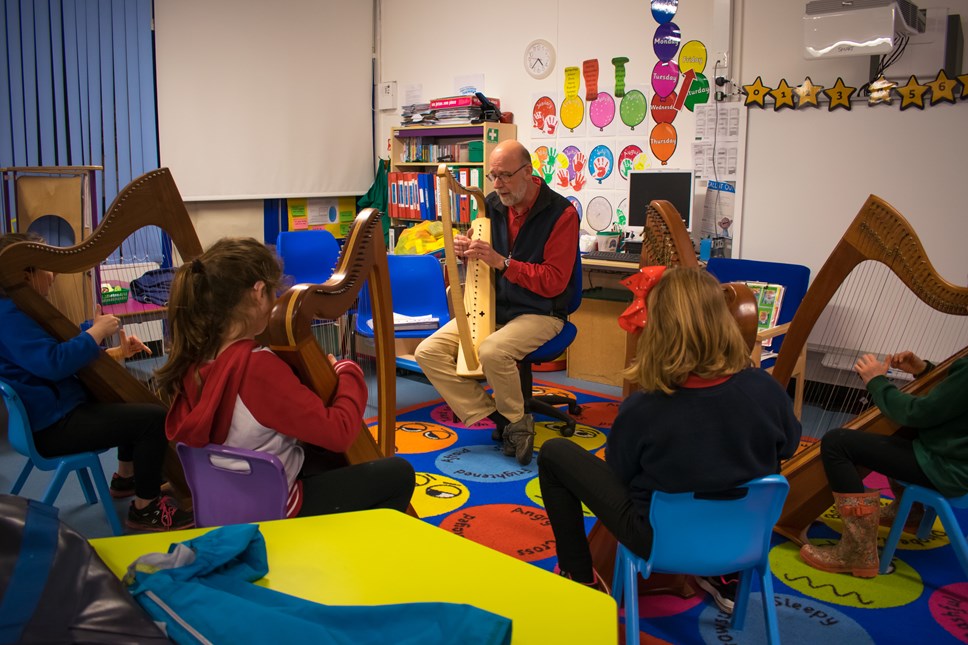 Young People across Scotland get musical thanks to Scottish Government YMI Funding
£1.2million for Youth Music Activities.
Young people across Scotland are set to access a wide range of music making activities and opportunities thanks to £1.2m funding to 44 community projects across the country.
Online concerts, virtual tuition sessions, networking and development opportunities, as well as tailored mentoring programmes are among the activities being supported by Creative Scotland with backing from the Scottish Government's  Youth Music Initiative (YMI).
With latest figures evidencing the significant and positive impact of the Youth Music Initiative - reaching over 278,000 young people in 2019/20, supporting more than 300 Scottish based projects, creating nearly 1,000 jobs and over 3,400 professional development opportunities – the  £1.2m funds will ensure continuing access to activities covering all musical genres
Culture Secretary Angus Robertson said:
"The successful projects awarded Scottish Government funds through the Youth Music Initiative will offer young people across the country more opportunities to take part in music activities outside of school.
"I'm particularly pleased to see that 38 of the 44 projects will provide more access to music making for young people from economically deprived areas, disabled young people and young people with additional support needs.
"Culture has a key role to play in our recovery from the pandemic and Youth Music Initiative projects like this can make a significant impact on the lives of our young people, as evidenced in the latest Impact Report."
Morag MacDonald, Youth Music Manager at Creative Scotland commented:
"From car park instrument drop offs to weekly zoom jam sessions and online singing events, the sector has found imaginative ways to keep the music playing despite the ongoing pandemic and, in doing so, supported the health and wellbeing of children and young people at a time when they need it most.
"This year marks the 20th anniversary of the Youth Music Initiative and an opportunity to celebrate the achievements of the young people, pay tribute to those who make it all happen, and raise awareness of the value of access to music making for all young people into the future."
A selection of the funded projects includes:
The Lullaby Project delivered by Feis Rois pairs musicians and isolated new mothers in the Highlands to write lullabies for their wee ones.  
Diversify! Scotland in Colour Project delivered by Drake Music Scotland with Intercultural Youth Scotland will see the creation of new pieces of music to be performed at Scotland in Colour Festival October 2022.
Island Ukuleles will see young people from the islands of Yell, Fetlar, and Unst perform a repertoire of island music from around the world.  
Young Roma musicians will develop their music-making skills and experiment with various styles of Gypsy music through ZOR - Young Roma Cultural Ambassadors programme.
The Aberdeen Youth Music Partnership delivered by Station House Media Unit will bring together organisations, practitioners and young people in Aberdeen and Aberdeenshire to work together to further the area's Youth Music Action Plan; and Music Education Partnership Group will continue their work to advocate for music education in Scotland.
National programmes will see the continuation of Hit the Road and Music Plus from Scottish Music Centre; and the music making activities through the Scottish Books Trust's Bookbug programme sharing stories, songs and rhymes with babies, toddlers, and pre-schoolers.
Contact Information
Sophie Bambrough
(+44) 07747 606 146
Notes to editors
Notes to Editors: 
Youth Music Initiative (YMI) fund guidance and application forms can be accessed on the Creative Scotland website.
The  Access to Music-Making Fund is all about creating access to music-making opportunities outwith school time for organisations and individuals, applicants can apply for funding between £1k - £30k for projects lasting up to 12 months. 
The  Strengthening Youth Music Fund provides grants of between £1k - £20k for projects lasting up to 12 months which aim to improve Scotland's youth music infrastructure and services
2.YMI has two distinct strands:  
School-based music-making: activities planned and delivered by Local Authorities.  Local Authorities apply to the YMI Formula Fund for this activity  
The informal sector: activities planned and delivered outwith school time.  There are two informal sector funding routes: Access to Music-Making and Strengthening Youth Music. Organisations and individuals can apply to these funding routes. 
3. The 2021-22 YMI Annual Plan sets out plans for the programme including a programme of work, funding and development priorities, budgets and how we will report on impact.
4. Creative Scotland is the public body that supports the arts, screen and creative industries across all parts of Scotland distributing funding provided by the Scottish Government and The National Lottery. Further information at creativescotland.com. Follow us on Twitter, Facebook and Instagram. Learn more about the value of art and creativity in Scotland and join in at www.ourcreativevoice.scot
Image credit: Fèis Rois, image by Christian Gamauf.