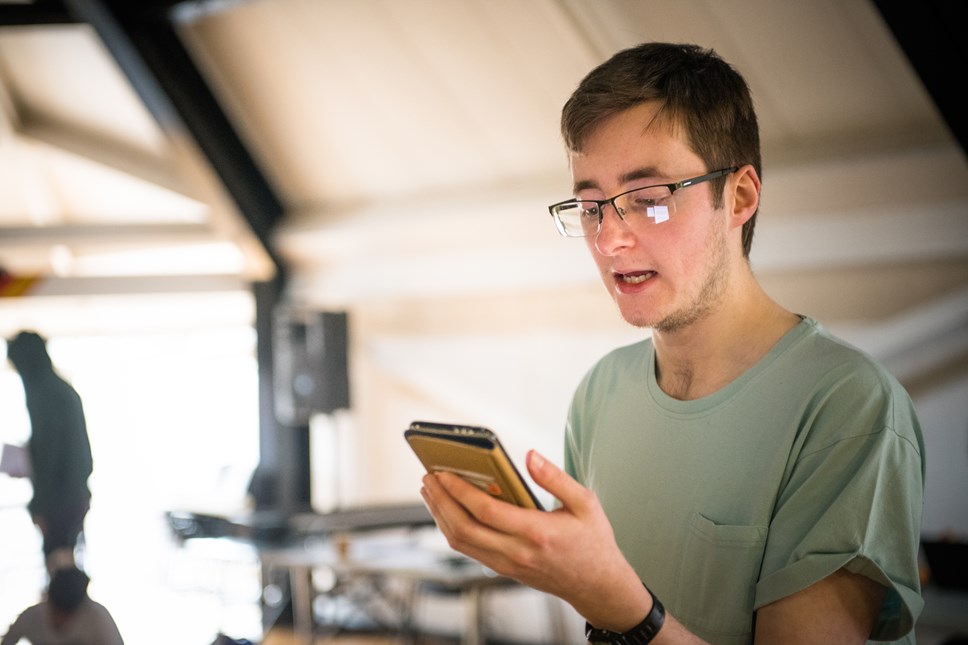 Over £1.6m National Lottery funds reach creative projects
A nationwide digital youth theatre programme, a celebration of African and Caribbean dance and a newly conceived poetry festival are among 82 projects and research and development initiatives sharing in over £1.6million of National Lottery funding through Creative Scotland in the latest round of Open Fund awards.
These funds are supporting creative individuals, projects and organisations across Scotland to adapt and respond to the current changing circumstances brought about by COVID-19, and helping to sustain people's creative development at this challenging time.
Scottish Youth Theatre's newly devised digital artistic programme will bring together 14-25-year olds across the country for free to access skills development workshops, professional mentorship, bespoke mental health support, resources for access and digital participation and creation of work towards an online festival.
Mahri Reilly, Creative Producer, Scottish Youth Theatre, said: "As the world changes, there has been a profound and rapid evolution of the way we work and how we think about our programming, producing and delivery models. We are really looking forward to experiencing the different collaborations this programme will spark and to working with young artists from across Scotland as they share with us their artistic visions, concerns and dreams for the future."
Project X are a Glasgow-based organisation that give a platform to the dance of the African and Caribbean diaspora in Scotland and work to address racial inequality within the dance and performing arts sector.
This funding will support a period of research and development for a Covid-19 response tailored to the recovery needs of Scotland's African and Caribbean diasporic community, as well improving company sustainability and securing future programmes.
Ashanti Harris, Mele Broomes and Rhea Lewis, Co-directors, Project X said: "After a long pause to our outward facing activity as a result of the COVID-19 pandemic, we are thrilled to begin sharing dance again. We have already released our Black History Month programme, and now we are focusing on the development of our Artists Voice strand and our professional production for young audiences Carnival Odyssey which we will continue to develop with Imaginate in 2021."
StAnza, Scotland's annual international poetry festival based in St Andrews, has received funds for its 2021 programme, which will showcase over 80 poets, artists, events, projects and installations online for five days in March.
The festival will offer a mix of audio and digital, pre-recorded and live events, as well as specially devised outdoor live events.
Eleanor Livingstone, Director, StAnza said: "The cultural sector has been hit extremely hard by Covid-19 and we're excited to be working on a digital festival which will offer a feast of poetry in dynamic ways, with both traditional and original formats, engaging with poetry lovers, a wider public and poets everywhere."
Iain Munro, Chief Executive, Creative Scotland said: "The Open Fund is supporting the creative sector to explore new, safe ways of working, developing practices and reaching wide audiences. From poetry festivals to theatre programmes, these projects reflect the resilience, innovation and determination of Scotland's creative community in the face of COVID-19."
"Through these challenging and unpredictable times, creativity, art and culture are bringing us together and supporting our emotional wellbeing. Made possible by the generosity of National Lottery players, who raise £30 million for good causes across the UK every week, these awards are helping to sustain the value that creativity adds to our lives."
A full list of recipients of Open Fund awards is available on the Creative Scotland website. 
The fund has no deadlines, and full eligibility criteria and application guidance can be found on the Creative Scotland website. 
Image: Scottish Youth Theatre. Credit: Tommy Ga Ken Wan
Contact Information
Katya Speight
Media Relations & PR Co-ordinator
Creative Scotland
01413021743
Notes to editors
Background
The National Lottery has raised more than £41 billion for more than 565,000 good causes across the UK since 1994. Thanks to National Lottery players, up to £600 million has been made available to support people, projects and communities throughout the UK during the Coronavirus crisis. https://www.national-lottery.co.uk/ 
Creative Scotland is the public body that supports the arts, screen and creative industries across all parts of Scotland on behalf of everyone who lives, works or visits here. We distribute funding provided by the Scottish Government and The National Lottery. www.creativescotland.com 
Follow Creative Scotland: 
Twitter: twitter.com/CreativeScots 
Facebook: facebook.com/CreativeScotland 
Instagram: instagram.com/creativescots