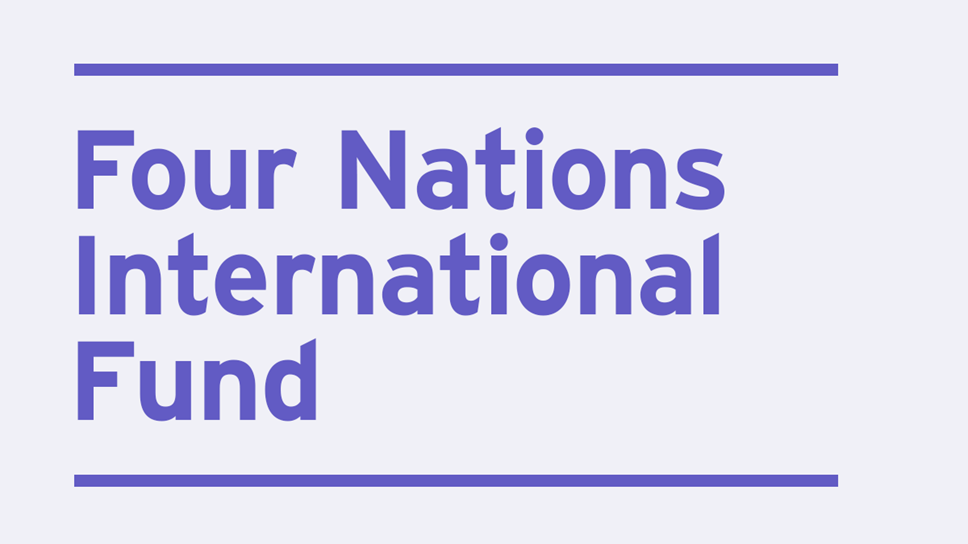 UK Arts Councils & Agencies to pilot new fund for international collaboration
New funding to support individuals and organisations towards international partnership development and co-creation projects, will open for applications on Thursday 21 October 2021.
With co-investment from Creative Scotland, Arts Council England, Arts Council Northern Ireland and Arts Council of Wales/Wales Arts International, the small pilot Four Nations International Fund is being designed to support those working in the arts and creative industries in the four nations across the UK and together with counterparts in Europe and beyond. Applications will require partners in least two of the 4 UK nations and at least one international partner.
During this pilot phase, grants of between £1,000 - £5,000 will be available from a total budget of £100,000 for in-person, digital or hybrid activity including exchanges, residencies, partnership development, co-creation and networking, with priority given to applications experimenting with innovative models of international collaboration.
Creative Scotland is managing the fund's application process for the 4 nations arts councils. On the partnership's behalf, Joan Parr, Interim Director of Arts and Engagement at Creative Scotland said:

"The development of art and culture thrives on international collaboration and exchange. Artists and creative practitioners derive inspiration, opportunities to grow and develop practice through the sharing of ideas and explore new ways of working, as well as reaching new audiences.
"In the wake of the impacts of COVID-19, the UK's departure from the European Union and the ever-growing climate emergency, working together with our fellow arts councils and agencies, we can more effectively help address challenges for those based in England, Northern Ireland, Scotland and Wales wishing to connect with their international counterparts."
Today's announcement represents one of a series of collaborations between the 4 UK nations arts councils and agencies including the pilot, Arts Infopoint UK initiative offering advice on practical issues relating to artist mobility led by Wales Arts International, as well as an exploration of mutual and more sustainable approaches to bilateral initiatives with several European countries, such as the German Fonds SozioKultur.
Contact Information
Sophie Bambrough
(+44) 07747 606 146
Notes to editors
4 Nations International Fund - Timeline
Fund opens – Thursday 21 October 2021
Deadline – Monday 11 November 2021
Decisions – Monday 13 December 2021
Recipients' announcement – Thursday 20 January 2022
Projects start – between 10 January 2022 and 31 March 2022
Projects complete – by 31 March 2023
Guidance and FAQs will be published when the fund opens, and applicants are encouraged to contact the Creative Scotland enquiries team to discuss any ideas or questions, ahead of making an online application.

Creative Scotland is the public body that supports the arts, screen and creative industries across all parts of Scotland distributing funding provided by the Scottish Government and The National Lottery. Further information at creativescotland.com. Follow us on Twitter, Facebook and Instagram.
Arts Council England is the national development agency for creativity and culture. We have set out our strategic vision in Let's Create that by 2030 we want England to be a country in which the creativity of each of us is valued and given the chance to flourish and where everyone of us has access to a remarkable range of high quality cultural experiences. We invest public money from Government and The National Lottery to help support the sector and to deliver this vision. www.artscouncil.org.uk
Following the Covid-19 crisis, the Arts Council developed a £160 million Emergency Response Package, with nearly 90% coming from the National Lottery, for organisations and individuals needing support. We are also one of the bodies administering the Government's unprecedented £1.96 billion Culture Recovery Funds. Find out more at www.artscouncil.org.uk/covid19.

Wales Arts International is the in-house international agency of the Arts Council of Wales, the public body responsible for funding and developing the arts in Wales. Further information at wai.org.uk and arts.wales. Follow us on Twitter, Facebook and Instagram
The Arts Council of Northern Ireland is the lead funding and development agency for the Arts providing support to arts projects throughout the region, through its Treasury and The National Lottery funds. Our funding enables artists and arts organisations to increase access to the arts across society and deliver great art that is within everyone's reach.
Media Contact:
Sophie Bambrough, Media & PR Officer, Creative Scotland
M: +44 (0)7747 606 146