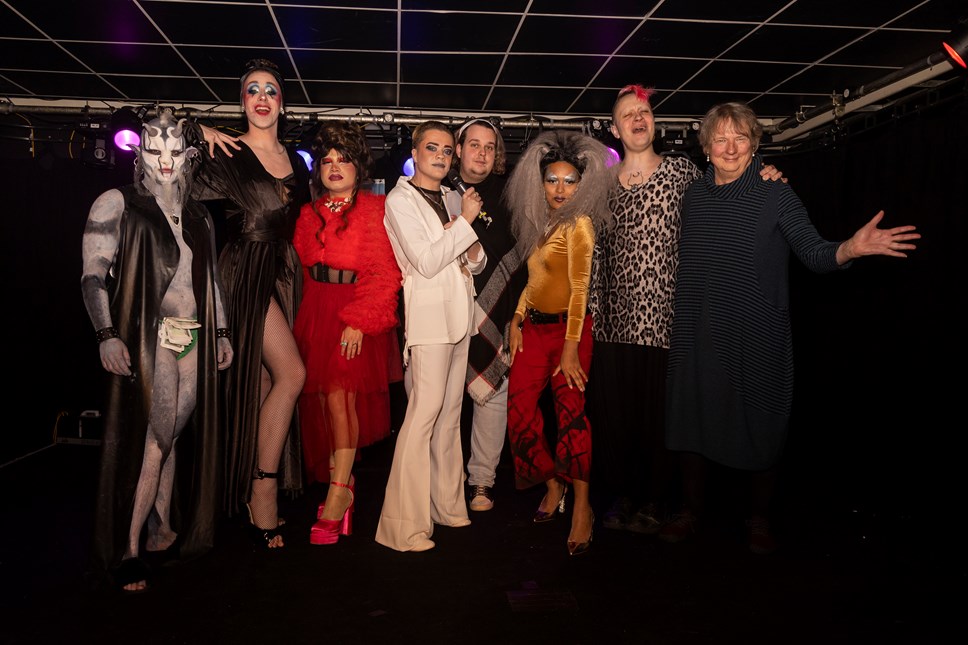 Telling Scotland's Queer Stories
£195,000 National Lottery funding is empowering Scotland's LGBTQIA+ voices to share their stories in the latest round of Creative Scotland's Open Fund awards.
From new performance commissions bringing to light queer lives from Scottish history to intimate, experimental new film work documenting Dundee's Drag scene, the awards being made coincide with Pride Month taking place throughout June, all over the world.
Theatre-maker Lewis Hetherington and visual artist CJ Mahony, supported by GAMIS, Forest of Black and Historic Environment Scotland, are telling Scotland's queer stories of the past in we have all been here for a long time.
This exciting new interdisciplinary performance piece will showcase five newly commissioned written works to be staged at significant heritage sites across Scotland, with the aim of creating a sense of kinship and intimacy with queer people who have existed throughout Scottish History.
Lewis Hetherington said: "Working with Historic Environment Scotland, we have all been here a long time gives a chance to question how our heritage is often presented to us, and those voices and lives who we have never had the chance to hear about.
"The support from the Open Project Fund gives the opportunity to work with a diverse range of artists and support them to create beautiful, unique and powerful stories of queer lives, and all the people of Scotland to see the richness of the many wonderful and varied people who have made up the country and culture we live in today."
From unearthing queer lives of the past to the modern day, HAUS OF GLOSS, a feature-length experimental film work, provides an intimate portrait of a queer, trans femme couple, a Drag Queen and a Graffiti Artist based in Dundee. Film-maker Mark Lyken will collaborate with Allana James and Opal Gordon who will create characters based on their own lived experiences.
"We're excited and relieved to receive support from Creative Scotland's Open Fund to realise our long-planned collaborative film," Mark Lyken says. "Crucially, the funding will allow us to pay our small team appropriately, granting us the time, support and safeguards to experiment and bring what we consider an urgent story to screen.
"We'll be shooting in locations significant to the local Drag and Graffiti scenes around Dundee over the course of this year with our finished film ready to submit to festivals from spring 2024 onwards."
Also receiving funding to commission a Black, queer, Scotland-based artist is Fringe of Colour Films. Their online arts festival celebrates the creative work of Black, Asian, Indigenous and Latin American people in Scotland and around the world through an online streaming service, publishing platform and podcast series.
And for bookworms, author Russell Jones is receiving funding for his novel The Do Good Club following non-binary protagonist, Sable Grey. Sable creates an altruism club in Edinburgh to help those in need. However, when one of their altruistic acts doesn't go to plan, a club member turns against Sable and tries to ruin their efforts to help others. Sable attempts their greatest "do good" yet – to help the person who wants to ruin their life.
"The Open Fund has allowed me to work closely with an authenticity reader to improve LGBTQIA+ representation in my current novel draft and redraft, to further improve my future writing," Russell explains. "These creative activities help me and my readers, to better appreciate the perspectives of others and to realise that there are more commonalities between our lives than things which separate us."
Sanctuary Queer Arts, which supports LGBTQIA+ artists across Scotland, are set to launch a multi stranded year-long Artist Development Programme involving mentorship for six artistic projects in collaboration with award-winning Play, Pie and a Pint.
Co-directors Fraser MacLeod, Drew Taylor-Wilson and Annabel Cooper said: "We create and support spaces where queer people are in the majority, their voices are amplified and LGBTQIA+ people are celebrated and lifted up.
"We hope our work will provide much needed platforms, support and sanctuary for queer people, community members and artists."
The support of these projects isn't just for Pride Month though, as they reflect the wide range of diverse voices and backgrounds receiving backing from The National Lottery funds through Creative Scotland's Open Fund and other funding routes, underpinned by the organisation's commitment to Equalities, Diversity and Inclusion.
Stuart Cameron, Equalities & Diversity Officer at Creative Scotland said, "It's fantastic to see the Open Fund supporting so many inspiring projects which demonstrate how vibrant and creative Scotland's LGBTQIA+ community is. By increasing the diversity of the workforce in arts and culture, Scottish audiences will get to experience a broader, richer, and more representative array of stories and experiences. We believe that this is absolutely vital for creating a more inclusive and open-minded society."
These are just five of 82 projects receiving funding from The National Lottery in the latest Creative Scotland Open Fund awards, totalling £1,834,453. The full list is available on Creative Scotland's website.
Contact Information
Jacqueline Munro
Notes to editors
Notes to Editors:
Creative Scotland's Open Fund
In April 2023, Creative Scotland's Open Fund made 82 funding awards, totalling £1,834,453.
Open Funding is one of Creative Scotland's key funding routes, supporting the wide range of activity initiated by organisations, artists, writers, producers and other creative practitioners in Scotland. The Open Fund has no deadlines, and full eligibility criteria and application guidance can be found on the Creative Scotland website.
The National Lottery has raised more than £41 billion for more than 565,000 good causes across the UK since 1994. Thanks to The National Lottery players, up to £600 million has been made available to support people, projects and communities throughout the UK during the Coronavirus crisis.
Creative Scotland is the public body that supports the arts, screen and creative industries across all parts of Scotland distributing funding provided by the Scottish Government and The National Lottery. Further information at creativescotland.com. Follow us on Twitter, Facebook and Instagram. Learn more about the value of art and creativity in Scotland and join in at www.ourcreativevoice.scot
Header image credit: Image by Newsline Media: The cast of Eat the Rich II Cabaret, produced by Aberdeen Performing Arts and Sanctuary Queer Arts, March 2023