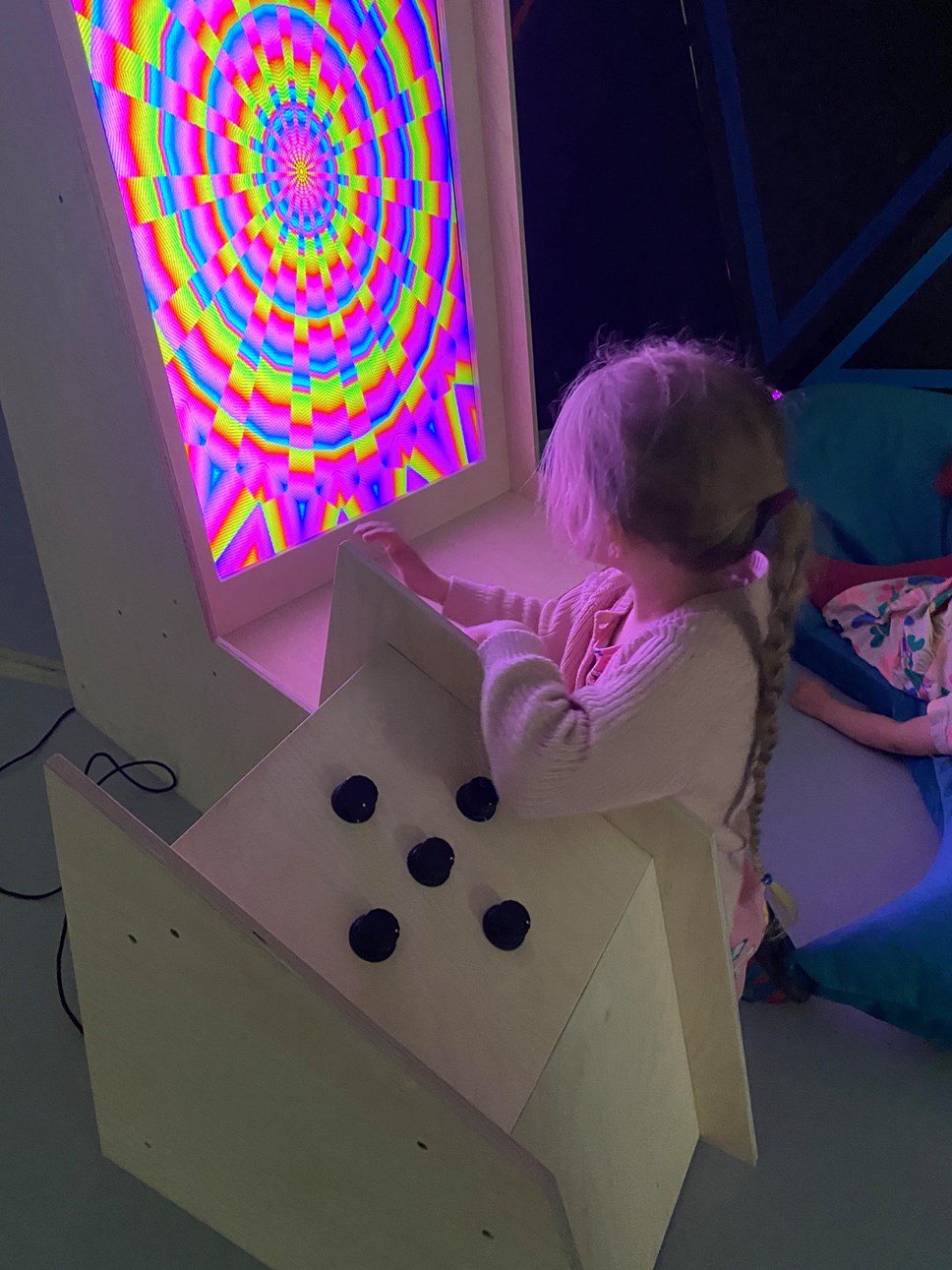 Super Enormous Projection Band
One of 85 creative projects receiving over £2.2 million National Lottery funding in this latest round of Creative Scotland's Open Fund
Soundplay Projects' Super Enormous Projection Band is amongst three new instillations being created as part of the Uddingston based group's immersive Ambient Arcade experience.
With backing from The National Lottery through Creative Scotland's Open Fund, the installation will connect guitar, bass, drums and synth to reactive, generative animations projected onto galleries, schools, community centres in Dundee, Paisley and Aberdeen throughout the year. This synesthetic experience will invite people to become part of the band and play along with others creating fantastical new audio-visual creations.
Soundplay Projects will be leading workshops and events with partners in Dundee and Paisley and sessions with pupils at schools in Glasgow, Aberdeen and Dundee. The project will culminate with a Soundplay Extravaganza at Aberdeen Art Gallery in collaboration with their learning team and local charity SensationAll whose work support Neurodiverse individuals and those with multiple support needs.
Ewan Sinclair of SoundPlay Projects commented: "Our work is inspired by many years working with differently abled people, the sounds of rave culture, the psychedelic experiments of the sixties and modernist electronic music. We're delighted to receive this National Lottery funding from Creative Scotland which we estimate will allow us to work with upwards of 1000 people over the next few months.
"This new project will be based around our ongoing engagement with people with additional support needs across Scotland. We learn from the encounters we create with people, using those experiences as research for the way we design and make installations, objects and events. This process makes our work inclusive by design and accessible to as many people as possible."
85 creative projects are receiving over £2.2 million National Lottery funding in this latest round of Creative Scotland's Open Fund awards. Further examples of awards made in this round include:
An array of festivals across the country including the world's only festival for biography and memoir, Boswell Book Festival (12-14 May 2023); the 40th Orkney Folk Festival (25-28 May 23); the 25th Knockengorroch Festival (25-28 May 2023); Aye Write Glasgow's Book Festival (19–28 May); and Wee Write Glasgow's Book Festival for Children and Young People (3-9 June 2023); Borders Book Festival (15-18 June 2023); Solas Festival in Perthshire (16-18 June 2023); Mull of Kintyre Music and Arts Festival (9-13 August 23); and Nairn Book and Arts Festival (31 Aug – 3 Sept 2023).
Scotland's conference of hip hop and underground culture, Pitch will host a showcase of Scottish talent at Europe's biggest hip hop conference and showcase, New Skool Rules in Rotterdam in May 2023. Pitch will partner with FOCUS Wales to co-host the networking reception at the international conference.
Spoken word artist and rapper Bee Asha, winner of SAMA's Best Newcomer 2021 and part of this year's ListUK Hot 100 will release a collaborative low-fi Hip Hop and Spoken Word album alongside three ambitious and original music videos. Titled The Gitika Project and using local talent, this is a multi-art form project using music, poetry, filmmaking and performances to express the complex reality of marginalised communities in Scotland.
The National Centre for Children's Literature and Storytelling will offer a six-month residency programme for five children's book writers/illustrators. Inspired by the magical surroundings of Moat Brae, the birthplace of Peter Pan, the writers will be offered the time and space to develop their approaches to engagement and/or participatory practice working with local schools in Dumfries & Galloway.
Scotland will take part in the grassroots music festival, Make Music Day 2023 - an annual celebration of music-making that takes place in communities across the world on the 21st of June.
The Granton Station Creative Works project will transform a derelict B-listed former railway station into a creative sector hub. The new sustainable Wasps creative arts facility aims to provide Edinburgh's creative community with affordable and flexible workspace, attract talent to the Granton Waterfront area and boost the local economy and retain.
Art Buds Communities will offer a year-round programme of free outdoor arts education classes for children and families that will take place in local natural spaces throughout Bingham and Muirhouse in Edinburgh. Children ages 3-11 will be offered inclusive outdoor arts activities via weekly after-school sessions, summer holiday day camps, and family days. With a focus on sustainable artistic process, skills development, curiosity and developing deeper connections with local natural spaces, the project will build on the success of Art Buds in Muirhouse which received the 2022 Creative Edinburgh Community Award.
Paul Burns, Director of Arts at Creative Scotland said: "National Lottery funding continues to support individuals and organisations to develop and present inspiring and engaging creative work and services for local people.
"From festivals and new creative spaces to special commissions and creative opportunities, these latest awards show how National Lottery funding can make a positive and lasting difference in communities across the length and breadth of Scotland."
The full list of Open Fund recipients in this round is available on Creative Scotland's website.
Contact Information
Sophie Bambrough
(+44) 07747 606 146
Notes to editors
In March 2023, Creative Scotland's Open Fund made 85 funding awards, totalling £2,243,869.
Open Funding is one of Creative Scotland's key funding routes, supporting the wide range of activity initiated by organisations, artists, writers, producers and other creative practitioners in Scotland. The Open Fund has no deadlines, and full eligibility criteria and application guidance can be found on the Creative Scotland website.
As part of our ongoing work to reshape our funding approach, we have launched two funds: a refreshed National Lottery Open Fund for Organisations, and a new time-limited National Lottery Extended Programme Fund. Learn more about these funds in our latest news.
The National Lottery has raised more than £41 billion for more than 565,000 good causes across the UK since 1994. Thanks to National Lottery players, up to £600 million has been made available to support people, projects and communities throughout the UK during the Coronavirus crisis.  https://www.national-lottery.co.uk/
Creative Scotland is the public body that supports the arts, screen and creative industries across all parts of Scotland distributing funding provided by the Scottish Government and The National Lottery. Further information at creativescotland.com. Follow us on Twitter, Facebook and Instagram. Learn more about the value of art and creativity in Scotland and join in at www.ourcreativevoice.scot
Media Contact:   
Sophie Bambrough, Creative Scotland's Media Relations & PR Officer:
Sophie.bambrough@creativescotland.com, +44 7747 606 146
Image credit: Soundplay Projects