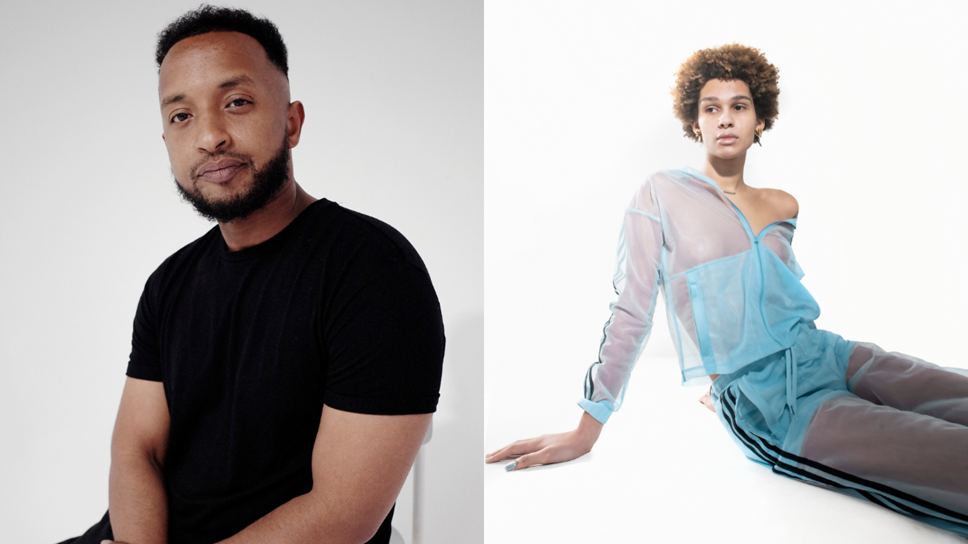 Scottish grime and hip-hop label promoter, Sami Omar and DJ/producer TAAHLIAH to join forces with 40 Black Music Creators & Industry Professionals For Year 1 Of The Ground-Breaking POWER UP Programme
Glasgow based grime and hip-hop label promoter, Sami Omar and DJ/producer TAAHLIAH are among 40 UK music creators and industry professionals to work with POWER UP to address anti-Black racism and racial disparities in the music sector.
With support from Creative Scotland and managed by PRS Foundation, POWER UP aims to break down barriers to create a fairer, more equitable UK music industry, to achieve better representation in all sectors of the industry and amplify the work of Black creators and industry professionals.
Specifically designed to fit the needs of participants, the programme will assist in the development of their careers and practice to break through glass ceilings and accelerate change. This includes grant support of up to £15,000 alongside capacity building masterclasses, mentoring, coaching, mental health and wellbeing support and access to added value support from POWER UP partners and the peer network which is integral to breaking down barriers.
Announced in February alongside a premiere of 'Time To Power Up', POWER UP has been set up and is managed by PRS Foundation in partnership with YouTube Music, Beggars Group and the Black Music Coalition. The initiative brings together several music industry partners across all sectors to accelerate change, with supporters including Creative Scotland, plus AIM, the BPI, the FAC, The Ivors Academy, the MMF, the MPA, MPG, The Musicians' Union, PPL, PRS for Music and the PRS Members' Fund who bring added-value support to power up participants.
POWER UP Industry Professional Participant and CEO, Producer & Artist Management, UP2STNDRD Sami Omar said: "I'm super excited to POWER UP which will allow us to develop projects, supporting us in cementing our ethos of long-term sustainable careers and equal representation within the Scottish Music industry."
And POWER UP Music Creator Participant TAAHLIAH added: "I am feeling energised and excited to be a part of POWER UP, utilising the programme to develop my live show and creative practices."
Alan Morrison, Head of Music at Creative Scotland commented: "The Scottish music sector is overflowing with talent on and off the stage but what makes someone artistically distinctive is often what pushes them to the edges of the industry. We know there are many barriers to building a career in music in Scotland and so, together with our peers, we are working to address the lack of diversity and positively support career progression.
"Partnering with the PRS Foundation on the POWER UP programme will help open doors for Black music creators and industry professionals in Scotland, leading to better representation and visibility. The Scottish sector is already richer due to TAAHLIAH and Sami's achievements, but POWER UP will place their work – and Scottish music in all of its diversity – in a brighter spotlight."
CEO of PRS Foundation Joe Frankland said, "Congratulations to all 40 Participants selected to be part of this first year of POWER UP. We're delighted to offer holistic support to elevate all Participants and we're excited to see the network becoming a base of knowledge exchange, peer support and collaboration from today onwards. I would like to thank our partners, YouTube Music, Beggars Group and the Black Music Coalition as well as Creative Scotland and all the music industry organisations that are supporting POWER UP in so many ways. With so many applicants highlighting the severity of anti-Black racism in music in 2021, the whole sector must come together to make meaningful change at all levels. With wide-reaching action, I truly believe our Participants will be at the forefront of a fairer, more equitable music industry."
Senior Power Up Manager Yaw Owusu commented: "I'm extremely excited to start working alongside the amazing and inspiring individuals who make up the inaugural network and will be the first Power Up Programme Participants. We have worked really hard on the design and content of the Participant Programme so, alongside our partners and various external delivery organisations, we can ensure it reflects and meets the holistic needs of the participants".
Co-Founder of Power Up, Ben Wynter said: "Power Up was created as a result of Black Out Tuesday and a year on it is amazing to see phase one of the initiative become a reality. I'm excited for all of the participants and Yaw has done an amazing job in putting together an incredible bespoke and holistic programme.
"Whilst I'm happy to see the conversations that have begun since Black Out Tuesday, it is important to recognise we still have a long way to go. With the launch of the participant programme we can help support talent to break through the glass ceiling, but it also allows us to focus on the next phase of the POWER UP Movement - ensuring that we work with like-minded organisations to help the industry to become a fairer and more equitable place for all. Data collection and cross-sector collaboration will evolve into a POWER UP Pledge which will be announced later this year and will support companies and organisations to set and meet targets for meaningful change."
"It is, however, great to see so many companies and organisations stick to their promises of investing in very worthy and important Black causes, from education to historical archives and ensuring more Black talent can find pathways into the music industry. However, in some quarters there still seems to be an impasse on progression routes and how to break the glass ceiling."

About Sami Omar
When I found my connection with music at a young age, it was one of the first things that really made me feel alive, I knew this is what I could make a difference with in the world. With lack of opportunity for Black youths in Scotland and my growing passion and urge to create, I built my own home studio. This was a turning point in being able to move forward and create what I wanted, whilst gaining new knowledge and skills at college. I pride myself in building rapport through collaboration and encouraging others to do so, to continuously learn and create high-quality content, connecting creatives in authentic ways so that we can collectively solidify equal exposure and success for creatives across Scotland.
In 2018 I launched UP2STNDRD, a media company whose aim focuses on ensuring a platform for underrepresented youths and hip-hop genres of music in Scotland, where we provide a spotlight on a demographic, who lack access to opportunity within creative industries. We offer recording services, music videos & live events, a one-stop-shop for creatives which led to our new management arm (UP2MNGMNT) taking on our own artists to further support their careers and venturing into live events also landing me a place on the panel for the SAMA organization.
Due to lack of opportunities within these fields, Up2stndrd quickly gained a growing fanbase, we now have almost 5,000 authentic followers, with our current regular projects, TakeOne and Up2Live are consistently growing viewers on YouTube.
About TAAHLIAH
TAAHLIAH is a DJ and producer from Glasgow. Having established her name in the Berlin underground dance scene, her iconoclastic productions mix grinding electronic music with elements of hyperpop.
TAAHLIAH has placed herself at the centre of a new generation of electronic producers revitalising the genre and furthering a societal ideal of fluidity. She has shared stages with SOPHIE, LSDXOXO, Eris Drew, 100 Gecs & more. TAAHLIAH performed her first Boiler Room mix in January 2021 as well as receiving praise from Mixmag, Dummy, DJ Mag, Line of Best Fit & Jaguar at BBC Radio 1.
She is the first black trans artist to ever be nominated for the Scottish Alternative Music Awards and the first to win in two categories in the same year. Her DJ sets took centre-stage at global events such at viral Queer Zoom Party Club Quarantine and Minecraft's virtual festival Lavapallooza. TAAHLIAH is releasing her debut-EP in May via London tastemaker label untitled (recs).
Managed by PRS Foundation and launched in February this year, the Participant Programme elevates exciting Black talent and attracted 512 applications from 363 music creators and 149 industry professionals at crucial career stages. The long-term network of participants gets off to a strong start, representing Black talent across the UK, with 38% of participants based outside London, including 2 in Scotland, 1 in Wales and 1 in Northern Ireland. 52% of participants are women or gender minorities and over a quarter are LGBTQ+. And selected participants work across a broad range of genres - from Black Music genres including R&B and Rap genres to Electronic & Dance, Pop, Classical, Jazz, Rock, Country and everything in between – and in many different roles and sectors of music.
Year 1 participants from across the UK are as follows:
20 Music Creators:
20 Music Industry Professionals:
Adam Holness, Music Curator, Horniman Museum / Relationship Manager, Arts Council England
Christine Osazuwa, Director of Data & Insights - Global Marketing, Warner Music Group / Founder, Measure of Music
Des Agyekumhene, Artist Manager & NFT Consultant
Despa Robinson, Founder, BE83 Ltd.
Eric Hunter, Music Publishing Coordinator, Sky
Errol Anderson, Founder, Touching Base
Eunice Obianagha, Founder/Director, Enspire Management, Co-
Hannah Shogbola, Founder, DAJU, Agent, UTA Talent Agency
Heather Nelson, CEO, Black Music Festival & The Legacy Awards
Jennifer John, Creative director, Composer, Music Manager, Vocal Coach and Music Mentor, Key Note Speaker, Jennifer John Music
Kwame Daniels, Founder & CEO, Bounce Culture
Laura Lewis-Paul, Founder and Creative Director, Saffron Records CIC
Lekan Latinwo, Artist Manager, Intricate Management
Loretta Andrews, Artist Manager/Founder, Safe Music Management
Mohamed Ogleh, Artist Manager, 2-Tone Entertainment
Nick Eziefula, Media & Entertainment lawyer, Partner, Simkins LLP
Ree Sewell, Engineer Manager & Studio Coordinator, Metropolis Studios
Sami Omar, CEO, Producer & Artist Manager, Up2Standard
Sarah Shodipe, Freelance Music Journalist / Founder of Alt Access / PA Assistant, Dawbell
Selina Wedderburn, Head of Operations, Your Army / Co-Founder/Director, Tempo & Flow / Co-Founder/Director, Plan A Group
Contact Information
Sophie Bambrough
(+44) 07747 606 146
Notes to editors
About POWER UP
The Power Up Participant Programme is a long-term network addressing barriers facing 40 Black participants (20 Black music creators and 20 Black executives and industry professionals) each year. Participants will be at crucial career stages, working in any genre or sub-sector, and will be in need of support to progress, powering up through:
Grant support of up to £15,000
Capacity building and mentoring
Support from partners
Marketing support
In alliance with the Black Music Coalition, the Power Up Movement will set targets and apply industry pressure to increase Black representation, empower and advocate for Black talent and industry professionals, consequently influencing policy and shaping the future of the music.
POWER UP Partners, the Executive Steering Committee and over 35 Black music industry expert advisors were blown away by the quality of applications received, and the 40 Participants bring varied experiences and considerable expertise to the Participant Programme network and the wider POWER UP Movement.
POWER UP Partners applaud the huge efforts being made across the music sector since Black Out Tuesday in 2020, and celebrate the great steps announced recently. But with 500 plus Black applicants outlining their experiences in all sectors and genres of the UK music industry, it is clear more needs to be done to urgently move beyond solidarity and into tangible actions.
The process highlights the severity of anti-Black racism and the impact it is having on the inclusion and progression of talented industry professionals and music creators across the sector – including those employed by or working with major corporations or independent companies of all sizes, those working from freelance through to senior management and board-level positions, and music professionals in the recording sector, music publishing, the live sector, talent management, and those on stage, on screen, in studios and in the media – regardless of genre or location.
POWER UP will be sharing common barriers and key findings and the POWER UP Movement, in alliance with the Black Music Coalition and others will break down barriers, set targets and apply industry pressure to accelerate change, empower and advocate for Black talent, and influence policy to shape the future of the music industry.
More than 80 Black music executives and creators have come together to contribute and set the direction for POWER UP. An Executive Steering Group (ESC) was established in late 2020 featuring some of the most influential Black professionals in the UK music industry. Alongside the ESC, seven focus groups covering Recording and Publishing, Live, Platforms, Gender, Sexuality, Enterprise and Regionality delved deeper into the barriers Black music creators and professionals have experienced across the sector and how they could be addressed.
About PRS Foundation:
PRS Foundation is the UK's leading charitable funder of new music and talent development
Since 2000 PRS Foundation has given more than £38 million to over 7,800 new music initiatives
In 2020, #FundedByPRSF grantees secured hundreds of high-profile nominations for major industry awards and won BRITS, AIM Awards and Ivors Awards
From 2018-20, 50% of Mercury Music Prize nominees have previously received PRS Foundation support, including winners Wolf Alice and Dave
Other grantee success stories include Little Simz, Sam Fender, Years & Years, AJ Tracey, Anna Meredith, Yola, Glass Animals, Ms. Banks, Ezra Collective, Jade Bird, Ghetts, Shiva Feshareki, Sarathy Korwar, Floating Points, Nadine Shah, The Fanatix, Imogen Heap, IDLES, Kae Tempest, Kojey Radical and Emily Burns
About Creative Scotland:

Creative Scotland is the public body that supports the arts, screen and creative industries across all parts of Scotland on behalf of everyone who lives, works or visits here. We distribute funding provided by the Scottish Government and The National Lottery. Further information at creativescotland.com. Follow us on Twitter, Facebook and Instagram.

Image Shows: Sami Omar and TAAHLIAH
For more information please contact:
Lewis Fromberg, DawBell: lewis.fromberg@dawbell.com
Sophie Bambrough, Creative Scotland: Sophie.Bambrough@creativescotland.com