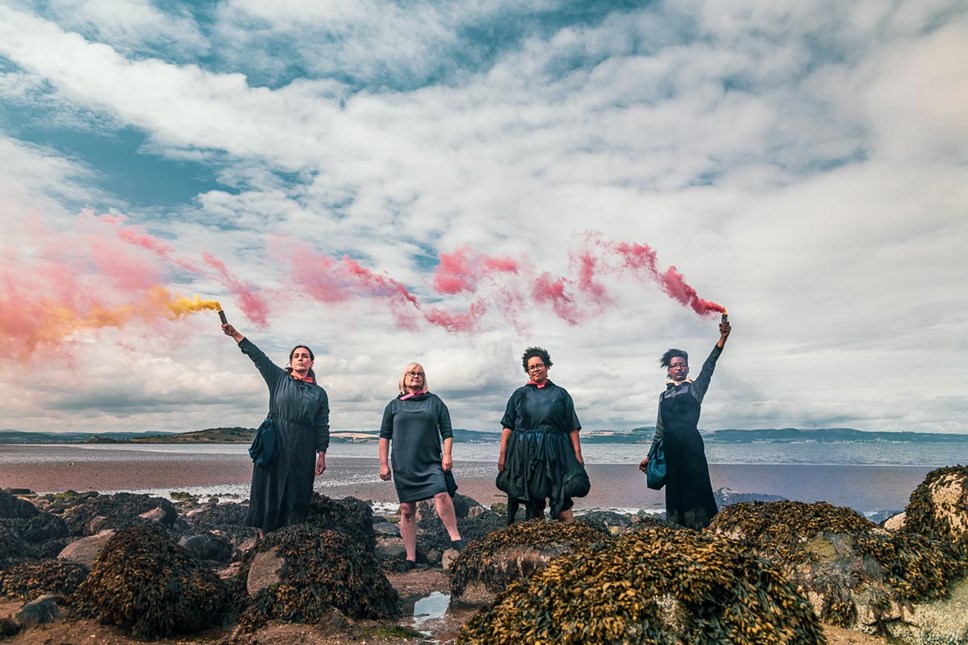 Scotland's theatres, beaches and unexpected spaces set the scene for new theatre and dance tours
The latest round includes six new and eleven reimagined productions set to embark on over 230 new performances touring indoor and outdoor spaces and venues throughout Scotland's villages, towns, cities, from summer 2022.
Scotland's beaches will be the setting for the debut tour of Julia Taudevin's powerful migration story, MOVE and new production, Alien Species from Dudendance.
The breath-taking choral drama inspired by ancient keening rituals, weaving storytelling, choral soundscape and Gaelic song, MOVE premiered to critical acclaim at this year's Made in Scotland showcase at the Edinburgh Fringe Festival.
In an era where human waste is devastating the landscape, Alien Species will see plastic trash mutated into living beings as they evolve out of the sea and sand in this new highly visual site-specific performance from Dudendance in association with FERAL.
Following its successful 2021 tour, Rob Heaslip's pop-up work, Strawboys, a vibrant and energetic piece that blurs traditional and contemporary music and dance through re-imagined straw costumes and stomping feet, will tour outdoor public spaces in Shetland, Orkney and the Borders come rain or shine.
There's something for everyone as children and families can enjoy a raucous mix of songs and storytelling in the restaging of Rocket Post! by Lewis Hetherington and Ailie Cohen Puppet Maker about an eccentric German scientist who wants to bring the world together by launching a rocket full of letters from Scarp to Harris.
Puppetry, performance and play are at the heart of new work from Tortoise in a Nutshell. Ginger tells the tale of a misshapen gingerbread person, marked for the bin. The multi-sensory performance will take 3-7yr olds and their families on an anarchic adventure creating moments of joy-filled connectivity and imaginative escape.
Wonder Fools' 549:Scots of the Spanish Civil War will take to the stage recounting the true stories of four working class miners from Prestonpans who went to fight as part of the International Brigades.
After the roaring success of Spuds tour last year, Sleeping Warrior Theatre Company will be hitting the road with two musicals. Crocodile Rock, a one-man musical about finding yourself and coming out, and A New Life - a musical about the challenges of motherhood.
Laura Mackenzie-Stuart, Head of Theatre, Creative Scotland said:
"Thanks to National Lottery players, a selection of Scotland's most luminary artists and performers will bring enlightening and spellbinding productions to new audiences and fans alike.
"Using an array of locations to give audiences more choice, the magic of theatre will be enjoyed both inside and outside the theatres which have been the pillars of their communities, despite the challenge of the past year."
Productions receiving funding are:
NEW WORK (x6):
Dance
Alien Species by Dudendance (£102,029)
A Wee Journey by Farah Saleh and Oğuz Kaplangi (£119,618)
MaMa by Kirsten Newell (£67,247)

Theatre
Working Title by Raw Material Arts (£292,181)
Ginger by Tortoise in a Nutshell (£69,765)
The Bush by Alice Mary Cooper (£72,750)
RESTAGINGS (x11):
Dance:
Move by Julia Taudevin (£117,008)
Worn by White & Givan (£58,453)
SKETCHES by Katie Armstrong (£111,320)
Strawboys by Rob Heaslip (£74,127)
Theatre:
Crocodile Rock and A New Life by Sleeping Warrior Theatre Company (£121,154)
Downs with love by Cutting Edge Theatre (£67,146)
Happiness Collectors by The Audio Story Company (£52,866)
Rocket Post! by Lewis Hetherington and Ailie Cohen Puppet Maker (£71,448)
Thunderstruck by David Colvin (£77,000)
Unbecoming by Company of Wolves (£66,083)
549:Scots of the Spanish Civil War by Wonder Fools (£187,121)
For further information on each production please download the following document.
Contact Information
Sophie Bambrough
(+44) 07747 606 146
Notes to editors
Image credit:

Pictured: Nerea Bello, Mairi Morrison, Helen Katamba and the late Beldina Odenyo Onassis performing MOVE by Julia Taudevin at the 2021 Made in Scotland showcase at the Edinburgh Festival Fringe. Image courtesy of Brian Hartley.

A selection of images is available for download here: https://we.tl/t-nhkzTXee4E
The Touring Fund for Theatre and Dance was developed as a collaboration between Creative Scotland, the Federation of Scottish Theatre and their members. The Fund supports the touring of theatre and dance, enhancing opportunities for artists, producers and companies to work more collaboratively with venues to grow audiences and provide greater access to high quality work across Scotland.


£1.72m National Lottery funding for seventeen organisations is the fifth round of awards made through the Touring Fund for Theatre and Dance. Applications opened for applications in July 2021 and closed on 4 October 2021.


Decisions were made by a panel consisting of members with a wide range of expertise across the dance and theatre touring sector. They were: Jaine Lumsden, non-voting Chair (Theatre Officer, Creative Scotland); Karen Dick (Head of Place, Partnerships and Communities, Creative Scotland); Femi Folorunso (Theatre Officer, Creative Scotland); Lulu Johnston (Dance Officer, Creative Scotland); Milica Milosevic (Head of Equalities, Diversity and Inclusion, Creative Scotland); and external panelists Viktoria Begg; Duncan Hendry; Sheena Miller; Lisa Nicoll and Lesley Anne Rose.


The Deadlines for the next round of the Touring Fund for Theatre and Dance will be announced in spring 2022.
The National Lottery has raised more than £42 billion for over 625,000 good causes across the UK since 1994. Thanks to National Lottery players, more than £1.2 billion has been awarded in the last year to support communities and thousands of organisations across the UK to cope with the impact of the Coronavirus pandemic. https://www.national-lottery.co.uk/ 

Creative Scotland is the public body that supports the arts, screen and creative industries across all parts of Scotland on behalf of everyone who lives, works or visits here. We distribute funding provided by the Scottish Government and The National Lottery. www.creativescotland.com 

Follow Creative Scotland: 
Twitter: twitter.com/CreativeScots 
Facebook: facebook.com/CreativeScotland 
Instagram: instagram.com/creativescots 

Media Contact:   Sophie Bambrough, Media Relations & PR, Creative Scotland. T: +44 7747 606 146. E: sophie.bambrough@creativescotland.com