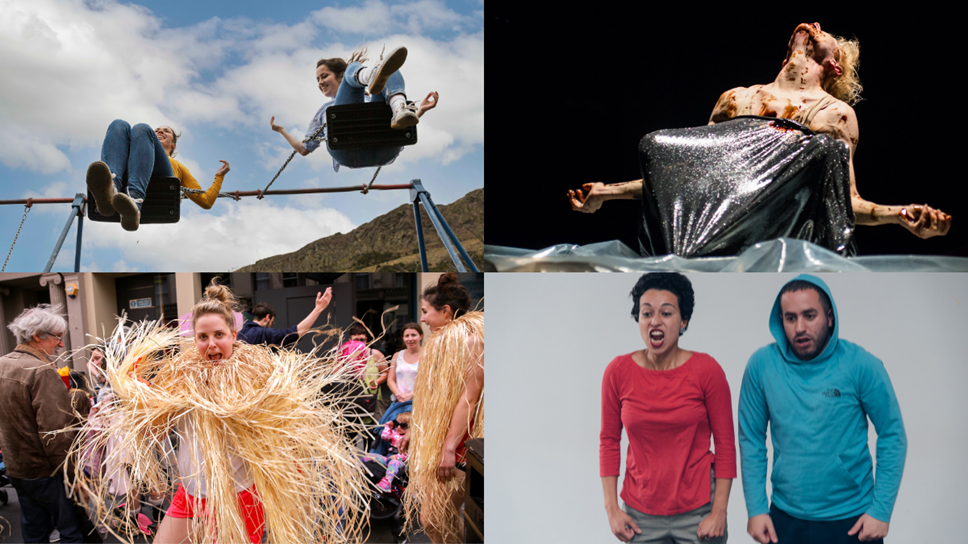 Scotland is the stage as outdoor spaces and unexpected places host live in person shows across the country
13 productions receive £600K National Lottery funding through Creative Scotland's Touring Fund for Theatre and Dance
Allotments, woodland trails, garden centres, loch-sides, and people's gardens are just some of the outdoor spaces and unconventional places that audiences will be able to experience live productions in person across Scotland from this May until March 2022.
Thirteen new and reimagined theatre and dance productions have received a total of £600,000 National Lottery funding through Creative the latest round of Creative Scotland's Touring Fund for Theatre and Dance awards.
Frozen Charlotte's new show, Woodland Creatures will see children aged 2-8 and their families in Moray, Highland and Aberdeenshire encounter spectacularly costumed creatures in local woodland sites through a fun combination of live music, puppetry and play.
The interactive show will tour to six locations - in Moray as part of Dance North's Rise Festival in partnership with Eden Court Theatre, and in Aberdeenshire, in partnership with NEAT and The Barn. The first show will be on the 27th of August with tickets going on sale from July. For further details please visit: www.frozencharlotte.com
Heather Fulton, Frozen Charlotte commented: "We're delighted to be contributing to the wellbeing of young people and families across the North East. Through celebrating the amazing talent and stunning natural environments here in the North East to create a covid-secure show that will inspire playfulness and bring joy to children and their loved ones and friends."
Staged in partnership with Platform, Govanhhill Bath Arts, The Beacon, Dunoon Burgh Hall, Achievement Bute, Cumbernauld Theatre, and Palace Theatre, Mischief La-bas' new work, Fizzicals – Mind the Gap sees three alien bodies go on a walkabout in streets, parks and town centres in a show which asks how do we bridge the gap between ourselves and others, across the great divide of socially distanced space? The Fizzicals are curiously shaped visitors who engage visually in a Covid safe way with passers-by, in an uplifting experience for all ages, abilities and backgrounds, intended to ease people back into the joy of live performance, through a safe, playful and, by its nature, fleeting, shared event.
Mischief La-bas said: "We're really excited to be bringing to the streets this new piece of interactive work that encourages socially-distanced exchanges. It's a performance about connection, about encouraging things that people have been missing, creating exchanges between people that we've all been lacking whilst remaining safe.
"Working with conventional theatre spaces to produce performance that explores the surrounding public space, Mischief La Bas' decades long experience of outdoor theatre engagement is glad to be able to help in ensuring restricted theatre spaces remain engaged with their communities."
MESS, a show from Tenterhooks for children and young people with complex Additional Support Needs and their families, tells the story of how an ordinary day in the life of a team of cleaners turns unpredictable when, for the first time ever, they attempt to clean a space which has people in it.
The production will be performed outdoors on venue premises and in private gardens in partnership with Renfrewshire Leisure, North Edinburgh Arts, Beacon Arts Centre, Platform and Eden Court.
Co-lead artist Diane Thornton of Tenterhooks commented: "Tenterhooks are delighted to be recipients of the Touring Fund for a summer tour of MESS. This funding enables us to offer our socially-distanced, outdoor theatre performance to family audiences who seek live, sensory engagement. We are thrilled to be working with venues across Scotland to bring MESS back to audiences who love the show and to share it with new audiences."
Laura Mackenzie-Stuart, Head of Theatre, Creative Scotland said: "A fantastic range of new and topical restagings of acclaimed theatre and dance shows are all on the bill as productions supported by the Touring Fund help bring live in person performance back to audiences throughout Scotland.
"Partnerships with established venues will play a huge part in this – they are at the heart of the communities they work in year-round, every year, and though we have endured an incredibly challenging and disrupted period, those links have been kept vibrant and strong. They will be vital as audiences are, in many cases, reintroduced to the uplifting experience of theatre and dance in person, to a much-needed physical reconnection with performing arts.
"Thanks to the generosity of National Lottery players, who raise £30 million for good causes across the UK every week, and funding from the Scottish Government, these productions are helping to sustain the great value that creativity brings to our lives."
Productions receiving funding are:
New work (x7):
| | | |
| --- | --- | --- |
| Company | Production | Award |
| All Or Nothing Aerial Dance Theatre  | The Swings | £69,184.00 |
| Frozen Charlotte Productions | Woodland Creatures | £46,163.00 |
| Mischief La-bas | The Fizzicals – Mind the Gap | £30,358.00 |
| Rob Heaslip | Strawboys | £76,450.00 |
| Ruxandra Cantir and Sarah Rose Graber | Unicorn Dance Party | £51,300.00 |
| Tenterhooks | MESS | £50,334.00 |
| Tony Mills//Room 2 Manoeuvre | City Breakz | £106,978.00 |

Restagings (x5):
| | | |
| --- | --- | --- |
| Company | Production | Award |
| Edmund ROBSON | The Gardener | £31,282.00 |
| Farah Saleh | PAST-inuous | £37,263.00 |
| Kolbrún Björt Sigfúsdóttir - Brite Theater (produced by Vanishing point) | Deliverance | £25,577.00 |
| Nutshell Theatre | Allotment | £50,559.00 |
| Suzi Cunningham | Rules To Live By and Eidos- Double Bill | £27,410.00 |
For further information on each production please download the document at the end of this email.
Contact Information
Sophie Bambrough
(+44) 07747 606 146
Notes to editors
Background
The Touring Fund for Theatre and Dance was developed as a collaboration between Creative Scotland, the Federation of Scottish Theatre and their members. The Fund supports the touring of theatre and dance, enhancing opportunities for artists, producers and companies to work more collaboratively with venues to grow audiences and provide greater access to high quality work across Scotland.


£600,000 National Lottery funding for twelve organisations is the fourth round of awards made through the Touring Fund for Theatre and Dance. Applications opened in November 2020.


Decisions were made by a panel consisting of members with a wide range of expertise across the dance and theatre touring sector. They were: Laura Mackenzie-Stuart, non-voting Chair (Head of Theatre, Creative Scotland); Emili Åström (Dance Officer, Creative Scotland); Karen Dick (Head of Place, Partnerships and Communities, Creative Scotland); Graham Reid (Equalities, Diversity and Inclusion Office, Creative Scotland); Jaine Lumsden (Theatre Officer, Creative Scotland); Verity Leigh (Magnetic North and Summerhall); Claire Dow (Dundee City Council and independent practitioner); Jo McLean (Clod Ensemble); Ross MacKay (independent practitioner); and Gail Sneddon (independent practitioner)


The Deadlines for the next round of the Touring Fund for Theatre and Dance will be announced in summer 2021.
The National Lottery has raised more than £42 billion for over 625,000 good causes across the UK since 1994. Thanks to National Lottery players, more than £1.2 billion has been awarded in the last year to support communities and thousands of organisations across the UK to cope with the impact of the Coronavirus pandemic. https://www.national-lottery.co.uk/ 
Creative Scotland is the public body that supports the arts, screen and creative industries across all parts of Scotland on behalf of everyone who lives, works or visits here. We distribute funding provided by the Scottish Government and The National Lottery. www.creativescotland.com 
Follow Creative Scotland: 
Twitter: twitter.com/CreativeScots 
Facebook: facebook.com/CreativeScotland 
Instagram: instagram.com/creativescots 
Image credit:
Top left: All or Nothing Aerial Dance Theatre. 'The Swings'. Credit - Suzanne Heffron
Top right: Suzi Cunningham 'Rules To Live By'. Credit - Chantal Guevara
Bottom left: Rob Heaslip. Summer Street Festival. Credit - Erika Stevenson
Bottom right: Farah Saleh. 'PAST-inuous'. Credit - Lucas Kao

A selection of images is available for download here: https://we.tl/t-bOiEpOwbXR
Media Contact:  
Sophie Bambrough, +44 7747 606 146
sophie.bambrough@creativescotland.com