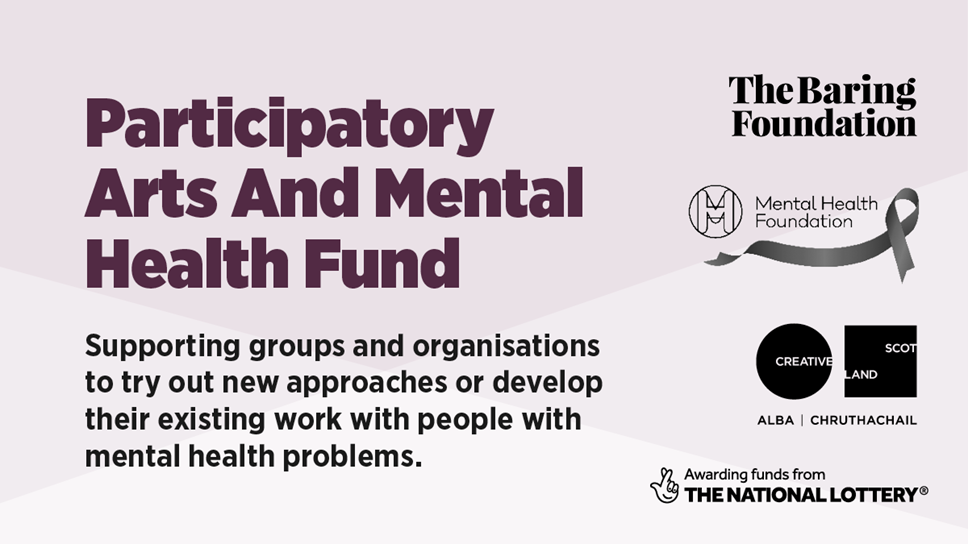 Reimagining Arts and Mental Health
New funds are available from today, Tuesday 23 May, to help groups and organisations increase and improve participatory arts and mental health provision in Scotland's local communities.
Launched by Creative Scotland in a new partnership with the Baring Foundation and the Mental Health Foundation,  the new Participatory Arts and Mental Health Fund is backed with £145,000 from The National Lottery,
Creative Scotland's Head of Equalities, Diversity and Inclusion Kim Simpson said: "We're so pleased to be working in this new collaboration to bring new funding to the table to nurture and grow specialist practice in participatory arts and mental health across Scotland.
"The funding will allow for time and space for new ideas and approaches to be explored and developed, and for innovative ways of working emerge that will benefit mental health prevention and recovery within participatory settings.
"This work couldn't be more crucial or timely as we in Scotland, like other nations in the UK and around the world, grapple with the worsening mental health crisis. Our hope is that this fund will promote a deeper understanding of the role arts can play in addressing this issue and we look forward to continuing this journey of learning and collaboration with our partners."
Interest in and understanding of the connections between art, health and well-being have grown and deepened in recent years. Research published in 2022 by the Social Biobehavioural Research Group at University College London assessing 'The Impact of Arts and Cultural Engagement on Population Health' highlights that frequent arts participation and cultural attendance were both associated with better mental health and a greater sense of life satisfaction. . Reasarch also found that arts engagement was associated with greater ability to cope with mental health problems in everyday life . In December 2021, Creative Scotland published an Arts and Health Mapping Report to understand the scale and scope of the current involvement of professional artists in the area of health and wellbeing, and to explore the role that Creative Scotland can play in supporting this activity and helping the artists who wish to develop their skills in this area. This fund marks a significant step towards addressing the recommendations of this report.
David Cutler, Director of the Baring Foundation said: "The Baring Foundation since 2020 has focussed our arts funding on engaging people with mental health problems, both recognising their right to be creative and also the potential therapeutic value of the arts. We are delighted to add a new collaboration with Creative Scotland after our long shared support for arts and older people. We will have much to learn from the Mental Health Foundation which we are also supporting as regards their world leading Scottish Mental Health Arts Festival."
Rob Dickie, Arts and Festival Officer, Mental Health Foundation said: "We are delighted to be working in partnership with Creative Scotland and the Baring Foundation on the Participatory Arts and Mental Health Fund. We know from experience that the arts and creativity can play a vital role in supporting people to live mentally healthier lives. We believe this programme will provide welcome support for organisations who work with their communities to deliver this important work and contribute to learning and development in the arts and mental health in Scotland."
Ends
Contact Information
Sophie Bambrough
(+44) 07747 606 146
Notes to editors
Participatory Arts and Mental Health Fund applicants are invited to apply for between £3,000 and £30,000 within an available budget of £145,000, thanks to The National Lottery funding through Creative Scotland. The deadline for applications is Tuesday 18 July at 12 noon. Successful applicants will participate in peer-support and learning sessions led by the Mental Health Foundation. 
The Baring Foundation is an independent foundation which protects and advances human rights and promotes inclusion. The Baring Foundation believe in the role of a strong, independent civil society nationally and internationally. They use their resources to enable civil society to work with people experiencing discrimination and disadvantage and to act strategically to tackle the root causes of injustice and inequality.  Further information at https://baringfoundation.org.uk or follow The Baring Foundation on Twitter and YouTube.
The Mental Health Foundation is the UK's leading charity for everyone's mental health. Their vision is for a world with good mental health for all. With prevention at the heart of what they do, they aim to find and address the sources of mental health problems so that people and communities can thrive. Since 2007, the Mental Health Foundation has led the annual Scottish Mental Health Arts Festival.  Further information at www.mentalhealth.org.uk or follow The Mental Health Foundation on Twitter, Facebook and Instagram
Creative Scotland is the public body that supports the arts, screen and creative industries across all parts of Scotland distributing funding provided by the Scottish Government and The National Lottery. Further information at creativescotland.com. Follow us on Twitter, Facebook and Instagram. Learn more about the value of art and creativity in Scotland and join in at www.ourcreativevoice.scot