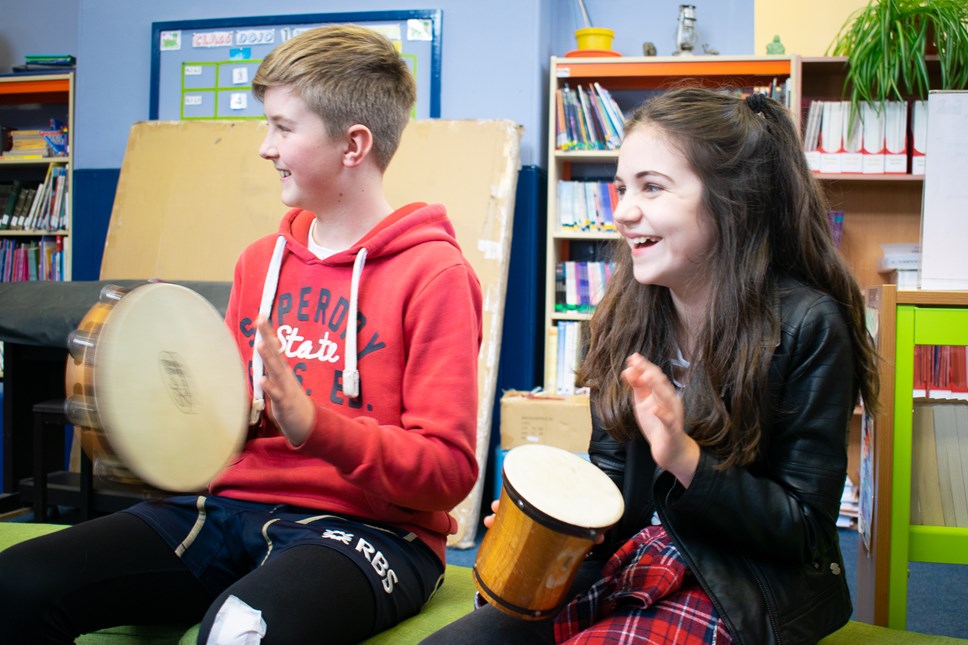 Recipients of Youth Arts Funding announced
£2.1m to ensure young people continue to access creative opportunities
£2.1m of Scottish Government emergency Youth Arts Funds are being awarded to 92 projects across the country to help ensure children and young people continue to have access to creative opportunities in the wake of the COVID-19 pandemic.
This is part of a £4m Scottish Government youth arts funding package delivered by Creative Scotland.
Culture Secretary Fiona Hyslop said:
"This funding will not only give young people across Scotland access to high quality music and arts opportunities, it will also support and provide job opportunities to freelance musicians and youth arts practitioners during this incredibly difficult time.
"We know that young artists in particular may struggle when faced with fewer opportunities during the COVID-19 pandemic which is why we are also continuing to nurture future talent by encouraging them to develop their creative ideas and ambitions."
Colin Bradie, Interim Head of Creative Learning, Creative Scotland said:
"It is vital that creative opportunities are kept open and accessible to children and young people across the country as we continue to face the challenges of COVID-19. These funds will provide access to funding for young people directly and support employment opportunities for over 700 people, including over 450 artists and freelancers to deliver a wide range of vibrant projects for children and young people."
5 projects have received a share of £100,000 through the Nurturing Talent Fund: New Routes to provide targeted funding opportunities direct to young, emerging artists from under-represented groups and areas across the country.
Clifftop Projects in West Dunbartonshire and Hospitalfield in Angus will deliver funding in areas identified as having fewer creative opportunities; Articulate Cultural Trust and Lyth Arts Centre will deliver funding approaches developed with and for care experienced young people; and Children in Scotland will deliver a Nurturing Talent Fund that responds to the needs of young disabled artists.
David Mackay of Children in Scotland, commented:
"The COVID-19 pandemic has negatively impacted on opportunities for many children and young people to engage with the arts. We look forward to working closely with children and young people with additional support needs to co-design the funding process and to review applications to in order to break down some of the barriers that currently exist to accessing arts funding, and to help young people realise their creative potential."
87 projects have received a share of more than £2m through Youth Arts Access Fund to support organisations delivering projects across a wide range of artforms to children and young people. Supported organisations include Hope Amplified, which will be providing music making opportunities for young people from the African diaspora community in Glasgow, South and North Lanarkshire and Renfrewshire.
15-year-old Biola who took part in a music project at Hope Amplified said: "My parents could not enrol me at private music lessons because of the cost. Coming to Hope Amplified has given me the opportunity to enjoy music training lessons for free and also provided me with friends from other schools. For this I am happy. Thank you for the training and I can now play the keyboard well."
For the full list of awards please see here.
Contact Information
Sophie Bambrough
Notes to editors
Image credit: Christian Gamauf / Fèis Rois
The Youth Arts Fund is part of £64m in emergency COVID-19 funds for art and creativity being delivered by Creative Scotland in 2020/21, made up of funds from the Scottish Government, the National Lottery and the Freelands Foundation. For further information on the Youth Arts Fund please visit: Youth Arts Fund | Creative Scotland
Creative Scotland is the public body that supports the arts, screen and creative industries across all parts of Scotland on behalf of everyone who lives, works or visits here. We distribute funding provided by the Scottish Government and The National Lottery. www.creativescotland.com 
Follow Creative Scotland: 
Twitter: twitter.com/CreativeScots 
Facebook: facebook.com/CreativeScotland 
Instagram: instagram.com/creativescots