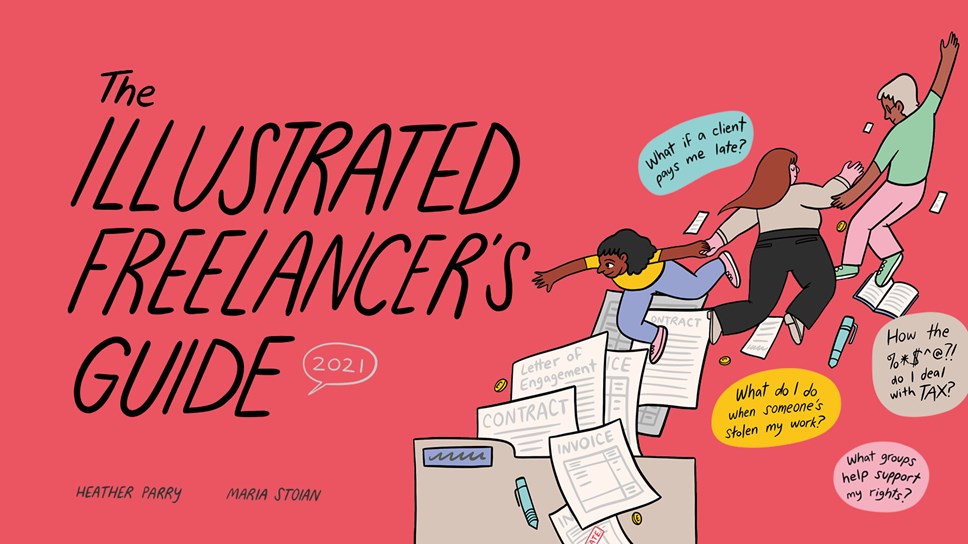 Protecting Freelancer Rights
A valuable new resource for Scotland's creative freelancers is newly accessible through Creative Scotland's website.
Designed to provide freelance workers with a comprehensive understanding of their rights and detailing best practice, the Illustrated Freelancer's Guide is written by Heather Parry and illustrated by Maria Stoian.
Freelancers themselves, the Guide they have created provides model scenarios, templates and advice to help people successfully navigate their entry into and navigation of the freelance sphere. Setting up as a sole trader, managing accounts, VAT, tax, insurance and GDPR (General Data Protection Regulation) are all covered, as well as advice on how to protect themselves with regards to payment and copyright. The issue of how freelancers can maintain a strong work/life balance is also explored in detail.
In the words of the Guide's writer Heather Parry: "It's difficult to advocate for yourself and discouraging to sift through pages of government information to try and find out what your rights really are. Even for those of us who've been freelancing for a long time, the barriers can feel huge."
"This guide is our attempt to give you the information you need in an accessible, attractive and fun way - with signposts to updated and expanded details where you need them."
Iain Munro, CEO at Creative Scotland said: "Scotland's freelance practitioners play a central role within the arts and culture sector and it is important that they are supported to continue to operate as we emerge from the pandemic.
"This is true for both established freelancers and early career professionals who are just starting out. We hope this useful guide will prove an invaluable resource for freelancers working across Scotland today."
The Illustrated Freelancer's Guide is available to view online here.
Contact Information
Olivia Carr
Media Relations & PR Coordinator
Creative Scotland
0141 302 1708
07970 962 322
Notes to editors
Notes to Editors:
Creative Scotland is the public body that supports the arts, screen and creative industries across all parts of Scotland distributing funding provided by the Scottish Government and The National Lottery. Further information at creativescotland.com. Follow us on Twitter, Facebook and Instagram. Learn more about the value of art and creativity in Scotland and join in at www.ourcreativevoice.scot.
Heather Parry is a Glasgow-based writer and editor. Her short fiction has appeared internationally in numerous magazines and books. She is the editorial director of Extra Teeth, a Scottish literary magazine and co-presents the podcast Teenage Scream with Kirsty Logan. She also organises for creative freelancers with the IWW.
Maria Stoian is an illustrator and comics artist based in Edinburgh, where she also teaches at the Edinburgh College of Art. She is the author of the award-winning graphic novel Take it as a Compliment. Her work has appeared in The New Yorker, The Nib and anthologies such as Drawing Power.