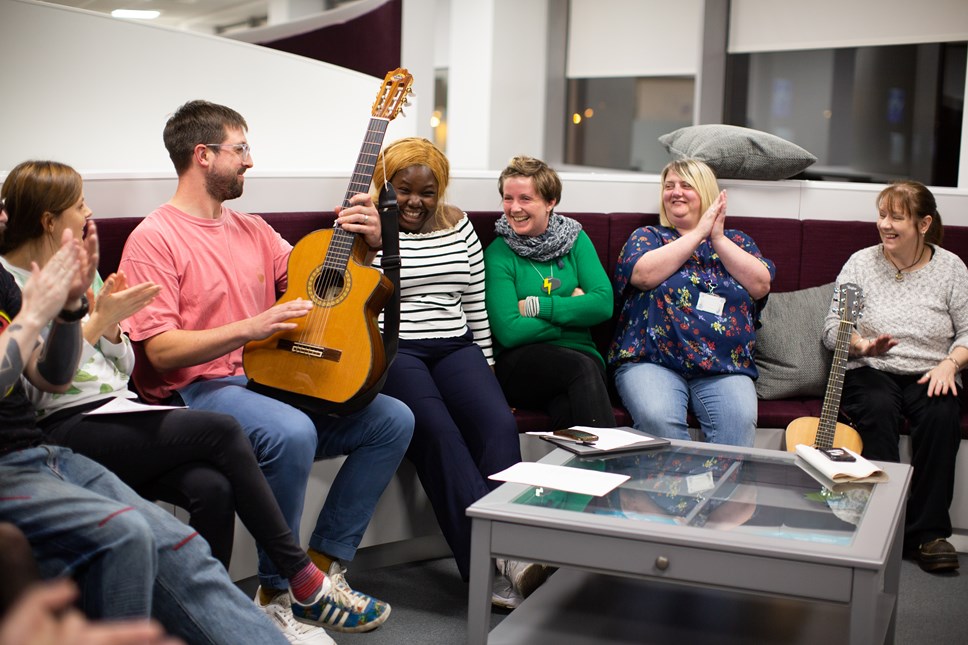 Over £996,000 National Lottery funds sustaining creative projects and development
Forty-seven creative people, projects and organisations across Scotland are sharing in £996,537 National Lottery funding in the latest round of Creative Scotland's Open Fund awards.
Funding to SWG3's Yardworks Studio continues the transformation of the surrounding area into a colourful new district for graffiti and street arts.
Explaining more, Andrew Fleming Brown, Director of Clydeside Initiative for Arts which is the charity developing Yard Works Studio said: "The Studio will provide a workshop for the creation of large works with specialist equipment and flexible working space for artists as well as youth and community organisations. A street arts engagement programme will run with the communities surrounding SWG3 including Govan, Partick and Yorkhill throughout 2022."
Budding 16–25-year-old songwriters will gain insights into the art of song writing with professional musicians online and in person, as part of Wheatley Care's award-winning Ensemble project.
Zofia Piotrowska, Community Engagement and Resilience Lead at Wheatley Care commented: "Ensemble has a track record of transforming the lives of young people through song writing, recording and live performance with support from professional musicians. Through engaging around music, Ensemble acts as a pathway to education, training, employability."
The latest round of funding also includes support for multi-award winning Hebridean Celtic Festival Trust which celebrates its 25th anniversary in 2022, and Dumfries & Galloway Arts Festival both returning in July 2022.
Graham MacCallum, Depute Festival Director commented: "We are unbelievably excited to be planning the much-anticipated return of HebCelt and the celebration of our 25th anniversary. The last two years have been incredibly difficult for the industry across Scotland and we are hugely thankful to Creative Scotland for the support shown to HebCelt through the Open Fund."
A number of individual artists are receiving support to research, create, and present new work:
In a move from performance poetry into page poetry, Leyla Josephine is developing her debut poetry collection, In Public/In Private.
Poet Leyla Josephine commented: "Being a dyslexic writer can be challenging but having someone to proofread and discuss my poetry will build my confidence and allow me to exercise my voice in new ways. This funding will be invaluable to my practice and the development of my new poetry book. To have time and space to think, create and write is a privilege and I'm so excited to get started"
Mixed Up from acclaimed Scottish-Caribbean poet and performer, Courtney Stoddart is a creative, personal and reflective research project about the mixed-race Scottish experience.
Stoddart commented: "I think it's incredibly important to highlight this in Scotland, not only are there an increasing number of mixed ethnicity children in the country, very little has been said about what it means to grow up with mixed heritage in a country which is overwhelmingly white and with an encompassing social fabric unique to Scotland."
Turned the Wrong Way from sculptor/painter, Beth Shapeero sees the artist's first major solo show taking place at House for an Art Lover's Studio Pavilion from Fri 17 Dec-30 Jan 2022.
Following two EPs, a series of singles and UK and Irish tours, Glasgow garage rock band Shredd will now release their debut album.
Playwright Jo Clifford will move forward with developing and rehearsing her latest production The Not So Ugly Duckling. Clifford is the author of over 100 plays, many of which have been performed all over the world. She has co-written her new play with the actress and playwright Maria MacDonell, with whom she will perform it.
Clifford commented: "I started to evolve the work during the first lockdown in March 2020 along with five artistic collaborators. The message about transformation in this well-known fairy tale strongly aligns with the sense of change caused by the global pandemic."
Iain Munro, CEO, Creative Scotland said: "As 2021 comes to a difficult close, it's heartening to see the range of projects that continue to make a difference to the lives of people living in Scotland and we can look forward to enjoying next year. Thanks to the generosity of National Lottery players, who raise over £30 million for good causes across the UK every week, these awards continue to address important issues while improving the wellbeing of people of all ages."
A full list of Open Fund recipient awards is available on the Creative Scotland website.
Contact Information
Olivia Carr
Media Relations & PR Coordinator
Creative Scotland
0141 302 1708
07970 962 322
Notes to editors
Background
The National Lottery has raised more than £41 billion for more than 565,000 good causes across the UK since 1994. Thanks to National Lottery players, up to £600 million has been made available to support people, projects and communities throughout the UK during the Coronavirus crisis.  https://www.national-lottery.co.uk/
Creative Scotland is the public body that supports the arts, screen and creative industries across all parts of Scotland distributing funding provided by the Scottish Government and The National Lottery. Further information at creativescotland.com. Follow us on Twitter, Facebook and Instagram. Learn more about the value of art and creativity in Scotland and join in at www.ourcreativevoice.scot
Image credit: Ensemble, image courtesy of Wheatley Care.