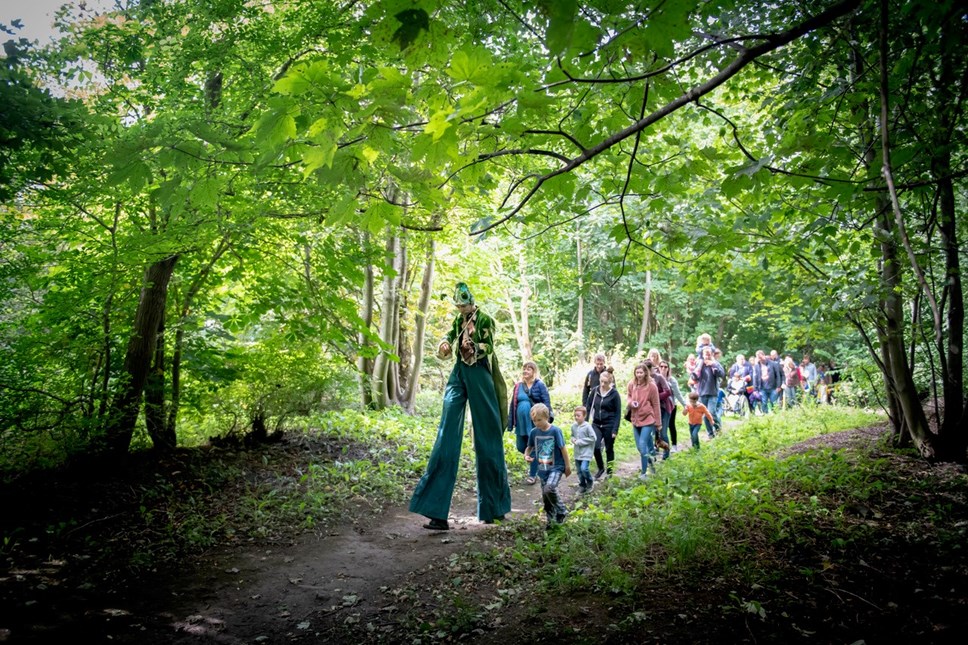 Creativity at work across Scotland backed by over £900K National Lottery funds
Forty four creative projects across Scotland are taking place thanks to £903,734 National Lottery funding through Creative Scotland in the latest round of Open Fund Awards.
The installation of new artworks by Nathan Coley and fellow artists at Glasgow's Govanhill Baths; a new initiative to reduce the carbon footprint of touring bands from Travelled Music; a full programme of arts, culture, and community activities in Galloway courtesy of the Glenkens Community & Arts Trust, and Rowanbank Environmental Arts & Education's inventive outdoor show raising awareness of the climate crisis to young audiences are among the projects receiving support in this funding round.
Three ambitious and unique art works including a large-scale hand-crafted mosaic from artist from Nathan Coley will be incorporated in the redevelopment of Govanhill Baths. The Baths are due to reopen as a community-led wellbeing centre in summer 2022.
Alex Wilde, Chair of Govanhill Baths Community Trust said: "Creativity has always been key in the campaign to save Govanhill Baths and we are excited that because of this award, permanent artworks can be commissioned to help us celebrate that legacy and continue our commitment to art in the community for the community."
Touring company Travelled Music have innovative plans to transform the business into a carbon neutral consultancy for the music industry. Funding will support the re-education, research and development of a methodology and reporting system to show touring artists carbon footprint calculations of predicted tours and offer them alternatives to help reduce their carbon emissions.
Project manager, Alan Thompson commented: "There is no doubt that the future of live music needs to be carbon neutral, I'm proud that with the help of Creative Scotland our independent company can help so many touring artists achieve that goal."
Galloway's Glenkens Community & Arts Trust (GCAT) are planning a mixed programme of in-venue, remote access and online arts as well as cultural engagement opportunities at CatStrand multi arts venue.
Arts Culture and Heritage Manager for GCAT, Peter Renwick said: "GCAT are delighted by this award which will support a substantive arts programme across our communities as we begin to invite audiences back to see live performance."
Performances of 'Scotland's first cycling climate circus' will take place in playgrounds and greenspaces, connecting people with their local environment and creating a stepping-stone towards taking the action needed to address the climate and nature emergency.
Positive Imaginings is a ground-breaking outdoor show from Rowanbank Environmental Arts & Education CIC, Director Arran Sheppard said: "Creative Scotland funding will enable us to bring the Positive Imaginings show to communities in Edinburgh and Glasgow during COP26, giving children from disadvantaged backgrounds the opportunity to engage with the Climate Emergency in a creative and empowering way."
Iain Munro, CEO, Creative Scotland said: "Thanks to the generosity of National Lottery players who raise £34 million for good causes across the UK every week, our Open Fund awards are helping artists and creative organisations develop innovative projects that enrich the lives of people across Scotland, while raising questions about the important issues of our time and ensuring our collective creative voice continues to be heard."
A full list of recipients of Open Fund awards is available on the Creative Scotland website.
Contact Information
Olivia Carr
Media Relations & PR Coordinator
Creative Scotland
0141 302 1708
07970 962 322
Notes to editors
Background
In August 2021, Creative Scotland's Open Fund: Sustaining Creative Development made 44 funding awards, totalling £903,734.
The Open Fund: Sustaining Creative Development has no deadlines, and full eligibility criteria and application guidance can be found on the Creative Scotland website.
More information about Covid-19 funding and resources can be accessed via gov.scot, and through Creative Scotland's Resource Directory for Covid-19.
Regular updates on all emergency funding in response to COVID-19 are provided on Creative Scotland's website.
The National Lottery has raised more than £41 billion for more than 565,000 good causes across the UK since 1994. Thanks to National Lottery players, up to £600 million has been made available to support people, projects and communities throughout the UK during the Coronavirus crisis. https://www.national-lottery.co.uk/
Creative Scotland is the public body that supports the arts, screen and creative industries across all parts of Scotland distributing funding provided by the Scottish Government and The National Lottery. Further information at creativescotland.com. Follow us on Twitter, Facebook and Instagram. Learn more about the value of art and creativity in Scotland and join in at www.ourcreativevoice.scot
Image credit: Rowanbank Environmental Arts & Education CIC, image by Paul Chappells.