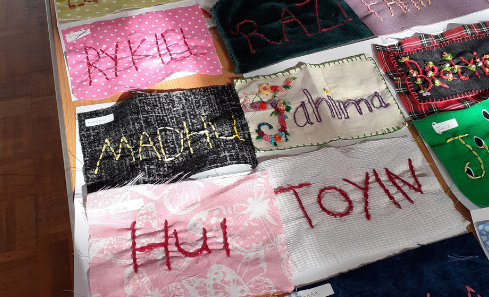 Over £820,000 of National Lottery and Scottish Government funds for creative projects
51 projects are sharing in over £820K of National Lottery and Scottish Government funding through Creative Scotland in the latest round of Open Fund awards.
These funds are supporting creative people, projects and organisations across Scotland to adapt and respond to the current changing circumstances brought about by COVID-19 and helping to sustain creative development at this challenging time.
Paisley's weekly sewing and language group for English language learners Sewing2gether All Nations, has also received funding to help create a supportive and welcoming environment in which asylum seekers, refugees and new Scots can practice conversational English, receive practical advice and support through the communal endeavour of sewing.
A Sewing2gether spokesperson said: "With doorstep deliveries of sewing activities and food parcels for vulnerable families, we continue to create even when we cannot meet as a group. One of our projects is our "Lockdown" rainbow themed banner, representing the many countries that form our group, with names embroidered individually at home, then collected and stitched together as a perfect illustration of how we continue to support each other."
In the year of the 20th anniversary of the 9/11 terrorist attacks, Highlands-based war and documentary photographer Nick Sidle will present a photographic exhibition Faces of Kabul+20 at Eden Court, Inverness in June 2021.
Drawing from images captured while working as an accredited photographer in these settings, the exhibition will depict New York prior to the first Gulf War, images of Afghanistan after the fall of the Taliban regime, and Western forces and their interactions with local people in Afghanistan in the immediate post-Taliban period.
Nick Sidle said: "Documentary photography is always about partnership, between the photographer and those whose lives they provide a window on, and with everyone who makes presenting the work possible. As the photographer, I feel very privileged to have the support of Creative Scotland that has made this work achievable and a real responsibility to make the project a success for all the partners and the audiences for the exhibition in the future."
Bringing global issues to local communities, Glasgow-based performance collective fieldwork performance has received funding to develop a bold new participatory project, Dear Green Place to coincide with the global climate conference taking place in Glasgow in November 2021.
Lewis Hetherington of fieldwork performance said: "We will use this time to plan and design a programme of creative engagement that weaves together culture, climate and community in the build-up to the 26th UN Climate Change Conference of the Parties. We're excited to explore how the people of Glasgow and beyond can respond to and interact with this historical event."
A new Diploma in Creative Producing is being developed by producer and coach Chris Grady. Delivered by Scottish and international teachers and mentors through a series of online vocational workshops, the ambition of the project is to help build a national network of emerging and expert producers of theatre and the performing arts.
In literature and publishing, Polygon is set to publish works from new female authors over the coming 18 months; award-winning poet Sam Buchan-Watts will publish his debut poetry collection Path Through Woods, and Highlands-based Irish poet Aoife Lyall's new collection Natural Selection, looking at contemporary attitudes to motherhood
Sam Buchan-Watts said: "I am enormously grateful for the work Creative Scotland does to make writers and artists feel valued - especially in a time when many struggle to stay buoyant, spiritually and materially."
Iain Munro, Chief Executive, Creative Scotland said: "The Open Fund is enabling creative people and organisations to explore ways of working that is helping them to adapt and respond to the current changing circumstances brought about as a result of Covid-19.
"From researching and developing new work and practices, to exploring safe ways to reach and engage audiences, these projects reflect the resilience, innovation and determination of Scotland's creative community in the face of extremely challenging circumstances.
"Made possible by the generosity of National Lottery players, who raise £30 million for good causes across the UK every week, and the Scottish Government, these awards are helping to sustain the immense value that creativity adds to our lives."
A full list of recipients of Open Fund awards is available on the Creative Scotland website. 
The fund has no deadlines, and full eligibility criteria and application guidance can be found on the Creative Scotland website. 
Image: A corner of a patchwork banner created by members of Sewing2gether All Nations, displaying rainbows as a symbol of hope, and members names embroidered onto individual pieces. Courtesy of Sewing2gether All Nations.
Contact Information
Claire Thomson
Media Relations & PR Officer
Creative Scotland
+44 141 302 1708
07747606146
Notes to editors
The National Lottery has raised more than £41 billion for more than 565,000 good causes across the UK since 1994. Thanks to National Lottery players, up to £600 million has been made available to support people, projects and communities throughout the UK during the Coronavirus crisis. https://www.national-lottery.co.uk/ 
Creative Scotland is the public body that supports the arts, screen and creative industries across all parts of Scotland on behalf of everyone who lives, works or visits here. We distribute funding provided by the Scottish Government and The National Lottery. www.creativescotland.com 
Follow Creative Scotland: 
Twitter: twitter.com/CreativeScots 
Facebook: facebook.com/CreativeScotland 
Instagram: instagram.com/creativescots