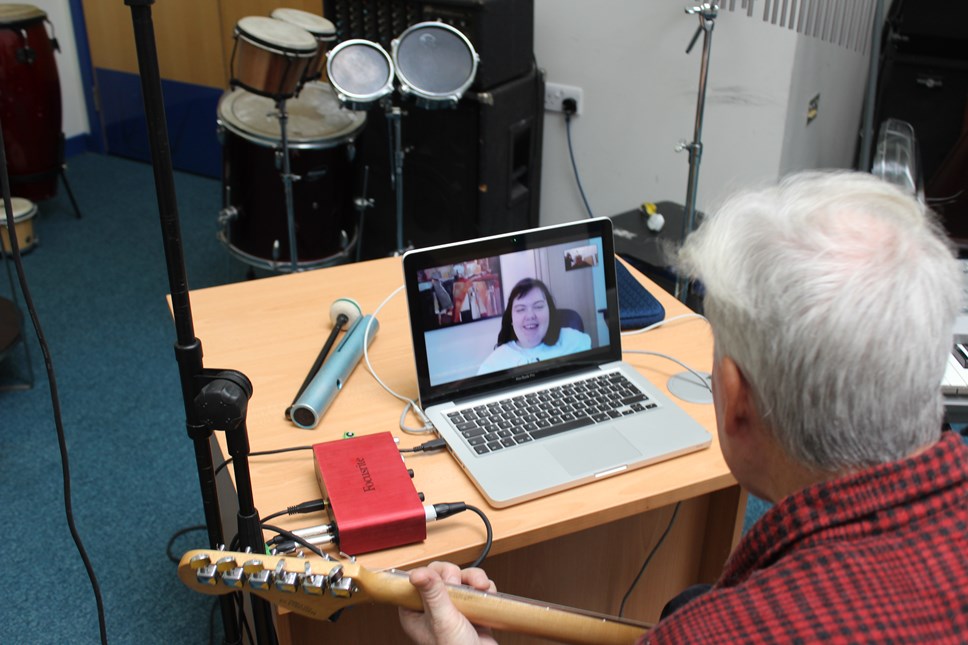 Over £1.6m National Lottery and Scottish Government funds for creative projects and development
58 projects are sharing in over £1.6 million of National Lottery and Scottish Government funding through Creative Scotland in the latest round of Open Fund awards.


These funds are supporting creative people, projects and organisations across Scotland to adapt and respond to the current changing circumstances brought about by Covid-19 and helping to sustain creative development at this challenging time.

This includes Sensatronic Home-Lab's individualised online digital music and arts experiences for participants with complex needs. Using flexible digital music kits, online training and remote live video sessions, this new national outreach service from charity Sense Scotland, is aiming to benefit the mental wellbeing of children and adults with disabilities, many of whom have endured particularly challenging lockdown experiences including isolation, loss of routine and lack of opportunities to learn, create and connect with others.
David McCluskey, Lead Artist, Arts, Sense Scotland, said: "So many people with a range of needs across Scotland will benefit from this project. The grant will enable us to reach and reconnect with participants and families shielding at home who've experienced such isolation over the past year. Expression and creativity need an outlet in these disorientating times. Through this funding our Sensatronic Home-lab will design innovative digital music and arts opportunities with young people and adults with disabilities, leading to real participation and inclusion in arts and culture and improved quality of life."
West Lothian-based charity Musically Active Dudes (MUSAC), which will launch Totally into Music, a new online singing and percussion class for adults with additional support needs. Participants will create all aspects of a new song supported and guided by expert professional music tutors.

Sophie Stewart, Fundraiser with MUSAC said: "In response to Covid-19 we moved classes online and waived all fees to continue to support the local disabled community, their families and carers. Working remotely inspired us to create this new, exciting class, which combines elements of previous classes we've successfully run, and supports our tutors who, as professional musicians, are facing uncertain times."

The Mount Stuart Trust in Argyll and Bute will commission acclaimed Scottish artist Katie Paterson to research and develop a future project, central to which is the climate emergency. Working with archives, libraries and herbariums of universities and botanic gardens, including Mount Stuart's own botanical collection, Paterson will focus on cataloguing and then gathering images of all the plant species which have become extinct. Collaborators for the future artwork including illustrators, designers and textile artists, will also be identified.

Mount Stuart Trust Programme Director, Sophie Crichton Stuart said, "In this 20th anniversary year of our Contemporary Visual Arts Programme, we are exceedingly grateful to The National Lottery through Creative Scotland for their support. It enables us to continue our working relationships with artists looking to the future even in these uncertain times. We are delighted to be working with Katie Paterson on this timely and exciting project and look forward to sharing her research findings."
Iain Munro, CEO, Creative Scotland said: "As we face ongoing challenges resulting from Covid-19, the Open Fund supports Scotland's arts and creative community to continue to innovate and engage with people across the country. These awards also help enable individual artists, creative practitioners and organisations to develop and present new work, and sustain creative development.

"Thanks to the generosity of National Lottery players, who raise £30 million for good causes across the UK every week, and funding from the Scottish Government, these awards are helping to sustain the great value that creativity brings to our lives."

A full list of recipients of Open Fund awards is available on the Creative Scotland website.

The fund has no deadlines, and full eligibility criteria and application guidance can be found on the Creative Scotland website.


Image credit: Sensatronic Home-Lab. Photo courtesy of Sense Scotland
Contact Information
Brian Maycock
Notes to editors
The National Lottery has raised more than £41 billion for more than 565,000 good causes across the UK since 1994. Thanks to National Lottery players, up to £600 million has been made available to support people, projects and communities throughout the UK during the Coronavirus crisis. https://www.national-lottery.co.uk/
Creative Scotland is the public body that supports the arts, screen and creative industries across all parts of Scotland on behalf of everyone who lives, works or visits here. We distribute funding provided by the Scottish Government and The National Lottery. www.creativescotland.com
Follow Creative Scotland:
Twitter: twitter.com/CreativeScots
Facebook: facebook.com/CreativeScotland
Instagram: instagram.com/creativescots