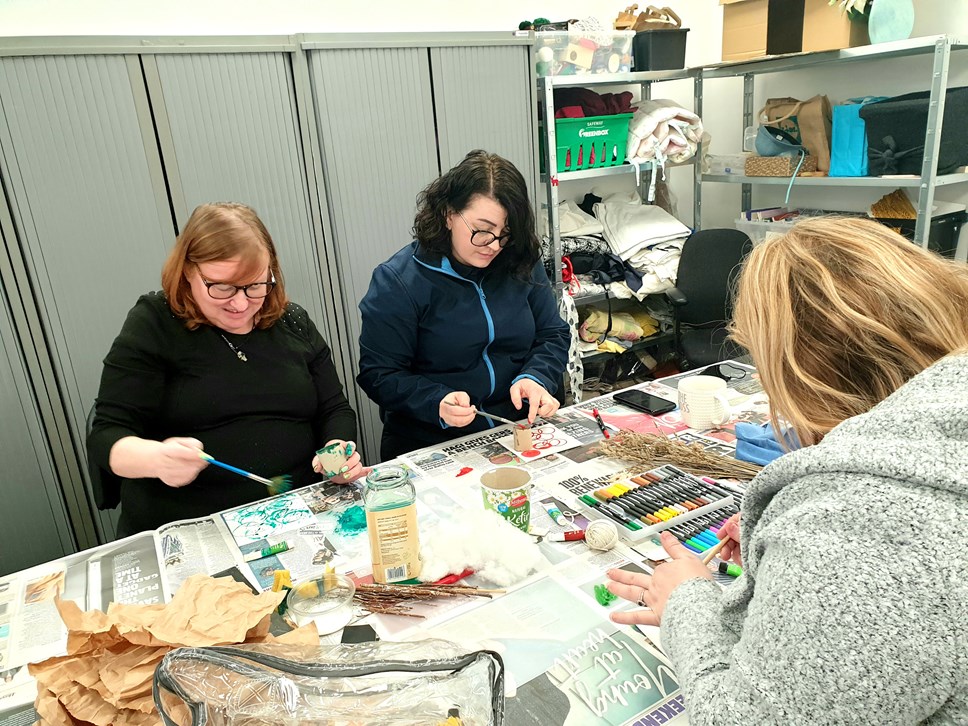 Over £1.1million National Lottery funds supports creativity across Scotland
The beneficial impact of creativity on our sense of wellbeing is at the heart of a number of projects receiving a total of £1.1million backing from The National Lottery in the latest round of Creative Scotland's Open Fund awards.
East Kilbride's pioneering ARTernative, celebrated for their open and friendly person-centred approach to creativity, are set to roll out a new series of workshops. Organiser Silvia Vazzana explains: "Our friendly creative sessions combine art and mindfulness to help participants explore and open up to the world of possibilities. ARTernative workshops are not art classes and you don't need to have experience in making art to be creative.
Exploring how engagement in the arts can help prevent mental ill health, and challenging mental health stigma, the Scottish Mental Health Arts Festival makes a welcome return this May. With a packed line up of events featuring film, theatre, music, literature and visual arts, the Mental Health Foundation's Gail Aldam added: "This year's programme is an exciting one, with events on the theme of 'Gather'. We'll be looking at what it means for people to come together, how sharing spaces influences our mental health and our experience of art, and how we can gather in a way that is inclusive."
Responding to the challenges faced by fellow artists due to Covid-19, Scottish folk musician, singer-songwriter and author, James Yorkston is preparing to host the Tae Write wi' a Fifer creative residency for four musicians, in the East Neuk of Fife, which will culminate in a live show.
Explaining more, Yorkston said: "With the cancellation of so many shows hitting musicians' finances, Tae Write wi' a Fifer will offer a paid week, where the artists selected can concentrate on creating new music and songs. This creative time is hugely valuable to so many musicians and poets."
In addition, funding in this round is enabling the creation of new work by visual artists including Aniara Omann, Katherine Murphy and Lauren Gault; residencies being undertaken by artists, Janette Kerr and Jennifer Wicks; and an international exchange opportunity for Scottish poet Janette Ayachi; new music recordings from Rosanne Erskine and electronic pop duo Slim Wrist, happenings like Kevin Mclean's audacious The Loud Poets, and an impressive array of festivals such as the Loch Shiel Festival for chamber music lovers (Apr); new drama, cabaret, comedy and music in the Borders at DunsPlayFest (Apr); The Village Storytelling Festival at Glasgow's CCA and Pollok's the Village Storytelling Centre; Edinburgh Tradfest's distinctive platform for folk arts (Apr-May), and classical, jazz and traditional music at the East Neuk Festival (Jun-3 Jul).
Creative Director Kevin Mclean commented: "Scotland has always had one of the most vibrant and varied poetry scenes and our aim is to help grow that further with our dynamic Loud Poets format, digital distribution of events, and the linking up of local grassroots poetry organisations."
Iain Munro, CEO, Creative Scotland said: "Against the backdrop of restrictions lifting and falling COVID-19 case rates, there are grounds for cautious optimism that the year ahead will see people across Scotland being able to benefit from such a wide range of enriching cultural and creative experiences.
"Thanks to the generosity of National Lottery players, who raise over £30 million for good causes across the UK every week, this funding is vital for artists and audiences alike to explore and open up a whole new world of creative possibilities that add so much to our lives."
A full list of Open Fund recipients is available on the Creative Scotland website.
Contact Information
Olivia Carr
Media Relations & PR Coordinator
Creative Scotland
0141 302 1708
07970 962 322
Notes to editors
Background:
The National Lottery has raised more than £41 billion for more than 565,000 good causes across the UK since 1994. Thanks to National Lottery players, up to £600 million has been made available to support people, projects and communities throughout the UK during the Coronavirus crisis.  https://www.national-lottery.co.uk/
Creative Scotland is the public body that supports the arts, screen and creative industries across all parts of Scotland distributing funding provided by the Scottish Government and The National Lottery. Further information at creativescotland.com. Follow us on Twitter, Facebook and Instagram. Learn more about the value of art and creativity in Scotland and join in at www.ourcreativevoice.scot
Image credit: ARTernative, image by Silvia Vazzana.