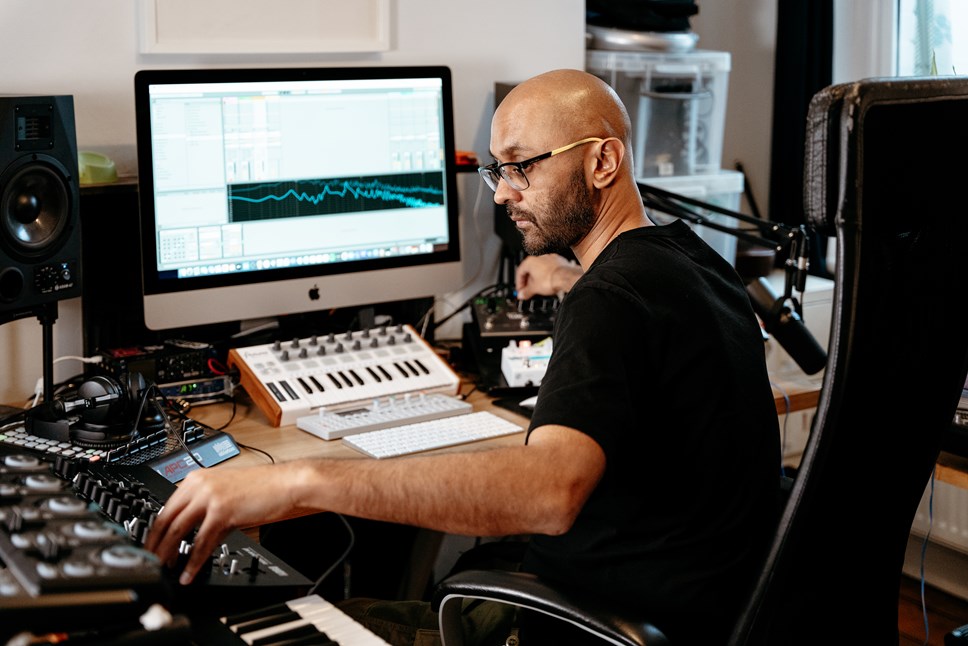 Open Fund Awards support Aberdeen-based music projects
A series of streamed concerts featuring leading Scottish jazz musicians is being presented by Jazz at the Blue Lamp thanks to funding awarded to projects based in Aberdeen through Creative Scotland's Open Fund.
A new series of music and conversation podcasts created in outdoor spaces produced by Aberdeen based Spindrift Productions and presented by musician Jason Singh is also among 60 projects across Scotland sharing a total of over £1.2 million of National Lottery and Scottish Government funds.


These funds are supporting creative people, projects and organisations across Scotland to adapt and respond to the current changing circumstances brought about by Covid-19 and helping to sustain creative development at this challenging time.

Jazz at the Blue Lamp presents, supports and promotes Jazz and Scottish musicians.
A digital series running until June features weekly streamed Thursday night concerts showcasing top Scottish musicians including the Alan Benzie Trio, Georgia Cécile, Anoushka Nanguy Quartet and Alyn Cosker. Monthly Jazz on a Sunday Afternoon concerts featuring local professional, semi professional and amateur bands will resume as soon as Covid-19 restrictions allow.
Jazz at the Blue Lamp will also host regular online teaching and rehearsals for the Jazz at the Blue Lamp Community Big Band, a community ensemble open to local musicians of all ages and levels of experience.
Jazz at the Blue Lamp is based at the iconic Blue Lamp venue in Aberdeen and more information and the streamed concerts can be found at their Facebook and youtube pages.
Marisha Addison, Chair of Jazz at the Blue Lamp said: "We're delighted once again to have the support of Creative Scotland in keeping jazz live at the Blue Lamp and continuing the development of our Community Big Band. While we await the time when attended gigs will be allowed again our streamed programme offers top class jazz, keeps us in touch with our loyal supporters and opens Jazz at the Blue Lamp up to a whole new audience."

Breathing Space is a new series of music and conversation podcasts which will be recorded in outdoor spaces, including the Cairngorms and Donside.

Produced by Aberdeen based Spindrift Productions, and presented by musician Jason Singh, the series will feature conversations with musicians living in Scotland about their relationship with the landscape, the acoustic of outdoor spaces and performing in new ways. Musicians, including Jenny Sturgeon and Su-a Lee, will also perform a selection of their work.

The podcasts will be recorded using state of the art 3D technology, giving audiences a deep and absorbing listening experience, and will be available from Tuesday 5th October on all the main podcast platforms.

Jason Singh said: "I am absolutely overjoyed to be a recipient of Creative Scotland funding which will allow my idea for a new immersive audio podcast series 'Breathing Space' to be realised. I can't wait to record in all the incredible outdoor spaces and share the stories and music of some of Scotland's finest musicians."
Iain Munro, CEO, Creative Scotland said: "The diverse and engaging range of projects being supported through the Open Fund demonstrates the rich vein of creativity that plays such an important part in communities throughout Scotland. While we continue to face significant challenges from the ongoing effects of the pandemic, this is work which opens up new horizons and conversations and provides inspiration for a brighter future.

"Thanks to the generosity of National Lottery players, who raise £30 million for good causes across the UK every week, and funding from the Scottish Government, these awards are helping to sustain the great value that creativity brings to our lives."

A full list of recipients of Open Fund awards is available on the Creative Scotland website.

The fund has no deadlines, and full eligibility criteria and application guidance can be found on the Creative Scotland website.


Image credit: Jason Singh Breathing Space © Underhill Creatives
Contact Information
Brian Maycock
Notes to editors
Background
The National Lottery has raised more than £42 billion for over 625,000 good causes across the UK since 1994. Thanks to National Lottery players, more than £1.2 billion has been awarded in the last year to support communities and thousands of organisations across the UK to cope with the impact of the Coronavirus pandemic. https://www.national-lottery.co.uk/
Creative Scotland is the public body that supports the arts, screen and creative industries across all parts of Scotland on behalf of everyone who lives, works or visits here. We distribute funding provided by the Scottish Government and The National Lottery. www.creativescotland.com
Follow Creative Scotland:
Twitter: twitter.com/CreativeScots
Facebook: facebook.com/CreativeScotland
Instagram: instagram.com/creativescots