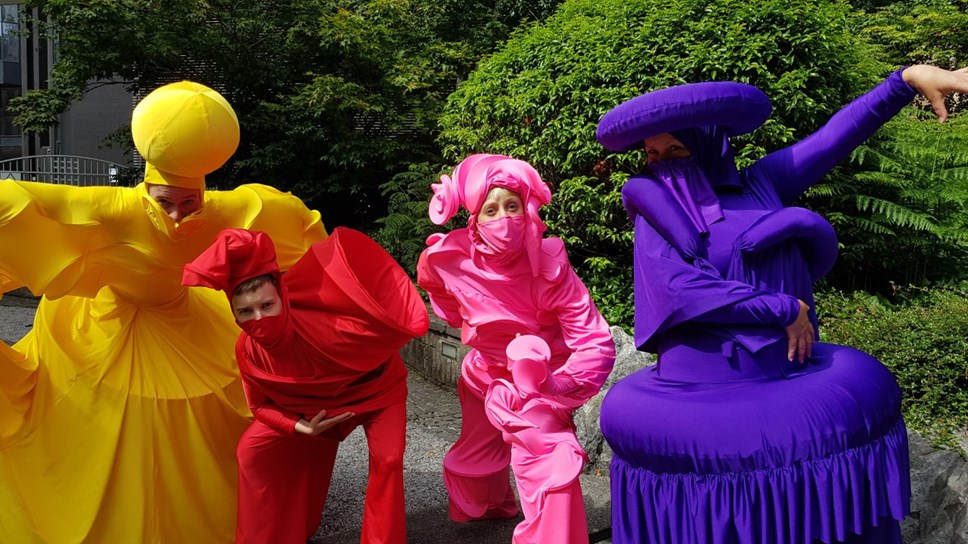 New Funds for Touring Theatre and Dance
New funds are available for Scottish based artists, companies, producers and venues for touring live theatre and dance work from Summer 2022.
With support from The National Lottery as well as enhanced funding of £375,000 from the Scottish Government, Creative Scotland's £2million Touring Fund for Theatre and Dance eligibility criteria is now live and will open for applications on Tuesday 17 August.
Culture Minister Jenny Gilruth said: "It is fantastic to see the Touring Fund for Theatre and Dance re-open for applications. Delivered by Creative Scotland with an additional £375,000 of Scottish Government funding, the fund will help support a range of touring theatre shows for more people across Scotland to experience and enjoy in places which normally have fewer opportunities.
"Fulfilling one of our 100 day commitments, this fund will not only generate increased opportunities for new audiences to experience the best of Scottish theatre, it will provide artists, producers and companies with an opportunity to showcase their creative works after such a difficult year for the sector. I look forward to hearing more about the productions which will benefit from this funding."
Since the Fund's inception in 2018, £4.2million has enabled a wide range of new and topical re-stagings of acclaimed theatre and dance shows including circus for babies, gritty drama, and musical comedy capers exploring themes from international friendship to mental health to criss-cross Scotland. From small, medium and large-scale venues pre-covid, shows have been specially created and re-imagined during the pandemic, to suit outdoor spaces and unconventional places such as allotments, woodland trails, garden centres, loch-sides, and people's gardens.
Laura Mackenzie Stuart, Head of Theatre at Creative Scotland said: "It's with thanks to the generosity of National Lottery players, who raise £30 million for good causes across the UK every week, and funding from the Scottish Government, that artists and companies can continue to re-connect with audiences as we slowly begin to emerge from the pandemic, bringing live in person performance back to communities throughout Scotland.
"Partnerships with established venues will play a vital role – being at the heart of the communities they work in year-round, every year. Whilst we have endured an incredibly challenging and disrupted period, those links have been kept vibrant and strong. They will be key as audiences begin once again to enjoy the uplifting experience of theatre and dance in person, and a physical reconnection with performing arts."
Contact Information
Olivia Carr
Media Relations & PR Coordinator
Creative Scotland
0141 302 1708
07970 962 322
Notes to editors
Background:
The Touring Fund for Theatre and Dance was developed as a collaboration between Creative Scotland, the Federation of Scottish Theatre and their members. The Fund supports the touring of theatre and dance, enhancing opportunities for artists, producers and companies to work more collaboratively with venues to grow audiences and provide greater access to high quality work across Scotland.
Full details and eligibility criteria for the Touring Fund for Theatre and Dance is available on Creative Scotland's website.
This round of funding has two strands. The first strand is open to applications from artists, companies and producers to tour live work. The second strand is open to applications from touring networks and consortia of venues to support programming in venues to present live work as part of their Covid recovery plans.
There are no upper or lower limits on the amount an applicant can apply for. Funding will support activity which can take place from Summer 2022 onwards.
Timelines:
- Online application portal opens: 2pm, 17 August 2021
- Application deadline: 12noon, 4 October 2021
The overall budget for this round of the Touring Fund for Theatre and Dance is £2,095,000, including £1.72million for artists/touring companies/producers (Strand One) and £375,000 for touring networks/consortia of venues (Strand Two).
The National Lottery has raised more than £42 billion for over 625,000 good causes across the UK since 1994. Thanks to National Lottery players, more than £1.2 billion has been awarded in the last year to support communities and thousands of organisations across the UK to cope with the impact of the Coronavirus pandemic. https://www.national-lottery.co.uk/ 
Creative Scotland is the public body that supports the arts, screen and creative industries across all parts of Scotland on behalf of everyone who lives, works or visits here. We distribute funding provided by the Scottish Government and The National Lottery. www.creativescotland.com 
Follow Creative Scotland: 
Twitter: twitter.com/CreativeScots 
Facebook: facebook.com/CreativeScotland 
Instagram: instagram.com/creativescots 
Image: Previously supported through the Touring Fund - Mischief La-Bas' The Fizzicals (Credit Mark Freegard and Stanley Smith).