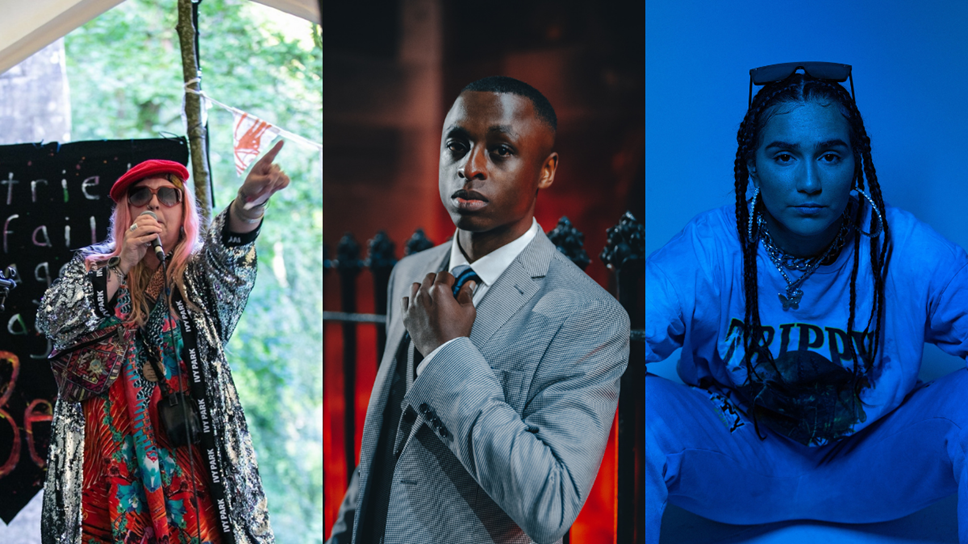 New funds for Scotland's Hip Hop Artists
From Dundee to Glasgow, Aberdeen to Edinburgh, fifteen Scottish based Hip Hop artists working in music, visual arts, dance and film have received bursaries totalling £16,379, thanks to a new pilot programme run by Sunny G, UP2STNDRD and 644 Studios, with backing from The National Lottery through Creative Scotland.
Designed to help increase opportunities and address inequality, the aim of the programme is to create conditions in which Hip Hop artists can thrive in the development, presentation and promotion of their own work.
These individual bursaries of up to £1,500 are supporting the research, development, rehearsal, recording of new work from artists across Scotland including singer, rapper and actor Clarissa Woods from Govanhill, Glasgow; north-east rapper Chef (Ola Akinsanya) will collaborate with local artists based in Aberdeen on a music video and visual arts project; Glasgow's Shelltoe Mel (Melanie Leck) will record new work in collaboration with a women-led recording studio, amongst others.
On being awarded a bursary Aberdeen's rising hip hop star, Chef commented: "This bursary has given me the chance to get closer to fully realising my goals without having to compromise due to budget. Being acknowledged has also given me more belief in the work we are doing and allowed me to think of more innovative ideas to implement in the future."
Steg G of Sunny G Radio said: "It was exciting to discover all the amazing artists within Scottish Hip Hop that applied to the Hip Hop Bursary. The standard of supporting materials was exceptional and the ideas for the projects were very exciting. It's really inspiring to see how strong and diverse the Hip Hop scene Is within Scotland."
Jenny Tipton, Place, Partnerships & Communities Officer at Creative Scotland said: "With hip-hop and grime a well-established genre across Scotland, there's a wealth of talent out there and in partnership with Sunny G Radio, UP2STNDRD and 644 Studios it's great to be opening up avenues of support for talented artists to develop their careers and raise the profile of their work. We're looking forward to further developing support for Scottish Hip Hop artists to progress in their creative careers."
| | | | |
| --- | --- | --- | --- |
| Artist | Funding | Activity | Local Authority |
| Ola Akisanya | £1,500.00 | Collaborative new music and visuals project with local artists | Aberdeen |
| Chloe Boyd | £1,500.00 | 5 new tracks development and studio time | Glasgow |
| Ashkan Farzan | £1,500.00 | Single for debut album and music video | Glasgow |
| Jubemi Iyiku | £1,100.00 | New music video for current work | Glasgow |
| Melanie Leck | £1,500.00 | Research, development and recording of new music and dance work, in collaboration with a women-led recording studio | Glasgow |
| John Lee Miller | £500.00 | Equipment to help develop new work | Glasgow |
| Callum Milligan | £500.00 | Equipment for a community recording space in Glasgow | Glasgow |
| Edward Oyadiran | £535.00 | Recording and development of new work | Edinburgh |
| Sandy Pentland | £690.00 | Rap workshops with recovery groups, culminating in a collaboratively made music video | Glasgow |
| Harry Rait | £1,500.00 | New music tracks with accompanying visual artwork | Aberdeenshire |
| Lloyd Ross | £704.00 | Equipment for new work | Glasgow |
| Joel Shoniwa | £1,500.00 | 4 track EP with full length music video | Edinburgh |
| Darren Stewart | £1,500.00 | Music video for two new tracks, in the format of a short cinematic film | Dundee |
| Tristyn-Jay Trusler | £850.00 | Equipment to support development of new work | Edinburgh |
| Clarissa Woods | £1,100.00 | Research and development time for new album, working with local collaborators | Glasgow |
Contact Information
Sophie Bambrough
(+44) 07747 606 146
Notes to editors
Image (L-R): Shelltoe Mel (Melanie Leck) | Chef (Ola Akinsanya) | Clarissa Woods
Creative Scotland is the public body that supports the arts, screen and creative industries across all parts of Scotland distributing funding provided by the Scottish Government and The National Lottery. Further information at creativescotland.com. Follow us on Twitter, Facebook and Instagram. Learn more about the value of art and creativity in Scotland and join in at www.ourcreativevoice.scot
The National Lottery has raised more than £41 billion for more than 565,000 good causes across the UK since 1994. Thanks to National Lottery players, up to £600 million has been made available to support people, projects and communities throughout the UK during the Coronavirus crisis. https://www.national-lottery.co.uk/
Media Contact:
Sophie Bambrough, Media Relations & PR Officer, Creative Scotland.