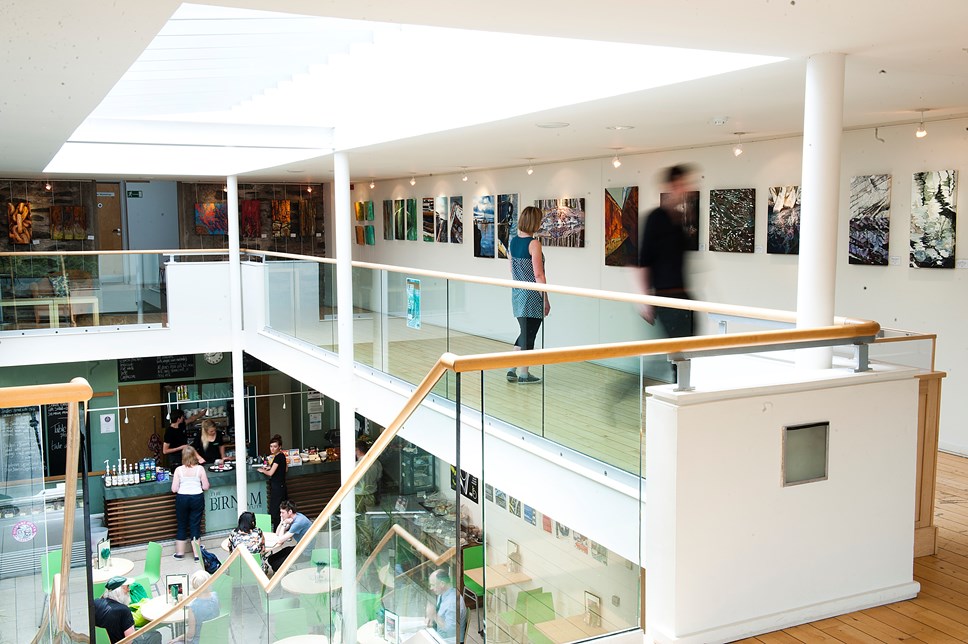 National Lottery funds support reopening of Birnam Arts
Birnam Arts will be reopening its doors thanks to funding awarded through Creative Scotland's Open Fund.
Birnam Arts' reopening is among 53 projects in total sharing in over £1.2 million of National Lottery funding in the latest round of Open Fund awards.
These funds aim to support creativity across Scotland for artists, organisations and creative groups as they seek to build sustainability while emerging from Covid-19 restrictions.
Birnam Arts will reopen in 2021 with a streamlined arts programme. All community classes and workshops will be phased back in when restrictions allow, with plans for several reduced-capacity shows to be performed indoors in line with Covid-19 safety guidance.
The reopening of Birnam Arts ties in with major improvements to the venue's lighting system in order to improve environmental efficiency, as well as a rebrand and complete website rebuild to improve functionality and accessibility.
In addition, there will be an enhancement of the venue's community programme with the hope of inspiring confidence to engage with cultural activities in rural Perthshire- offering benefits to mental health via reducing isolation and loneliness within the local community.
James Irvine, General Manager says: "In the current uncertain climate, as we gradually restore our arts programme, ongoing support has never been more crucial - not just for Birnam Arts but for the community we serve.
"Access to culture is key for any community's collective wellbeing. Birnam Arts has always aimed to be very much at the heart of our community and ongoing support from the Open Fund is key to safeguarding this valuable community asset."
Joan Parr, Creative Scotland's Interim Director of Arts and Engagement, said: "Thanks to the generosity of National Lottery players, who raise £30 million for good causes across the UK every week, these vital funds are helping artists to continue to develop and present their work and to bring extraordinary creative experiences to life within our communities."
A full list of recipients of Open Fund awards is available on the Creative Scotland website.
Contact Information
Olivia Carr
Media Relations & PR Coordinator
Creative Scotland
0141 302 1708
07970 962 322
Notes to editors
Background: 
In June 2021, Creative Scotland's Open Fund: Sustaining Creative Development made 53 funding awards, totalling £1,246,122.
The Open Fund: Sustaining Creative Development has no deadlines, and full eligibility criteria and application guidance can be found on the Creative Scotland website.
In response to feedback from applicants, Creative Scotland's Open Fund for Individuals will move to a simplified online application process from Tuesday 10 August 2021. Please note, this means that the Open Fund will be closing to applications from Individuals for one week, from Tuesday 3 August 2021. For full information visit our website.  
Individual artists and creators based in Scotland, are invited to book a place on one of our Sector Sessions to find out more about the redeveloped application process for this fund. 
More information about Covid-19 funding and resources can be accessed via FindBusinessSupport.gov.scot, and through Creative Scotland's Resource Directory for Covid-19.
Regular updates on all emergency funding in response to COVID-19 are provided on Creative Scotland's website.
The National Lottery has raised more than £41 billion for more than 565,000 good causes across the UK since 1994. Thanks to National Lottery players, up to £600 million has been made available to support people, projects and communities throughout the UK during the Coronavirus crisis.  https://www.national-lottery.co.uk/
Creative Scotland is the public body that supports the arts, screen and creative industries across all parts of Scotland on behalf of everyone who lives, works or visits here. We distribute funding provided by the Scottish Government and The National Lottery. Further information at creativescotland.com. Follow us on Twitter, Facebook and Instagram.
Image credit: Birnam Arts.