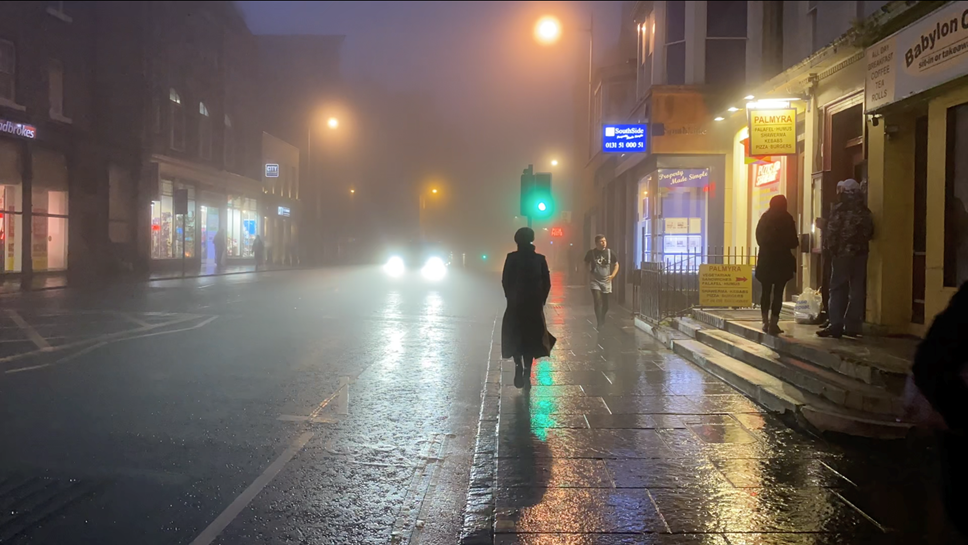 Edinburgh creative projects get go ahead with National Lottery funding
Thirteen creative projects from Edinburgh-based artists and creative organisations are taking place thanks to more than £253,000 National Lottery funding through Creative Scotland.
And If Not Now When? - a new audio-visual installation being exhibited at National Museum of Scotland; Open Book - a project aimed at making literature accessible to diverse populations and Positive Imaginings, an innovative outdoor show presenting the issue of climate change for young audiences are among 44 projects in total sharing in £903,734 of funding.
And If Not Now When? is a new work from sound-designer Philip Pinsky and film-maker Karen Lamond. The interactive audio-visual installation aims to inspire a re-imagining of our urban spaces and what our human experience of them is and can be.
The installation will be on public display at National Museum of Scotland, Edinburgh from 1st to 14th November 2021 (during COP26).
Co-creator and sound designer Philip Pinsky says: "Through our work we are inviting the public to experience a transformed urban reality with the aim of inspiring social change and provoking answers to the question, how can we respond to the climate emergency?"
Open Book uses literature as a tool for combating social isolation, supporting wellbeing, inspiring creativity and amplifying marginalised voices.
Open Book's co-founder and development director Marjorie Lotfi says: "participants describe our groups as 'a lifesaver', an 'oasis' and a 'way to connect' with others when they feel isolated by geography, disability or circumstance.
"Funding means we can continue this work from Shetland to Ullapool to Stranraer, in community groups, groups for the elderly and refugees and migrants, in prisons, and in public sessions in English, Gaelic, Scots and Arabic."
Speactram is the debut album from vocalist, lyricist and poet Marcas Mac an Tuairneir. This debut release will see Marcas embrace the Gaelic language whilst showcasing musical influences from the genres of pop, pop-folk, R&B and dance. A key element of this new work will be an exploration of LGBTQ's place within the Gaelic corpus.
Marcas Mac an Tuairneir says: "I am grateful to Creative Scotland for seeing the worth in me as an artist and this new development in Gaelic music. As an urban new speaker of Gaelic, it is important to me that Gaelic arts represent the myriad experiences of the community across Scotland and in Canada too."
Finally, Positive Imaginings is a new outdoor show from Rowanbank Environmental Arts & Education CIC, Director Arran Sheppard said: "Creative Scotland funding will enable us to bring the Positive Imaginings show to communities in Edinburgh and Glasgow during COP26, giving children from disadvantaged backgrounds the opportunity to engage with the Climate Emergency in a creative and empowering way."
Iain Munro, CEO, Creative Scotland said: "Thanks to the generosity of National Lottery players who raise £34 million for good causes across the UK every week, our Open Fund awards are helping artists and creative organisations develop innovative projects that enrich the lives of people across Scotland, while raising questions about the important issues of our time and ensuring our collective creative voice continues to be heard."
A full list of recipients of Open Fund awards is available on the Creative Scotland website.
Contact Information
Olivia Carr
Media Relations & PR Coordinator
Creative Scotland
0141 302 1708
07970 962 322
Notes to editors
Background
In August 2021, Creative Scotland's Open Fund: Sustaining Creative Development made 44 funding awards, totalling £903,734.
The Open Fund: Sustaining Creative Development has no deadlines, and full eligibility criteria and application guidance can be found on the Creative Scotland website.
More information about Covid-19 funding and resources can be accessed via gov.scot, and through Creative Scotland's Resource Directory for Covid-19.
Regular updates on all emergency funding in response to COVID-19 are provided on Creative Scotland's website.
The National Lottery has raised more than £41 billion for more than 565,000 good causes across the UK since 1994. Thanks to National Lottery players, up to £600 million has been made available to support people, projects and communities throughout the UK during the Coronavirus crisis. https://www.national-lottery.co.uk/
Creative Scotland is the public body that supports the arts, screen and creative industries across all parts of Scotland distributing funding provided by the Scottish Government and The National Lottery. Further information at creativescotland.com. Follow us on Twitter, Facebook and Instagram. Learn more about the value of art and creativity in Scotland and join in at www.ourcreativevoice.scot
Image credit: image by Karen Lamond and Philip Pinsky.