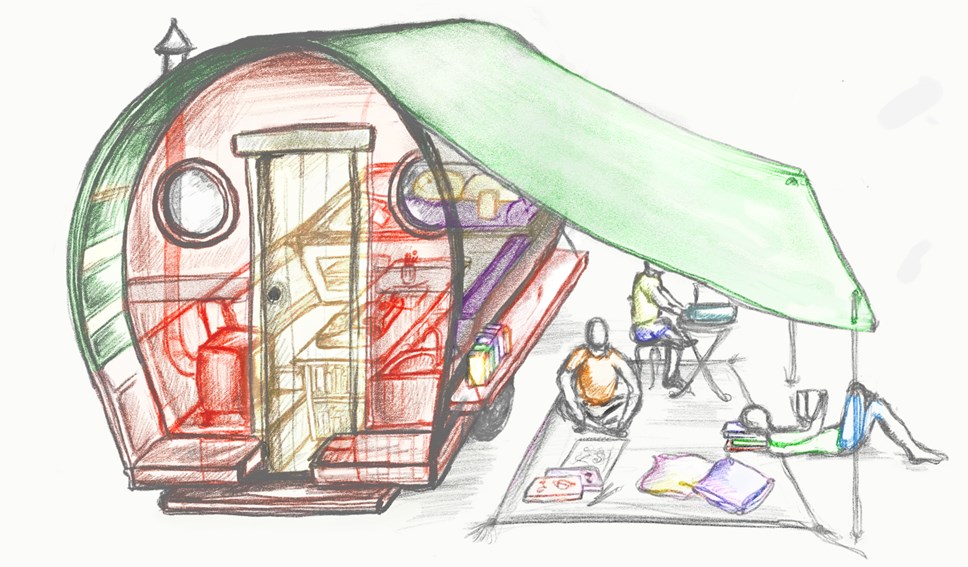 National Lottery funding for Glasgow-based creative projects
Local writer and story-teller, Luke Winter's brand new Story Wagon is touring across Scotland, offering sheltered outdoor writing and reading activities and facilities to the public, for free.
Loaded with typewriters, pens, paper and a small library, Story Wagon will provide writing desks, reading-out-loud sessions, creative writing workshops and storytelling performances.
Luke says: "The idea for Story Wagon has grown out of my own experience of working in the streets as a writer since 2014, busking stories for strangers on demand.
"We're alive during a climate emergency in an unequal society that requires deep changes. We need room for new voices, spaces to imagine new futures, and places to hold conversations we haven't had before.
"Writing and storytelling can be incredible tools for self-reflection and growth - a powerful way to make sense of the world and to explore the possibilities of other ones. Story Wagon will give sanctuary to write, to read and explore, for as many people as possible."
Story Wagon is one of 34 Glasgow-based projects sharing in over £681,000 of National Lottery and Scottish Government funding through Creative Scotland's Open Fund awards including:
Glasgow-based theatre company The Occasion's, The Peabody Chronicles with learning disability theatre project The Southside Group (TSG) for online release in August 2021
Peter Clerke, Co-Artistic Director says: "Our TSG theatre company of 12 learning disabled adults, aged from 19 to mid-fifties, is very excited to have the opportunity to complete The Peabody Chronicles - a mixture of material filmed across Zoom plus some scenes shot live and on location on Glasgow's Southside."
In a timely artistic response to the current campaigns for a pardon for, and memorial to those accused in the 16th and 17th century Scottish witch trials, local Rachel Newton and Lauren MacColl are creating a new multi-disciplinary work paying a humanising tribute to those persecuted in the past, exploring historical beliefs in the supernatural and modern-day parallels in our society.
Rachel and Lauren are collaborating with the writer Mairi Kidd on Heal & Harrow to bring these stories to life, with visuals by designer and photographer Elly Lucas.
Rachel comments: "Lauren and I first met as children attending Fèis Rois and this ambitious new project is a perfect and timely opportunity for us to work together as a duo for the first time. We are delighted to be collaborating with the writer Mairi Kidd to bring the important stories of these women to life."
Award-winning Gaelic arts organisation Ceòl is Craic will be filming and streaming live gigs as part of their 2021-22 programme.
Ceòl is Craic Chair Gillian Macdonald says: "Everyone at Ceòl is Craic is looking forward to resuming our live gigs at the CCA in Glasgow this September. We have planned an exciting range of Gaelic events featuring diverse musical genres from traditional to funk and jazz and Creative Scotland's funding will mean we can present our events online as well as on stage, broadening our outreach to include audiences in the Highlands, islands and beyond."
These examples are some of the 105 projects in total that have been awarded over £2.3million of National Lottery and Scottish Government funding through Creative Scotland in the latest rounds of Open Fund awards. A full list of recipients of Open Fund awards is available on the Creative Scotland website.
Iain Munro, CEO, Creative Scotland said: "Thanks to the generosity of National Lottery players, who raise £30 million for good causes across the UK every week, alongside equally welcome funding from the Scottish Government, these Open Fund awards are helping artists, creative organisations and communities to develop and share their work, and to keep culture and creativity at the heart of people's lives as we look to recover from the challenges of the pandemic."  
A full list of recipients of Open Fund awards is available on the Creative Scotland website.
The fund has no deadlines, and full eligibility criteria and application guidance can be found on the Creative Scotland website.
Contact Information
Olivia Carr
Media Relations & PR Coordinator
Creative Scotland
0141 302 1708
07970 962 322
Notes to editors
Background
The National Lottery has raised more than £42 billion for over 625,000 good causes across the UK since 1994. Thanks to National Lottery players, more than £1.2 billion has been awarded in the last year to support communities and thousands of organisations across the UK to cope with the impact of the Coronavirus pandemic. https://www.national-lottery.co.uk/
Creative Scotland is the public body that supports the arts, screen and creative industries across all parts of Scotland on behalf of everyone who lives, works or visits here. We distribute funding provided by the Scottish Government and The National Lottery. Further information at creativescotland.com. Follow us on Twitter, Facebook and Instagram.
Image credit: artist impression of the Story Wagon by Isa Gordon.