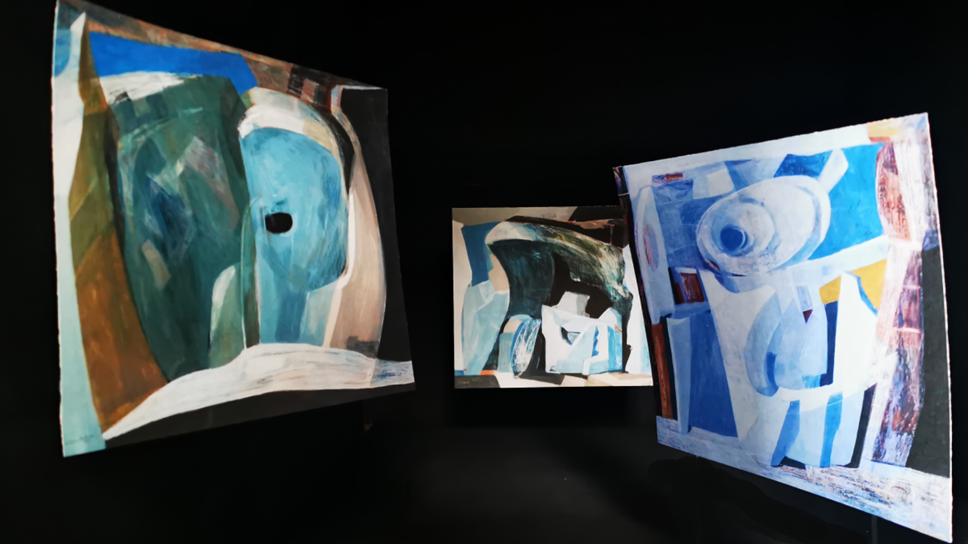 Mark Cousins pulls focus with ambitious new artwork
117 creative projects receive total of £2.7 million in latest round of Creative Scotland's Open Fund
Acclaimed writer, director and cinematographer, Mark Cousins will present an ambitious new artwork at The Fruitmarket in Edinburgh.
In Like a Huge Scotland, Cousins will focus a forensic eye on the glacier paintings of esteemed 20th century Scottish artist, Wilhelmina Barns-Graham, enlarging details to 10,000 times their original size to reveal their almost molecular structure.
Shot on 8K cameras, the large-scale, enveloping, four-channel installation is being made in collaboration with the Wilhelmina Barns-Graham Trust, directed by Rob Airey. Visuals will be complemented by a soundscape of glacier creaking and cracking recordings and an expressive musical score.
Mark Cousins says: "Wilhelmina Barns-Graham was a brilliant, free-thinking 20th Century artist. My work, Like Huge Scotland, is electrified by her paintings in the way she was electrified by a climb up to a glacier in the Alps in May 1949.
"In the Fruitmarket, with composer Linda Buckley and sound designer Ania Przgoda, I will plunge people into the feeling of being inspired, of looking anew, of having your brain changed. What does inspiration feel like? What happened to Barns-Graham on that day?"
Fiona Bradley, Fruitmarket Director says: "Being able to respond to the creativity and vision of artists is the principal reason we made the new Fruitmarket Warehouse as part of our redevelopment and expansion. It's really exciting to be working with Mark Cousins on this."
Running from 5–27 November 2022, Like a Huge Scotland is one of 117 creative projects and research and development activities receiving a total of £2.7 million in the latest round of Creative Scotland's Open Fund. At a glance:
European dates for Witsherface Productions' uplifting dramatisation of Scottish football trailblazer Rose Reilly's journey from Stewarton to AC Milan, taking the world of football by storm and eventually winning the World Cup.
Author, Kirstin Innes' new novel, Semiprecious featuring the intertwined stories of four sets of twins born in 1978, their parents and grandparents, from the post-war years to the present day.
Firebrand theatre company's forthcoming series of original scripted podcasts celebrating the renowned Scottish naturalist Nan Shepherd's The Living Mountain - her 75-year-old mystical prose poem about the Cairngorms mountains, which became an inspiring lockdown phenomenon.
Season Two of Tin Can Audio's queer horror audio drama, Folxlore bringing more experimental, queer, horror poetry into the world.
Paul Burns, Interim Deputy Director of Arts & Engagement at Creative Scotland said: 
"Thanks to funding from the Scottish Government, the Open Fund continues to support the creation of unique and inspiring work from artists and community groups all over the country.
"Once more, a huge variety of projects and endeavours will provide valuable cultural experiences for people of all ages and backgrounds."
The full list of Open Fund recipients in this round is available on the Creative Scotland website.
Contact Information
Olivia Carr
Media Relations & PR Coordinator
Creative Scotland
0141 302 1708
07970 962 322
Notes to editors
In March 2022, Creative Scotland's Open Fund made 117 funding awards, totalling £2,782,925.
The Open Fund has no deadlines, and full eligibility criteria and application guidance can be found on the Creative Scotland website.
More information about Covid-19 funding and resources can be accessed via FindBusinessSupport.gov.scot, and through Creative Scotland's Resource Directory for Covid-19.
Regular updates on all emergency funding in response to COVID-19 are available on Creative Scotland's website.
Creative Scotland is the public body that supports the arts, screen and creative industries across all parts of Scotland distributing funding provided by the Scottish Government and The National Lottery. Further information at creativescotland.com. Follow us on Twitter, Facebook and Instagram. Learn more about the value of art and creativity in Scotland and join in at www.ourcreativevoice.scot
Image credit: Like A Huge Scotland, image by Mark Cousins.