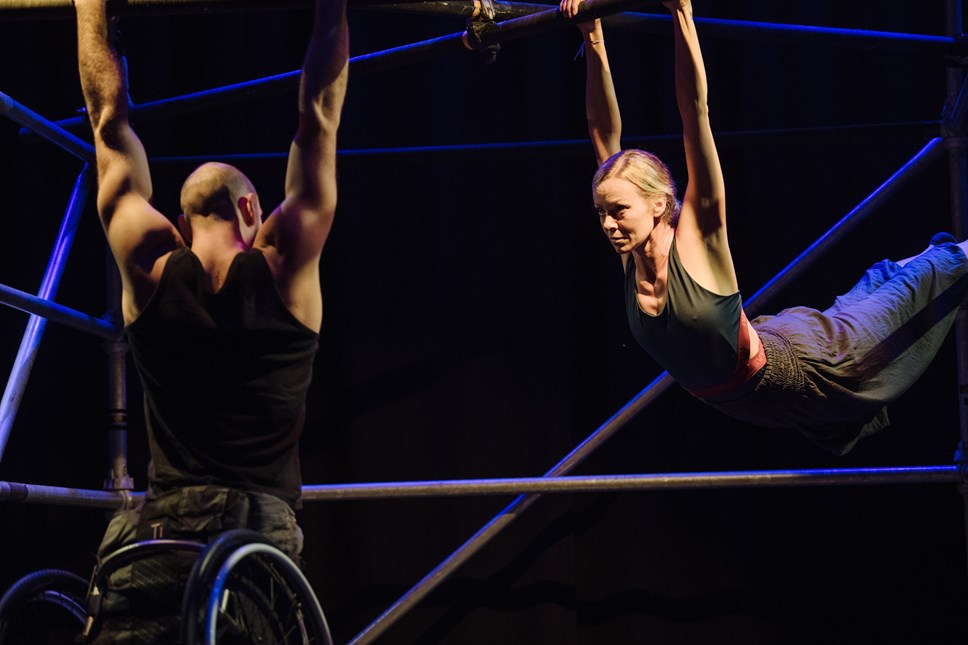 Made in Scotland: International Touring Opportunities for Scots
Scottish artists, bands and ensembles are invited to apply for funding to take up new international touring opportunities secured during the Edinburgh Festival Fringe through the Made in Scotland Onward Touring Fund which has to date supported 91 productions to tour across six continents, visiting 42 countries.
Made in Scotland supports Scottish artists to bring work to the Fringe and to take advantage of international opportunities received from performing at the festival. Up to £100,000 is available across 2019-20 for individuals and companies based in Scotland who have presented theatre, dance or music at the Edinburgh Festival Fringe between 2015 to 2019 and which has since been programmed internationally. Find out more: www.creativescotland.com/funding/funding-programmes/targeted-funding/made-in-scotland
The Onward Touring Fund is joined by a range of existing international opportunities supported by Creative Scotland and the Scottish Government that aim to profile Scotland's successes across the arts and creative industries and establish new connections within the global marketplace.
Iain Munro, Acting CEO, Creative Scotland commented: "Scotland has an international reputation as a country where our arts and culture are an intrinsic part of our national identity. It is important, now more than ever, that we continue to engage internationally and showcase the outstanding work produced here in Scotland.
"Being present on the highly visible global stage continues to build Scotland's reputation as a confident, creative nation producing high quality work. Not only does it enable Scotland's artists and creative practitioners to identify export opportunities which generate future income through collaborations, touring and performing opportunities, it creates an opportunity to welcome artists and audiences from across the globe back to Scotland."
Fiona Hyslop, Culture Secretary, said: "Scotland's musicians and performers are some of our best ambassadors, showcasing artistic achievements on the global stage and enhancing our reputation as a confident, creative nation.
"It has never been more important to engage internationally, and I'm pleased that this fund will provide some of Scotland's greatest talent with exciting touring opportunities overseas, allowing the exchange of inspiring and enriching cultural experiences with other countries."
Shona McCarthy, Chief Executive of the Edinburgh Festival Fringe Society said: "We are delighted to see the return of the Made in Scotland Onward Touring Fund made possible through the essential support of the Scottish Government's Edinburgh Festivals Expo Fund. The Made in Scotland showcase provides an incredible platform for Scotland based artists across dance, theatre and music to not only highlight and profile their work at the Edinburgh Festival Fringe to international audiences and curators, but to create incredible opportunities for Scottish work to tour internationally beyond the Fringe."
Additional International Opportunities
Proposals are currently being sought for the International Performing Arts for Youth Spotlight on Scotland in Philadelphia in January 2020, led by Imaginate.
This October sees musicians Ryan Young & Jenn Butterworth perform at WOMEX World Music Expo in Tampere, Finland which sees Creative Scotland partner with the other UK nations through the Horizons partnership to promote the wealth of Scotland's music traditions; while Publishing Scotland and Scottish Books International will by flying the flag for Scottish books at Frankfurt Book Fair.
Into 2020, Architecture and Design Scotland recently closed submissions to showcase at one of the most prestigious architecture events in the world - the Biennale Architettura, Venice. 2020 will also see an unprecedented country focus as the Year of Scotland in Australia produced by Showcase Scotland Expo brings more than 30 acts to folk festivals and touring circuits in Australia across the year. Scottish Music Centre will promote classical music at Classical:NEXT the world's biggest contemporary classical showcase and expo in Rotterdam; Jazz From Scotland will spearhead the Scottish jazz presence at the Jazzahead! expo in Bremen and The Work Room will promote the export potential of dance at internationale tanzmesse nrw Europe's largest dance trade event in Düsseldorf, Germany.
Ends
Notes to Editors

Made in Scotland is a partnership between the Edinburgh Festival Fringe Society, the Federation of Scottish Theatre (FST), the Scottish Music Centre (SMC) and Creative Scotland. Made in Scotland happens with the support of the Scottish Government's Edinburgh Festivals Expo Fund – awarded to the Edinburgh Festival Fringe Society. www.creativescotland.com/funding/funding-programmes/targeted-funding/made-in-scotland
IPAY, Spotlight on Scotland, Philadelphia, USA
Imaginate, with the support of Creative Scotland and the Scottish Government, is supporting a Scottish delegation and a showcase at the 2020 IPAY in Philadelphia from 22–25 January 2020. Deadline for submissions Monday 23 September 2019: www.imaginate.org.uk/artists/opportunities/ipay-2020
Classical Next, Rotterdam, the Netherlands
Classical Next which runs from 13–16 May 2020 is currently seeking applications from all corners of the classical music world, whether early or contemporary, traditional or experimental for their 2020 programme before Friday 27 September 2019: www.classicalnext.org
Creative Scotland is the public body that supports the arts, screen and creative industries across all parts of Scotland on behalf of everyone who lives, works or visits here. We enable people and organisations to work in and experience the arts, screen and creative industries in Scotland by helping others to develop great ideas and bring them to life. We distribute funding provided by the Scottish Government and the National Lottery. For further information about Creative Scotland please visit www.creativescotland.com. Follow us @creativescots and www.facebook.com/CreativeScotland
Media Contact
Sophie Bambrough, Media Relations & PR Officer, Creative Scotland
E: sophie.bambrough@creativescotland.com
T: 0131 523 0015
M: (+44) 0 7747 606 146
Contact Information
Sophie Bambrough
(+44) 07747 606 146