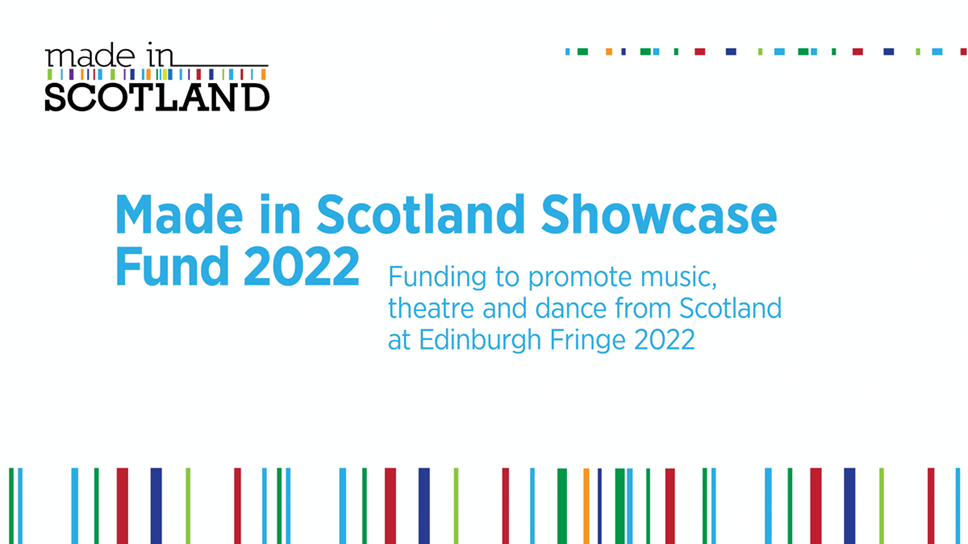 Made in Scotland 2022 applications open
Scottish dance, theatre and music artists invited to apply for funding to present work at Edinburgh Festival Fringe 2022. Application deadline: 12 noon, 23 November 202
Scotland-based artists working in music, theatre and dance can now apply for Made in Scotland funds to create ambitious and innovative new work with the potential to secure future national and international opportunities.
With the backing of £300,000 Scottish Government EXPO funding through Creative Scotland, the annual Made in Scotland performance showcase has a particular focus on presenting Scottish talent to international promoters and programmers at the Edinburgh Festival Fringe.
A partnership between the Edinburgh Festival Fringe Society, Creative Scotland, Federation of Scottish Theatre and Scottish Music Centre, the Made in Scotland programme has supported over 240 shows since it began in 2009. For more information about Made in Scotland, including details of previous showcases, visit the Made in Scotland website.
Laura Mackenzie-Stuart, Head of Theatre at Creative Scotland, said:
"International collaboration and artistic exchange is key to driving creative development and experimentation, increasing diversity, strengthening communities and connecting Scotland to the world.
"Geared towards helping to raise the international profile of talent based in Scotland, share Our Creative Voice, and develop onward opportunities, Made in Scotland is core to this work.
"As we begin to recover and renew for the future, deepening international exchange and collaboration remains a priority alongside the recognition that we must develop innovative and sustainable ways to do so."
Shona McCarthy, Chief Executive, Edinburgh Festival Fringe Society said:
"Made in Scotland is a brilliant programme which champions Scottish creativity and talent. 2022 will be special in many ways. Not only is it the 75th year of Edinburgh Fringe, it's also a year of renaissance. It's exciting that applications are now open for this year's showcase, and I cannot wait to see the range of Scottish music, theatre and dance that will emerge in this joyous year.
"We're grateful to the Scottish Government for their continued support for this programme, which ensures that work coming out of Scotland is central to the Fringe. As the world's biggest arts marketplace, this festival represents the potential for new opportunities for artists, as well as new conversations, partnerships and audiences. We encourage anyone who is eligible to apply."
The Edinburgh Festival Fringe Society and Creative Scotland will run an information session for potential applicants on Thursday 14 October 2021, 12:30pm - to sign up please visit. The session will be recorded and made available on demand after the session. For further information follow @MadeinScotShows
Contact Information
Sophie Bambrough
(+44) 07747 606 146
Notes to editors
Made in Scotland supports Scottish artists and companies to bring work to the Edinburgh Festival Fringe, to share incredible pieces of Music, Dance and Theatre, and enable them to explore the international opportunities that arise from performing at the world's foremost arts festival. Full details about the programme including how to apply are available on the Creative Scotland website.
An independent panel of expert advisors will select the final showcase in January 2022. The panel consists of both Scotland-based and internationally recognised industry professionals. Applicants will be informed of the panels' decisions in the week commencing 17 February 2022.
The Made in Scotland programme also supports:
attendance at the Fringe by visiting international promoters.
participating artists to take up new international showcasing opportunities as a direct result of promoter(s) seeing the work at the Fringe.
The Made in Scotland Onward International Touring fund is also available to support artists based in Scotland who have presented work at the Fringe outwith the Made in Scotland Showcase. For further information on this please see the Made In Scotland Onward Touring Guidelines.
Creative Scotland is the public body that supports the arts, screen and creative industries across all parts of Scotland distributing funding provided by the Scottish Government and The National Lottery. Further information at creativescotland.com. Follow us on Twitter, Facebook and Instagram. Learn more about the value of art and creativity in Scotland and join in at www.ourcreativevoice.scot
The Edinburgh Festival Fringe Society, the charity that underpins the Edinburgh Festival Fringe, was established in 1958, eleven years after the birth of the Fringe when the first performers turned up uninvited to perform at the Edinburgh International Festival. The Fringe is an open access festival – any artist or company can take part regardless of their experience or success, and the festival is not programmed or run by an artistic director or any selection body. As a registered charity, the Fringe Society exists to support all participants, industry professionals, media and audience members who attend the Fringe from all around the world, and to produce accurate and up-to-date information and ticketing for audiences, and to raise the profile of the festival as a whole.
Media contact: Sophie Bambrough, Media Relations & PR Officer, Creative Scotland. T: 07747 606 146 | E: sophie.bambrough@creativescotland.com