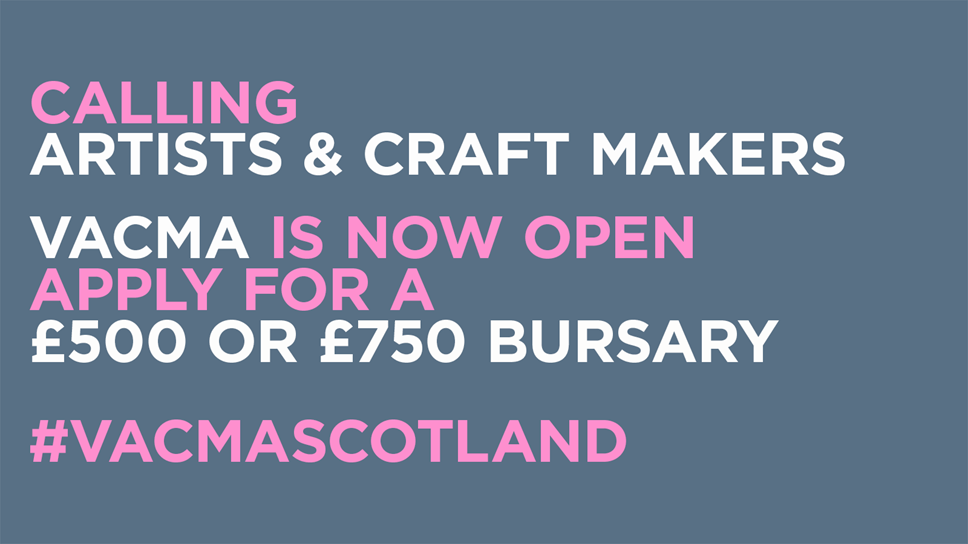 Local Support for Artists and Makers #VACMAScotland
Visual Artists and Craft Makers across the country are invited to apply for Bursaries of up to £750 for their creative development.
Funded by Creative Scotland in partnership with a range of local authorities and arts agencies across Scotland, the VACMA bursaries will support artists at all stages of their career to develop their creative practice. This can include researching a new body of work, experimenting with new materials, attending courses, artistic mentoring, masterclasses and residencies, among other things.
The VACMA programme offers fixed bursaries of £500 and £750. The £500 bursary is specifically for early-career artists and aims to support them to become more established in their practice. The bursary schemes are managed locally by the VACMA partners.
Joan Parr, Interim Director, Arts and Engagement at Creative Scotland said: "We are excited to work with partners across Scotland to offer VACMA bursaries in 24 local authority areas. These bursaries provide valuable local support to artists and makers to develop their creative practice and contribute to the overall strength and diversity of visual art and craft practice at both a local and national level."
The awards are made possible with support from the National Lottery through Creative Scotland and through the resources of the local partners. 
For guidance and application forms please visit: https://www.creativescotland.com/vacma
Contact Information
Sophie Bambrough
(+44) 07747 606 146
Notes to editors
The VACMA scheme is administered locally by partners and covers the following 24 local authority areas: Aberdeen, Aberdeenshire, Angus, Argyll and Bute, Ayrshire (North, South and East), City of Edinburgh, Dundee, East Lothian, Fife (including Peth and Kinross), Forth Valley, Glasgow, Highlands (including Moray and Western Isles) , North Lanarkshire, Orkney, Renfrewshire, South of Scotland (Borders and Dumfries & Galloway) and Shetland Islands. Local Authorities interested in developing a local scheme, are invited to contact:  visualarts@creativescotland.com
Full eligibility criteria and a list of participating partners through which applications can be made, is available on the Creative Scotland website.
The deadlines for applications are:
Autumn: 5pm, Tuesday 26 October 2021
Winter: 5pm, Tuesday 1 February 2022
Creative Scotland is the public body that supports the arts, screen and creative industries across all parts of Scotland on behalf of everyone who lives, works or visits here. We distribute funding provided by the Scottish Government and The National Lottery. Further information at creativescotland.com. Follow us on Twitter, Facebook and Instagram.