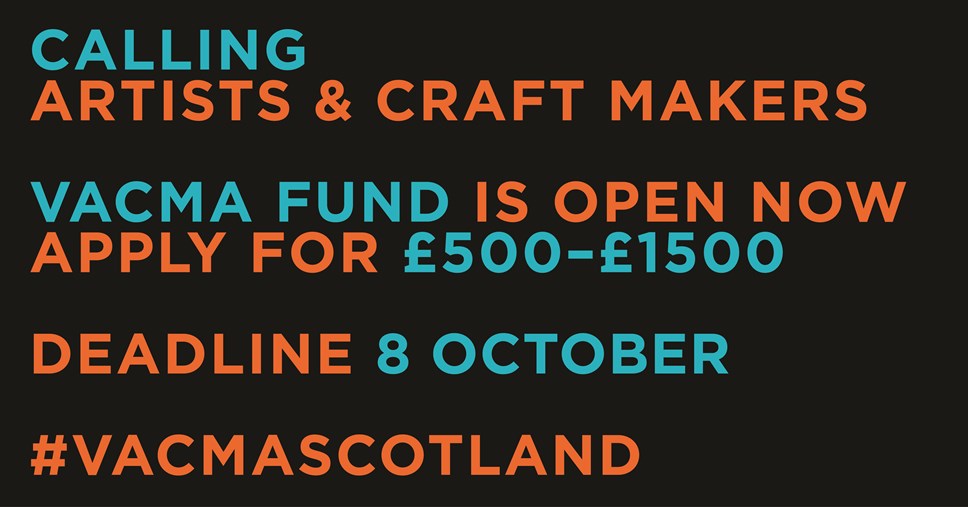 Local Support For Artists And Makers
Visual Artists and Craft Makers across the country are invited to apply for a new round of grants of between £500 - £1,500 for the development of their practice.
Developed by Creative Scotland in collaboration with Local Authority partners over several years, the Visual Artist and Craft Makers Awards (VACMA) programme has extended this year to include 25 local authority areas including Angus, Argyll & Bute, North Lanarkshire and Renfrewshire.
Amanda Catto, Head of Visual Arts at Creative Scotland said: "VACMA provides vital, local support to artists and makers at all stages in their career, including those who are recent graduates or who have an emerging practice.
"We are delighted that we have so many partners working with us to deliver the programme which generates such important, long-lasting benefits to the creative people working in their area."
The awards are made possible with support from the National Lottery through Creative Scotland and through the resources of the Local Authority partners.
Awards can cover costs associated with developing practice including researching, creating and presenting new work or advancing skills, technical ability and ideas.
The scheme is administered locally by partners across the following 25 local authority areas: Aberdeen, Aberdeenshire, Angus, Argyll and Bute, Ayrshire (North, South and East), City of Edinburgh, Dundee, East Lothian, Fife, Forth Valley & West Lothian, Glasgow, Highlands and Moray, North Lanarkshire, Orkney, Perth and Kinross, Renfrewshire, South of Scotland (Borders and Dumfries & Galloway) and Shetland Islands.
Aberdeen, Glasgow, Edinburgh and Dundee also offer a specific Development and Mentoring bursary of £1,500 to help artists and makers with support to reflect on their practice.
The first in a series of drop-in information sessions are available to book in the following areas.
Details of further sessions taking place in Aberdeen, Angus, Argyll and Bute, Borders, Falkirk, Inverness, North Lanarkshire, Renfrewshire to be confirmed.
Contact Information
Sophie Bambrough
Notes to editors
For guidance and application forms please visit: https://www.creativescotland.com/vacma
Local Authorities interested in in developing a local scheme, are invited to contact: Stephen.Palmer@creativescotland.com
About Creative Scotland
Creative Scotland is the public body that supports the arts, screen and creative industries across all parts of Scotland on behalf of everyone who lives, works or visits here. We enable people and organisations to work in and experience the arts, screen and creative industries in Scotland by helping others to develop great ideas and bring them to life. We distribute funding provided by the Scottish Government and the National Lottery. www.creativescotland.com. Follow us on Twitter @creativescots, Facebook www.facebook.com/CreativeScotland and Instagram www.instagram.com/creativescots

Media contact:
Sophie Bambrough
Media Relations and PR Officer
Creative Scotland
Tel: 0131 523 0015
Email: sophie.bambrough@creativescotland.com