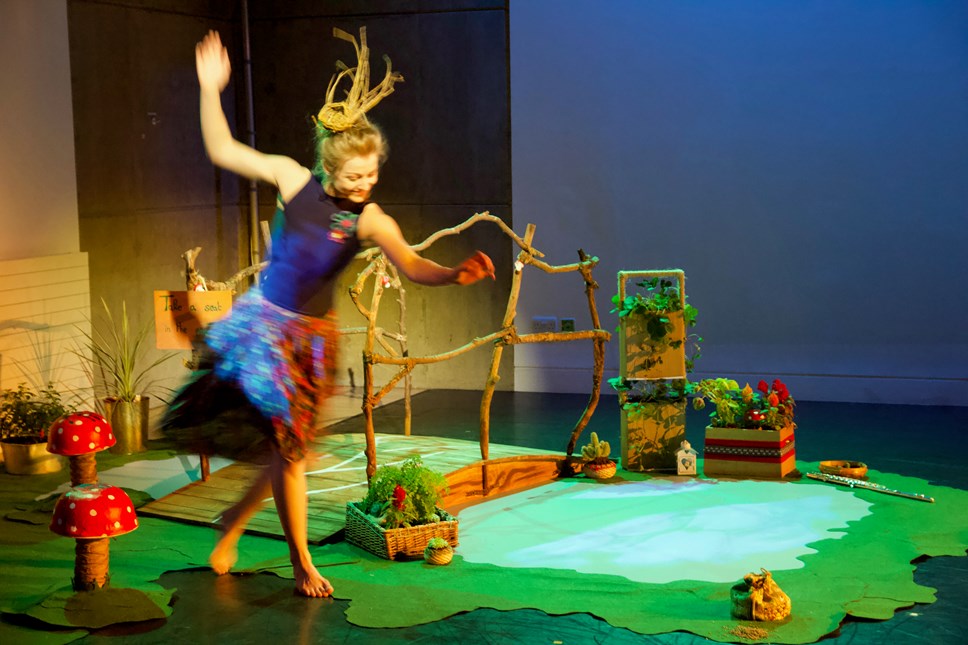 Leading the way in sustainable practice for the Performing Arts
58 creative projects receive over £920,000 in latest round of Creative Scotland's Open Fund
A leader in the fast-emerging field of ecological design in the performing arts, Scottish based designer, Mona Kastell has been nominated for best Ecoscenographic Set Design Award at World Stage Design 2022 for her outstanding ecoscenographic work on Christina Liddell's immersive multi-sensory dance theatre production Glimpsing Air Pockets which premiered at Dance Base during the Edinburgh Fringe 2019.
Dedicated to placing ecological thinking at the heart of creative practice Mona is working with ecologically-minded theatre designers developing Ecostage - a go-to online resource designed to offer practical support and exchange of knowledge for creatives adapting in response to the ongoing climate crisis and calls for greater sustainability in performing arts.
Ecostage launched at COP26 People's Summit for Climate Justice in November 2021 alongside many other activists working towards system change. At its core is a pledge: a public act of commitment that not only provides individuals with a personal framework for a greener practice but also helps create the necessary collective momentum for sector-wide transformation.
Ecostage's sister organisations include Green Arts Initiative, Creative Carbon Scotland and SiPA (The Sustainability in Production Alliance) among others.
World Stage Design (WSD) is the first and only designer-based exhibition to showcase and celebrate performance design from individual designers. The fifth WSD exhibition will be held in Calgary, Canada from August 6th to 16th, 2022 and will welcome several hundred artists, designers, technicians, and architects from around the world who practice, study and create performing arts events.
Creative Scotland funding will enable Mona to lead workshops and exhibit work alongside international peers and, in doing this, promote Scotland and its part in developing sustainable design thinking within the industry.
Mona Kastell is one of 58 creative practitioners, organisations and projects receiving a total of over £920,000 in the latest round of Creative Scotland's Open Fund. At a glance:
The second annual Framework Festival (June 2022), providing structured support for emerging theatre-makers in Scotland.
Yes We Can (YWC) - a new development, education and community platform, offering activity for early years; young people; LGBTQ+; Deaf, disabled and neurodivergent; mental health and well-being communities, building on the success of Independent Venue Week.
A second cycle of Hen Hoose - a collaborative project featuring successful Scottish female-identifying and non-binary songwriters and producers across multiple genres and fields.
The production of new film work from Luke Fowler, artist, filmmaker and musician.
SALT - a new ambitious eco-arts programme of socially engaged practice that centres on the climate emergency specific to Edinburgh's coastline (Portobello).
The recording of Glasgow-based Irish singer/songwriter Martha Ffion's third album.
Paul Burns, Interim Deputy Director of Arts & Engagement at Creative Scotland said: 
"Thanks to the generosity of National Lottery players, who raise over £30 million for good causes across the UK every week, this month's round of Open Fund awards include a number of projects that aim to build sustainability and international cultural exchange – something that Scotland has a long history of. The wide range of projects receiving awards showcases the diversity of our creative sectors, which continue to make an impact not only in Scotland, but also globally on the world's stage."
The full list of Open Fund recipients in this round is available on the Creative Scotland website.
Contact Information
Olivia Carr
Media Relations & PR Coordinator
Creative Scotland
0141 302 1708
07970 962 322
Notes to editors
Background
Creative Scotland is the public body that supports the arts, screen and creative industries across all parts of Scotland distributing funding provided by the Scottish Government and The National Lottery. Further information at creativescotland.com. Follow us on Twitter, Facebook and Instagram. Learn more about the value of art and creativity in Scotland and join in at www.ourcreativevoice.scot
Media Contact:   
Olivia Carr, Media Relations & PR Coordinator:
olivia.carr@creativescotland.com, +44 7970 962 322.
Image credit: Mona Kastell's Glimpsing Air Pockets. Artist Christina Liddell dancing amongst the plants during a dress rehearsal at Dance Base, Edinburgh. Credit: Mona Kastell.