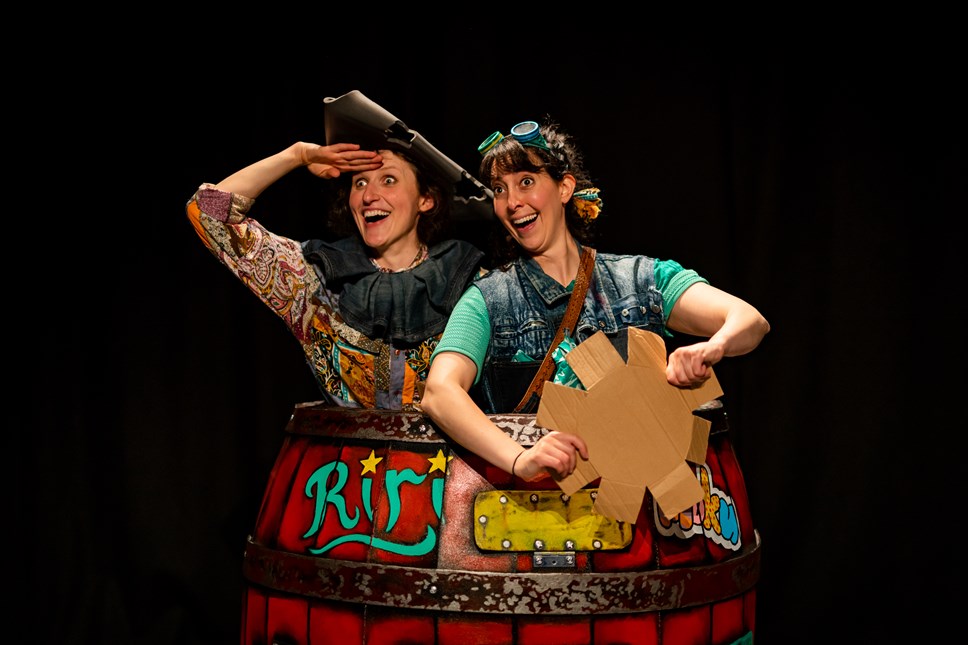 Traditional cultures and environmental issues feature in the latest round of theatre and dance tours
Issued under strict embargo for publication on 00:01 Thursday 28 July 2022.
Ten theatre and dance productions have received nearly £1m National Lottery funding through Creative Scotland's Touring Fund for Theatre and Dance.
The latest round includes three new and seven reimagined productions set to tour outdoor spaces and venues throughout Scotland's villages, towns and cities, from Spring 2023.
Hold Fast is an original circus work created and directed by Ellie Dubois (SUPERFAN) with original live Scottish folk music by Sarah Hayes (Admiral Fallow) made specifically to tour village halls in Strathspey. Hold Fast is a wild and tender exploration of our relationships with each other, our community and the water that runs through them.
Hebridean Treasure: Lost and Found by Kirsten Newell, with artistic direction and chorography from Shane Shambhu brings to life the rich folk traditions of nineteenth century Scotland's Highlands and Islands and the impact of the subsequent Highland Clearances in this restaged production. The story is told through songs, traditional Celtic and Carnatic music composed by Gaelic musician, Mischa Macpherson, and Bharatanatyam dance by Kirsten Newell, reflecting the forgotten influence of India on the Celtic soul.
Traditional music is also central to the restaging of Pibroch a multimedia spoken-word theatre piece performed by Aberdeenshire-based writer and artist, John Bolland that combines music from critically acclaimed piper, saxophonist and low whistle musician, Fraser Fifield with striking visual imagery, examining the parallels between the Climate Emergency and the Piper Alpha Disaster of 1988.
Clown-inspired, physical theatre performance Two in a Barrel by Sarah Rose Graber and Ruxandra Cantir will once again invite young children (aged 5+) and their families to think about the waste we create, the destructive consequences of our habits, and co-existing in an environment with limited resources. By looking at mass consumerism and the destructive effects non- biodegradable waste has on our environment, this Beckett-meets-Pixar show poses questions about the trash we produce and invokes awareness and environmental activism.
Laura Mackenzie-Stuart, Head of Theatre, Creative Scotland said:
"Combining spoken word, traditional music, physical performance, circus, dance and theatre this vibrant selection of contemporary productions will not only entertain but educate and inspire children, families and audiences across the country.
"Thanks to National Lottery players, many of these productions will offer wrap around engagement to invite local communities and audiences to further consider the important issues raised in these productions such as the climate emergency.
Of the production Two in a Barrel, Sarah Rose Graber commented:

"As creative artists with a vested interest in the health of our planet, we are keen to be re-evaluating how we make theatre in a more sustainable way. All materials for the set and costumes were either second hand/reused, recycled, sourced from our community, and/or biodegradable.
"We believe in bringing climate crisis and waste management subjects to the forefront of public discourse. Our play aims to encourage empathy, personal and social action, as well as an awareness of our consumer habits so our audiences can build a new future. This show is also a great opportunity for adults to start having conversations with wee ones about the environment, sustainability, specifically our waste habits and consumption."
John Bolland, writer, performer and co-director of Pibroch said:
"We are all complicit in the climate emergency that will unfold over the next few decades. But I was struck during the Climate Actions of 2018 and 2019, and at COP26 last year, by the parallels between the situation we find ourselves in globally and the predicament of the folk on Piper Alpha. They were all involved, all endangered. Some made a choice and survived. Some waited on further instructions…they didn't."
NEW WORK (x3):
Dance

Totentanz by Shotput (£138,277)
Theatre

Pickled Republic by Ruxandra Cantir (£79,300)
Hold Fast by SUPERFAN (£128,700)
RESTAGINGS (x7):
Dance:
Hebridean Treasure: Lost and Found by Kirsten Newell (£82,375)
Strut by MhZ SCENOGRAPHY LTD in association with Feral (£154,451)
Theatre:
S.E.X. Education Explorers by Mamoru Iriguchi and Independent Arts Projects (£101,961)
Pibroch by John Bolland (£51,012)
The Good, the Bad and the Poultry by Adrenalism produced by Lewis Sherlock (£81,132)
Two in a Barrel by Sarah Rose Graber and Ruxandra Cantir (£59,008)
Who Killed My Father by Surrogate (£78,733)

For further information on each production please download the attachment on this email.
Contact Information
Sophie Bambrough
(+44) 07747 606 146
Notes to editors
Image credit:
Two in a Barrel by Sarah Rose Graber and Ruxandra Cantir. Photo credit - Andy Catlin.
A selection of images is available for download here: https://we.tl/t-0LIPh9NnOr
The Touring Fund for Theatre and Dance was developed as a collaboration between Creative Scotland, the Federation of Scottish Theatre and their members. The Fund supports the touring of theatre and dance, enhancing opportunities for artists, producers and companies to work more collaboratively with venues to grow audiences and provide greater access to high quality work across Scotland.
£954,940 National Lottery funding for ten companies is the sixth round of awards made through the Touring Fund for Theatre and Dance. Applications opened for applications on 20 April 2022 and closed on 01 June 2022.
Decisions were made by a panel consisting of members with a wide range of expertise across the dance and theatre touring sector. They were: Jaine Lumsden, non-voting Chair (Theatre Officer, Creative Scotland); Colin Bradie (Head of Creative Learning, Creative Scotland); Karen Dick (Head of Place, Partnerships and Communities, Creative Scotland); Femi Folorunso (Theatre Officer, Creative Scotland); Lulu Johnston (Dance Officer, Creative Scotland); and external panellists Marie Lewis; Graham McLaren; Elektra McPhillips; Charlotte Mountford and Alan Richardson.
The Deadlines for the next round of the Touring Fund for Theatre and Dance will be announced in Autumn 2022.
The National Lottery has raised more than £42 billion for over 625,000 good causes across the UK since 1994. Thanks to National Lottery players, more than £1.2 billion has been awarded in the last year to support communities and thousands of organisations across the UK to cope with the impact of the Coronavirus pandemic. https://www.national-lottery.co.uk/ 
Creative Scotland is the public body that supports the arts, screen and creative industries across all parts of Scotland distributing funding provided by the Scottish Government and The National Lottery. Further information at creativescotland.com. Follow us on Twitter, Facebook and Instagram. Learn more about the value of art and creativity in Scotland and join in at www.ourcreativevoice.scot