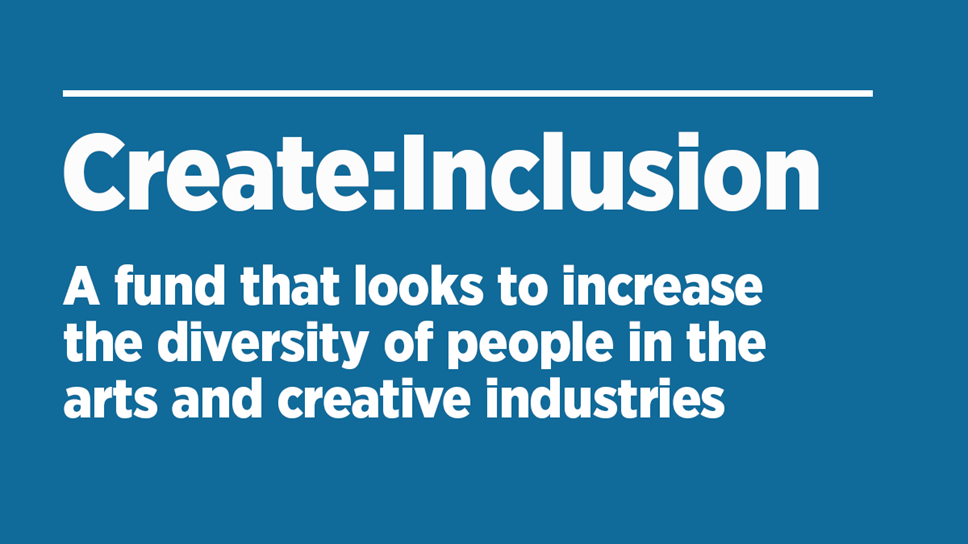 Increasing Access to Developmental Opportunities
New funding to increase the diversity of people working in Scotland's culture sector.
Application Deadline: midday, 16 February 2022.
Today, Tuesday 7 December 2021, Creative Scotland opens the latest round of Create:Inclusion Fund- aimed at directly tackling inequality of opportunity and under-representation across Scotland's culture sector, supported with £350,000 from the National Lottery.
The fund will support activities that enable personal progression, development of creative and professional practice, and opportunities to take professional and creative risks.
Milica Milosevic, Creative Scotland's Head of Equalities, Diversity and Inclusion, said: "While there is still much to be done to increase diversity in Scotland's culture sector, this fund is another step towards helping us, collectively, to meet that challenge. Opening up accessible entry points into and supporting developmental opportunities helps the sector to become more reflective of society."
Projects that received funding in previous rounds of Create Inclusion include Ando Glaso Collective; a spoken word project exploring neurodiversity from Jen McGregor; a research and development programme merging Ghanaian traditional arts with contemporary performance practice from Adie Baako and the development of a new neurodivergent artist collective from Tzipporah Johnston.
For full details of the fund including how to apply and application guidance visit: Create:Inclusion Fund | Creative Scotland
Contact Information
Olivia Carr
Media Relations & PR Coordinator
Creative Scotland
0141 302 1708
07970 962 322
Notes to editors
Notes to Editors:
1. Create:Inclusion fund guidance can be accessed via the Creative Scotland website.
2. This Create:Inclusion Fund represents one of a series of measures to encourage equality of opportunity and tackle under-representation in the arts, screen and creative industries. One important action we've taken in recent years is to require all organisations that we support through Regular Funding to have EDI action plans in place and to report against them. For further information on Creative Scotland's commitment to ensuring Equalities Diversity and Inclusion within the arts please visit: creativescotland.com/funding/latest-information/funded-organisations/regular-funding-2018-21/overviews/equalities-diversity-and-inclusion
3. Create:Inclusion prioritises the professional and creative development of applicants who self–identify as sharing one or more protected characteristics defined by the Equality Act 2010, and projects from groups or organisations which are either minority-led or which focus on working with and for those who share one or more protected characteristics. The Equality Act 2010 covers nine protected characteristics: age, disability, gender reassignment, marriage and civil partnership, pregnancy and maternity, race, religion or belief, sex, sexual orientation.