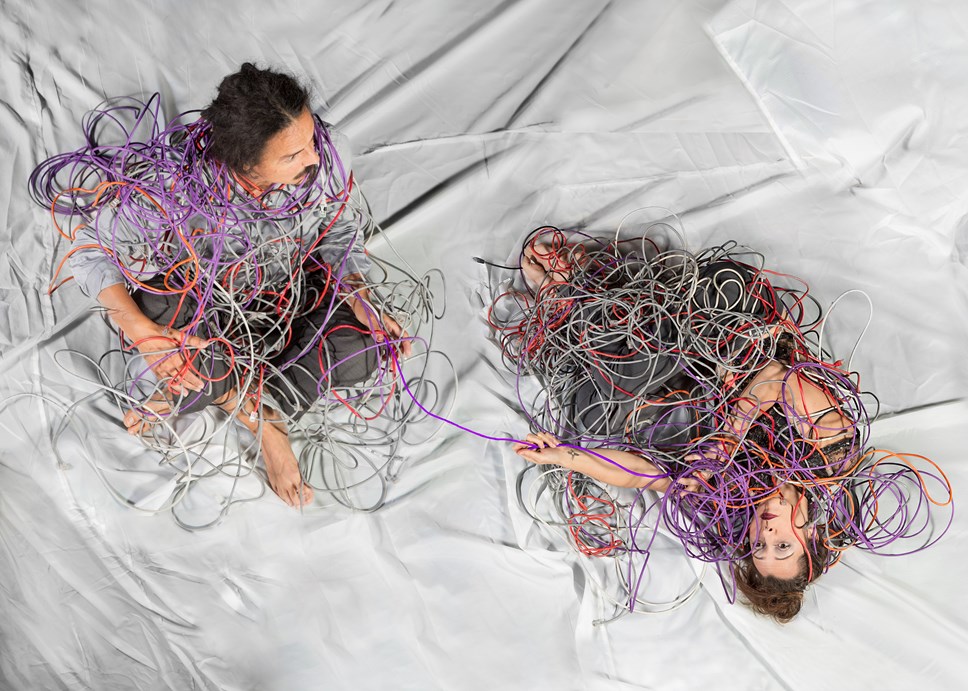 Imaginative ideas and artistic programmes supported across Scotland
Artist residencies, public exhibitions and performances at Edinburgh's Royal Botanical Gardens; a new play from award winning playwright Julia Taudevin, created in collaboration with acclaimed writer Kieran Hurley; and a giant 10m puppet and a programme aimed at developing young people's skills in textiles, are among the 40 projects sharing over £600,000 of National Lottery funding through Creative Scotland in the latest round of Open Project fund awards
A diverse group of recipients made up of individual artists, musicians, writers, theatre makers, festivals and organisations working across the arts, screen and creative industries, each received between £1000 and £65,000 to develop their projects. These include:
MULTI ARTFORM
Award-winning playwright and theatre-maker Julia Taudevin has received funding towards the development of Move~Gluasad - a new multi-lingual work about migration, grief and empathy. Created in collaboration with acclaimed writer and theatre-maker Kieran Hurley and produced by Kieran and Julia's brand-new company Disaster Plan, Move~Gluasad weaves stories of loss across oceans and generations from the Highland Clearances to the current migrant crisis.
Commenting on Disaster Plan and her long term collaboration with Kieran Hurley, Julie Taudevin said how it reflects "our commitment to continuing to make radical, accessible, exciting, cross-artform theatre for a diverse range of audiences across Scotland and beyond. We are delighted to be launching with this ambitious new multi-lingual work in partnership with sruth-mara and in association with An Lanntair."
MUSIC
Michael Begg has received funding towards the LIMINAL programme created for the Queen's Hall, Edinburgh 2019-2020 season. LIMINAL will explore the emerging convergence of classical and experimental music. Featuring the Black Glass Ensemble, comprising internationally respected orchestral players, LIMINAL will also include lab events – in collaboration with research groups/academics, which will explore the emergent territory of artistic partnerships with scientists – particularly in the area of data sonification.
The 21st edition of the Lagavulin Islay Jazz Festival will run from 13 -15 September, and feature some of the most exciting musicians on the Scottish jazz scene including Fergus McCreadie, Graham Costello's STRATA, Mezcla, Blue Boar Brass Band with Colin Steele saluting Joni Mitchell and Miles Davis, whilst bassist David Bowden's band plays the entire "Mingus Ah Um" album.
LITERATURE & PUBLISHING
Also receiving support is the 6th Cove and Kilcreggan Book Festival in November. This year's festival aims to embrace new ambitions and increase the size and diversity of its audience. The festival will be offering free access to disabled visitors for an event featuring Melanie Reid, the tetraplegic columnist who will be discussing her autobiography. Also featuring in this year's programme are Denise Mina, Stuart Cosgrove and V&A Director, Philip Long.
Graham Bell, Board Member, Cove and Kilcreggan Book Festival, said: "With the support of Creative Scotland, the Cove and Kilcreggan Book Festival is able to considerably increase access to those otherwise unable to attend, as well as extend our reach in the range of authors in this, the 6th year of this rural Argyll event."
THEATRE
Kat Barass has received funding towards the production and presentation of BLEACH - 40-minute, feminist, one-woman show interrogating the compromises and hypocrisies embraced in the name of love, and the potential violence that permeates these actions. The piece is created by Estlin Love, in collaboration with director, Al Seed.
Vision Mechanics have received funding to create Storm, a 10m giant puppet who will appear as part of 2020 Celtic Connections celebration of the Year of Coasts and Waters with further appearances planned across Scotland in 2020. More details of the project and the community programme and outreach will be announced later in the year.
VISUAL ART
The Royal Botanic Garden Edinburgh (RGBE) received funding towards their 350th Anniversary plans, which will include a series of ambitious and inspiring artists residencies that will result in public exhibitions and performances in the Gardens, and within the gallery spaces in Inverleith House and the John Hope Gateway.
Think Plastics will see 11 participating artists working in diverse range of fields, immerse themselves within RBGE's collections and collaborate over an extended period with scientists, horticulturists, historians and specialists from the health, education and community sectors to create new work of high quality and lasting impact. This residency will lead on the search for innovative, biodegradable natural materials that can transformed through creative process into artwork that challenges our perception of plastics being of low value and disposable. Physic Garden Residencies will explore the theme of women's role in botany, medicine and health - past, present and future.
CRAFT
The Prince's Foundation has received funding toward its Future Textiles programme for adults and young people at Dumfries House, East Ayrshire. Future Textiles covers a broad range of artistic activities aimed at encouraging more people to develop skills in textiles. The project's aim is to reduce the skills shortage in the Scottish textiles industry by introducing people to textiles as a way to express their creativity and providing them with the key skills needed to find employment in the sector.
Iain Munro, Acting CEO at Creative Scotland said:
"We are delighted to support such a broad range of incredible projects across the country through National Lottery funding.
"From the exciting new theatre production from Julia Taudevin and Kieran Hurley to the innovative new musical programme created by Michael Begg for the Queen's Hall, and from Vision Mechanic's creation of a 10m puppet to the important work being carried out by the Prince's Trust to help young adults learn skills in textiles, this month's awards highlight and support the rich diversity of arts and culture across Scotland."
Contact Information
Sophie Bambrough
Notes to editors
Open Project Funding is available to a wide range of organisations and individuals working across Scotland in the arts, screen and creative industries. It supports a broad spectrum of activity including creative and professional development, research and development, production, small capital requirements, touring and collaborations, festivals, arts programming, audience development, etc. Support is available for projects of different scale and duration with the maximum period of award being set at 2 years. Awards are made in the range £1,000 to £100,000 (or up to £150,000 by exception). Application guidance and forms can be found here
Creative Scotland is the public body that supports the arts, screen and creative industries across all parts of Scotland on behalf of everyone who lives, works or visits here. We enable people and organisations to work in and experience the arts, screen and creative industries in Scotland by helping others to develop great ideas and bring them to life. We distribute funding provided by the Scottish Government and the National Lottery. Further information at www.creativescotland.com.
Follow us @creativescots and www.facebook.com/CreativeScotland
Tuesday 19 November 2019 marks the 25th anniversary of the first draw of The National Lottery. Since 1994, and thanks to National Lottery players, an incredible £39 billion has been raised for good causes across the UK. To find out more and join the celebrations please visit: https://tnl25.org.uk
Media contact
Sophie Bambrough, Media Relations and PR Officer, Creative Scotland
T: 0131 523 0015 / M: 07747 606 146 /
E: sophie.bambrough@creativescotland.com