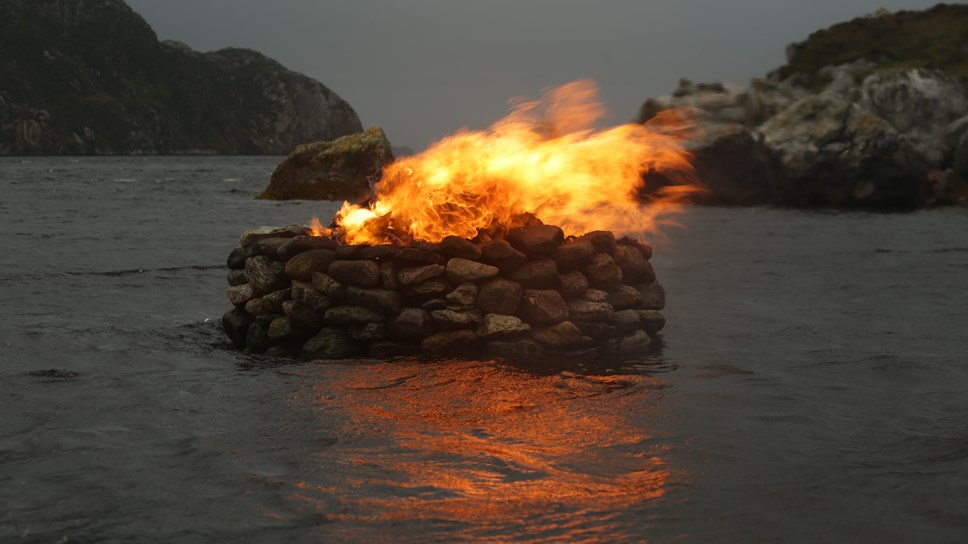 Highland and Islands creative freelancers and projects share in over £32,860 of National Lottery and Scottish Government funds
A book festival, a collaboration bringing together tidal sculpture and music and an audio-visual project speaking to themes of heritage and the environment are the Highlands-based projects and research and development initiatives sharing in £32,864 of National Lottery and Scottish Government funding through Creative Scotland in the latest round of Open Fund awards.
Originally commissioned by Scottish Natural Heritage for 2020 Year of Coast and Waters, Message in a Bottle/ Brath 'sa Bhuideal is an hour-long audio-visual performance piece written and produced by award-winning musician Ingrid Henderson. Combining newly crafted traditional music and animation as well as ancient Gaelic melody and song, the work explores themes of migration and the environment. Premiered at Celtic Connections 2020, the piece will now be recorded for CD, download and online release, with accompanying visuals.
Ingrid Henderson said: "Being able to record all this music I've created with wonderful musicians will mean that the project can continue into 2021 and beyond. And in this most difficult of years, it's truly wonderful to be properly supported to be creative and productive."
Tìde is a collaboration between visual artist Julie Brook and composer Donald Shaw. The project aims to develop new ways of editing visual work, and underwater and natural sound recordings of the tidal sculpture on the Isle of Lewis.
Julie Brook said: "I feel very grateful to Creative Scotland for supporting this exciting collaboration with Donald Shaw and my tidal work, the Firestacks. We will create a dialogue between the four elements in the visual and sound work with new music, working towards a live public event on the wild coastline of North Harris for local communities and visitors. We are researching new digital platforms to reach a national and international audience."
The Ullapool Book Festival will return for its 17th festival in May 2021. Plans have been put in place for an in-person, socially distant event (with tickets on sale for live streams at home for those who unable to travel to Ullapool), or a fully virtual festival should COVID-19 restrictions require it.
These projects are just some of 47 across Scotland receiving a total of 849K in this round of funding.
Iain Munro, Chief Executive, Creative Scotland said: "From exploring common experiences in newly imagined ways, to safely bringing tuition and mentoring to people across the country, these projects reflect the resilience, innovation and determination of Scotland's creative community as this most challenging of years draws to a close.
"Made possible by the generosity of National Lottery players, who raise £30 million for good causes across the UK every week, and funding from the Scottish Government, these awards are helping to sustain the immense value that creativity adds to our lives."
A full list of recipients of Open Fund awards is available on the Creative Scotland website. 
Image: Julie Brook
Contact Information
Claire Thomson
Media Relations & PR Officer
Creative Scotland
+44 141 302 1708
07747606146
Notes to editors
The National Lottery has raised more than £41 billion for more than 565,000 good causes across the UK since 1994. Thanks to National Lottery players, up to £600 million has been made available to support people, projects and communities throughout the UK during the Coronavirus crisis. https://www.national-lottery.co.uk/ 
Creative Scotland is the public body that supports the arts, screen and creative industries across all parts of Scotland on behalf of everyone who lives, works or visits here. We distribute funding provided by the Scottish Government and The National Lottery. www.creativescotland.com 
Follow Creative Scotland: 
Twitter: twitter.com/CreativeScots 
Facebook: facebook.com/CreativeScotland 
Instagram: instagram.com/creativescots