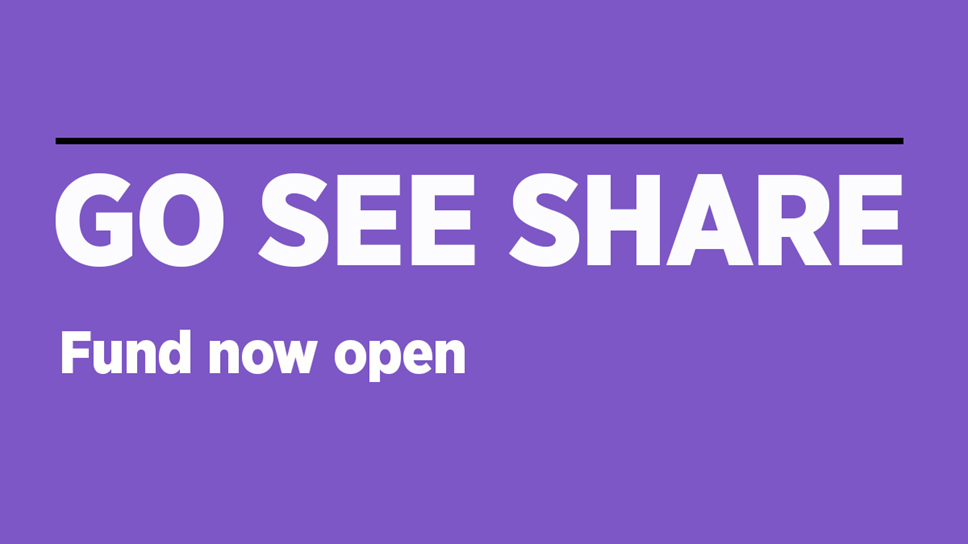 Go See Share fund opens for applications
Individuals, organisations and creative businesses are invited to apply to the Go See Share fund – a small fund supported by the National Lottery through Creative Scotland.
The Go See Share fund aims to provide opportunities for successful applicants to expand their business practices while building financial sustainability.
Funding awards of between £1,000-£3,000 will enable recipients to undertake trips or facilitate remote meetings in order to gain knowledge and insight, build relationships and share these positive outcomes with the creative community within Scotland.
Examples of sharing from previous rounds of Go See Share include Gillian Easson of Creative Dundee and Janine Matheson, formerly of Creative Edinburgh, who attended the London Design Festival together to gain new experiences to help them develop the business models for their creative organisations for creative communities.
Craig Fairweather and Andrew Dyce of We Throw Switches attended A MAZE. /Berlin to learn and discuss ideas with their contemporaries, broaden their network of connections, learn from best practice in the industry and promote some of the projects that were taking place in the Scottish games scene at the time.
Jessica Bonehill, Creative Industries Officer at Creative Scotland said:
"After a challenging period for the creative sector we are delighted that, thanks to the generosity of National Lottery players who raise £34 million for good causes across the UK every week, Go See Share funds will once again offer creatives and organisations the chance to gain invaluable knowledge, and to share learning with their peers in Scotland. We have funded a wide range of exciting opportunities in the past and look forward to a new cohort of recipients benefitting from the fund – learning directly from other organisations and professionals both in the UK and abroad - and feeding back what they have learned at a sharing event at the conclusion of the project.
"Recipients' plans must be in accordance with COVID-19 guidance from the Scottish Government. We hope that the fund will provide a boost to creative work across Scotland for those who live and work here as we continue to emerge from the pandemic."
Full details of the fund including how to apply can be found on the Creative Scotland website.
The fund's online application portal will open at 2pm on Tuesday 26 October 2021. The closing date for applications is midday on Tuesday 16 November 2021.
Contact Information
Olivia Carr
Media Relations & PR Coordinator
Creative Scotland
0141 302 1708
07970 962 322
Notes to editors
Notes to editors:
A similar fund called Stay See Share which launched in response to the pandemic was adapted in line with COVID-19 restrictions. All plans for this year's Go See Share fund must comply with all current UK and Scottish Government guidance on COVID-19.
Creative Scotland is the public body that supports the arts, screen and creative industries across all parts of Scotland distributing funding provided by the Scottish Government and The National Lottery. Further information at creativescotland.com. Follow us on Twitter, Facebook and Instagram. Learn more about the value of art and creativity in Scotland and join in at www.ourcreativevoice.scot.