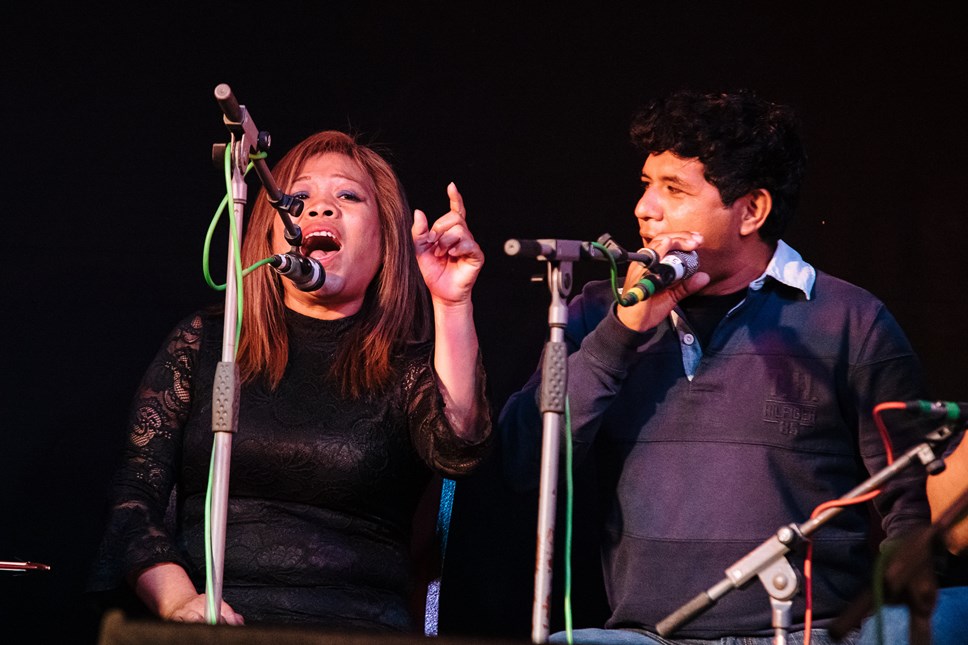 Glasgow community music project and art festival awarded National Lottery funding
A Govan-based community music organisation and a live art festival are among the Glasgow-based projects to be awarded National Lottery funding through Creative Scotland in the latest round of Open Project Fund awards.
The Glasgow Barons will embrace a variety of genres, from classical to hip-hop as the community music project aims to make music more accessible for the Govan community. Its new programme, Govan Forward 2020, includes a diverse range of initiatives that include expanding the Musicians in Exile programme, inviting local veterans to interpret Stravinsky's Soldier's Tale, and celebrating Scotland's Year of Coasts and Waters.
In response to the recent Govan riots, the programme also aims to confront local social challenges such as sectarianism by enabling Scottish Alternative Music Award winner Steg G and local young composers to develop a new hip-hop album.
Paul MacAlindin, Artistic Director, Glasgow Barons said: "Govan's history and people are rich in stories and pride. In amazing spaces such as The Pearce Institute, Govan & Linthouse Parish Church and The Grand Ole Opry, the Glasgow Barons bring some of these stories to a future where Govan and Glasgow share their hopes and aspirations for Scots old and new, folk young and old."
First taking place in 2012, BUZZCUT started out as a Glasgow-based grassroots performance festival and has since gained international recognition as a platform for experimentation with radical performance and live art. This year's festival will relaunch in a bold new format, operating on a pay-what-you-can basis to showcase a mix of Scottish and international voices in a gathering of the UK's live art community.
This funding will also enable Double Thrills, a BUZZCUT-led project designed to nurture local talent in the sector to return later in the year. With a programme of activity that includes monthly events at Glasgow's Centre for Contemporary Arts, Double Thrills also aims to develop engagement with experimental performance to city-wide audiences, outwith a festival context.
Karl Taylor, Director, BUZZCUT, said: "Since 2012, BUZZCUT Festival has been a unique and much-loved celebration of the vibrant, experimental and radical nature of Scottish performance & Live Art.
"After a three year break, we're incredibly excited to see the festivals return, alongside a year of development & presentation opportunities."
These Glasgow-based organisations are among 39 projects across the country to share in £859,374 of Open Project Funding. Full details of all awards made can found on the Creative Scotland website.
Image: Courtesy of the Glasgow Barons. Photographer: Brian Hartley
Contact Information
Katya Speight
Media Relations & PR Co-ordinator
Creative Scotland
01413021743
Notes to editors
Open Project Funding is available to a wide range of organisations and individuals working across Scotland in the arts and creative industries. It supports a broad spectrum of activity including creative and professional development, research and development, production, small capital requirements, touring and collaborations, festivals, arts programming, audience development, etc. Support is available for projects of different scale and duration with the maximum period of award being set at 2 years. Awards are made in the range £1,000 to £100,000 (or up to £150,000 by exception). Application guidance and forms can be found here
Over £583m National Lottery funding has been awarded across Scotland's arts, screen and creative industries over the last 25 years. Nearly 16,000 individuals, projects and organisations have benefited from this enabling people and communities to bring their ideas to life. To find out more, visit https://tnl25.org.uk
About Creative Scotland: Creative Scotland is the public body that supports the arts, screen and creative industries across all parts of Scotland on behalf of everyone who lives, works or visits here. We enable people and organisations to work in and experience the arts, screen and creative industries in Scotland by helping others to develop great ideas and bring them to life. We distribute funding provided by the Scottish Government and the National Lottery.
Follow Creative Scotland
Twitter: https://twitter.com/CreativeScots
Facebook: www.facebook.com/CreativeScotland
Instagram: www.instagram.com/creativescots