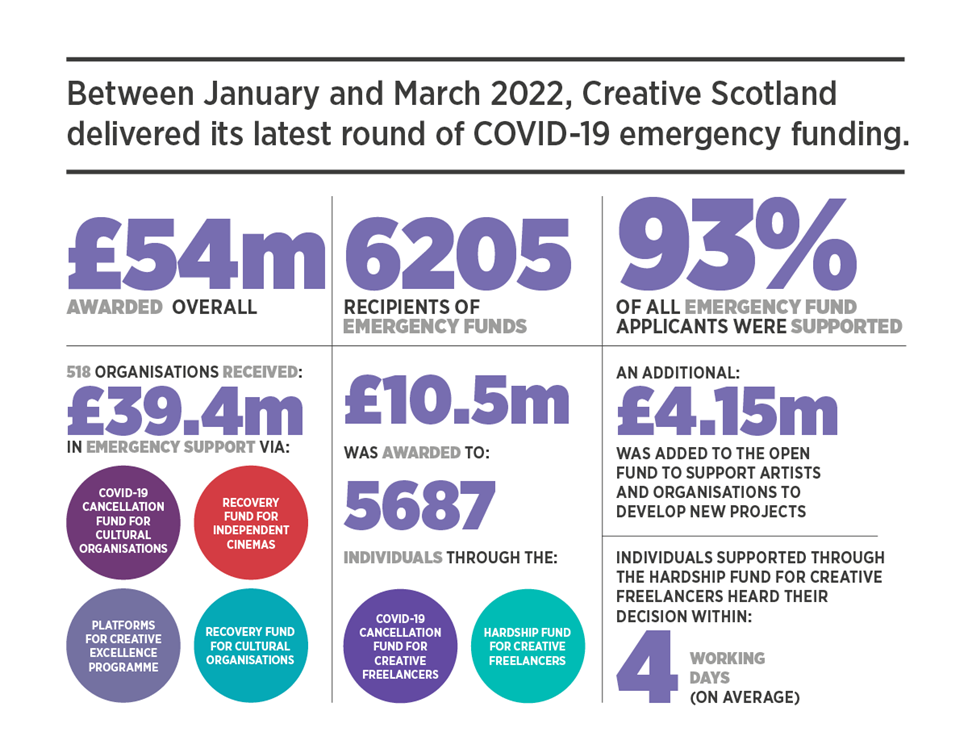 £54million in Emergency Funding distributed in early 2022
Creative Scotland today, publishes details of more than 6,200 awards to cultural and creative organisations and freelancers across Scotland who have received a total of £54 million in emergency COVID-19 funds from the Scottish Government through Creative Scotland, in the first few months of 2022.
The funding was awarded to creative freelancers and organisations, venues and independent cinemas across the country to help protect jobs, prevent insolvency, sustain creative work, and to support creative freelancers who have lost income and work opportunities as a result of the ongoing COVID-19 pandemic.
Culture Secretary Angus Robertson said:
"It is welcome that £54 million in emergency funding from the Scottish Government has been distributed through Creative Scotland to support the culture sector during the most recent period of COVID-9 restrictions and also in the sector's recovery from the COVID-19 pandemic. This funding has reached individuals and organisations across the length and breadth of Scotland.
"We know from our conversations with individuals and organisations working in culture and the creative industries that this funding has been a life-line in sustaining them through the challenges of the pandemic and the period of recovery."
Iain Munro, CEO, Creative Scotland said:
"The culture and creative sectors have been hit extremely hard by the ongoing pandemic. This vital funding from the Scottish Government has enabled creative freelancers and organisations to stabilise during these turbulent times, helping to protect jobs and livelihoods across the sector.
"While we know that this funding won't be able to meet every challenge, it will help to strengthen resilience, stimulate activity and enable the sector to focus on the process of recovery."
Full details of all the awards can be found on our website.
Contact Information
Olivia Carr
Media Relations & PR Coordinator
Creative Scotland
0141 302 1708
07970 962 322
Notes to editors
Background:
A breakdown of the emergency funding is as follows:
In addition,£4.2m was awarded to 26 projects as part of the Culture Collective and this was drawn from underspend from previous rounds of emergency funding.
Creative Scotland is the public body that supports the arts, screen and creative industries across all parts of Scotland distributing funding provided by the Scottish Government and The National Lottery. Further information at creativescotland.com. Follow us on Twitter, Facebook and Instagram. Learn more about the value of art and creativity in Scotland and join in at www.ourcreativevoice.scot
You can find contact details for our media team in our Media Centre
Funding Enquiries