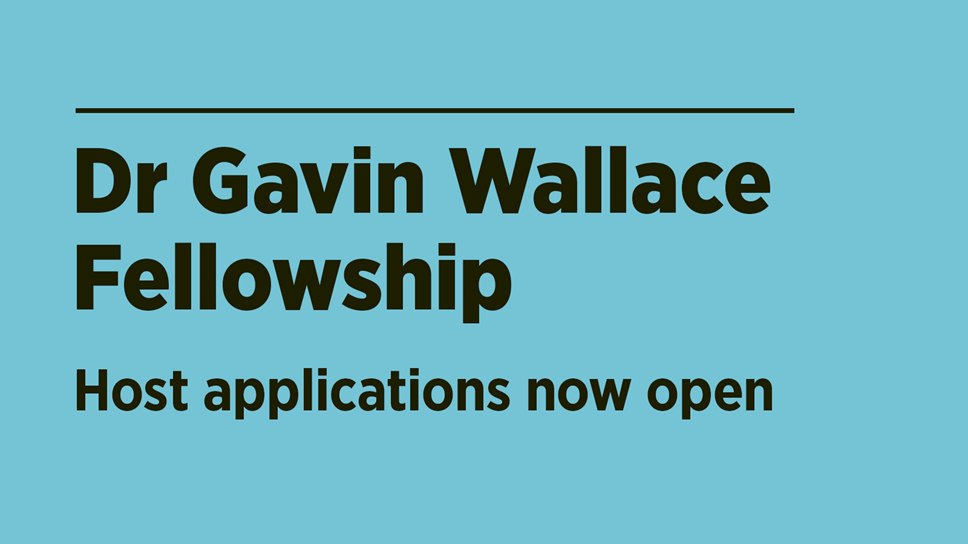 Gavin Wallace Fellowship 2022 - funding for organisations to host writing residency
Application deadline: Friday 12 August 2022.
From today, Tuesday 5 July, Creative Scotland invites applications from cultural, education, health and organisations within other environments to host a writer in residence.
Funding from The National Lottery through Creative Scotland is available to organisations to host a Dr Gavin Wallace Fellowship which offers mid-career and established writers time to develop creative work during a year-long residency.
Previous Fellow partnerships include author and poet, Jenni Fagan at Edinburgh's Summerhall; playwriter, Morna Young at Aberdeen City Council's Creative Learning resource; fiction writer, Kirsty Logan at the University of Glasgow's Association for Scottish Literary Studies, playwriter/poet, Martin O'Connor at the Playwright's Studio Scotland in partnership with the Royal Lyceum Theatre and Helen Sedgwick with Creative Scotland.
Organisations applying to host the Fellowship are invited to suggest a broad theme related to their own work. The successful host organisation will then recruit a writing fellow. An award of £25,000 is available and will be split into a £20,000 stipend for the successful writer and £5,000 for the host organisation.
Alan Bett, Head of Literature and Publishing at Creative Scotland said: "The Dr Gavin Wallace Fellowship provides not only invaluable time and space for a writer to create new work; it offers a partnership with a Scottish arts organisation and a specific context to help form that work and make something unique.
"We're looking for applications from organisations interested in hosting a writer and being part of that creative partnership. The list of writers who have been awarded the fellowship in past years and the quality of the resulting work demonstrates just how beneficial this relationship can be for an organisation."
Author and 2021 Fellow, Helen Sedgwick said: "The Dr Gavin Wallace Fellowship has been transformational for me as a writer. The time and space to become fully immersed in an inter-planetary environmental science fiction series has enabled me to produce my most exciting writing to date, and the professional development support has revolutionised the way I was thinking about my own career. It has given me conviction, confidence, and a renewed belief in my writing and myself; it has been a life-changing year."
Full application guidance and application details can be accessed on the Creative Scotland website.
Application deadline: Friday 12 August 2022.
Contact Information
Olivia Carr
Media Relations & PR Coordinator
Creative Scotland
0141 302 1708
07970 962 322
Notes to editors
The Dr Gavin Wallace Fellowship was established in 2014 in memory of Dr Gavin Wallace who dedicated his entire professional life to supporting Scottish literature. Following the sad loss of Dr Wallace in February 2013, Creative Scotland established an annual fellowship in his name to honour his memory and commemorate and continue his good work. The fund is supported by The National Lottery through Creative Scotland.
The National Lottery has raised more than £42 billion for over 625,000 good causes across the UK since 1994. Thanks to National Lottery players, more than £1.2 billion has been awarded in the last year to support communities and thousands of organisations across the UK to cope with the impact of the Coronavirus pandemic. https://www.national-lottery.co.uk/ 
Creative Scotland is the public body that supports the arts, screen and creative industries across all parts of Scotland distributing funding provided by the Scottish Government and The National Lottery. Further information at creativescotland.com. Follow us on Twitter, Facebook and Instagram. Learn more about the value of art and creativity in Scotland and join in at www.ourcreativevoice.scot.