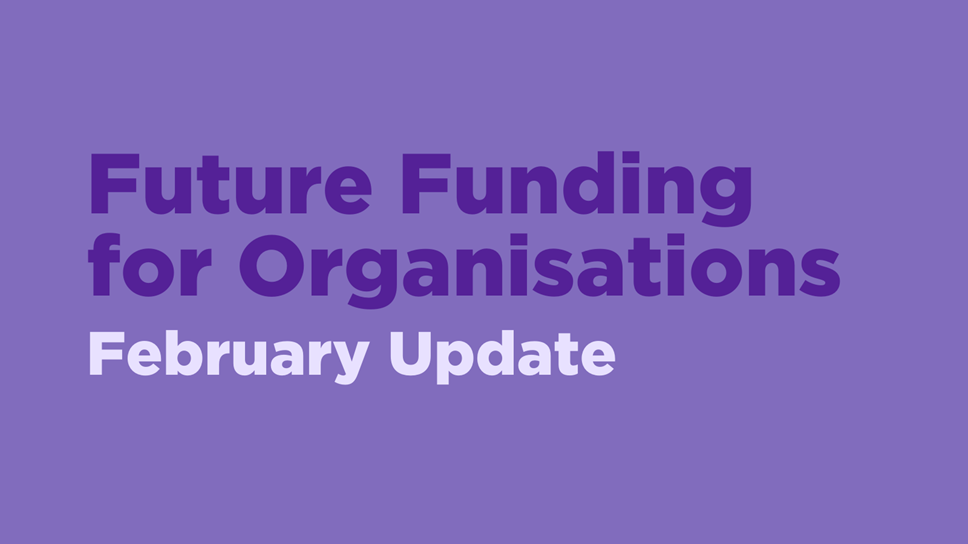 Future Funding for Organisations February Update
Future Funding for Organisations: February 2022 Update from Creative Scotland
This is an update on our work to develop the Future Funding Framework, including Multi-Year Funding and the revised Open Fund for Organisations, following on from our previous update, provided in October 2021: Future Funding for Organisations - October Update | Creative Scotland
Since that time, it has been necessary for Creative Scotland to focus on the delivery of £53.5m in emergency funding from the Scottish Government to help the culture and creative sector address the ongoing impact of the Covid-19 pandemic and the accompanying public health restrictions.
This has been our priority over the past few months and will continue to be our focus into the start of the new financial year, as we deliver the last of the emergency fund packages.
What this means is we have, necessarily, had to pause our work on the Future Funding Framework and revisit the possible delivery timescales, in line with our staff capacity and resources available. As a result, we will not be in a position to publish details of the new framework in the timescales set out in our update in October.
However, as the requirement to deliver comprehensive emergency funding recedes, alongside the lifting of Covid restrictions, we will return our focus to the development of the Future Funding Framework in the Spring and provide a further update then.
We will continue developing plans for implementation through Summer 2022 and aim to be in a position to begin introducing the new approach to multi-year funding from Autumn 2022. We will continue to work on the revised Open Fund for Organisations and will provide further details on when that will launch, in our next update also.
As a new development since our October update, this revised timetable will also helpfully enable us to understand the outcome of the Scottish Government Multi-Year Spending Review, expected to conclude at the end of May, giving us budget planning confidence for the immediate years ahead.
It is important to note that the principles and aims of the new funding approach remain the same as communicated in our previous update in October 2021, and as we introduce the new approach, we will ensure that the transition is as smooth as possible.
Organisations currently in receipt of Regular Funding will continue to be supported (subject to available budget) to help enable that transition, to the end of March 2024 at a minimum.
We will also ensure that organisations interested in multi-year funding in the future are not disadvantaged and have continued access to existing funding routes, such as through the revised Open Fund when launched.
We will issue regular progress updates over the coming months so that all interested organisations can remain fully informed, and we will also schedule information sessions on the new approach in the Summer.
In the meantime, any questions should be directed to colleagues in our Enquiries service who will collate questions and respond when the detail is available and as the work progresses.
ENDS
Media Contact:
Wendy Grannon Media Relations and PR Manager, Creative Scotland
Wendy.Grannon@CreativeScotland.com / ++44 (0)7916 137 632
Contact Information
Olivia Carr
Media Relations & PR Coordinator
Creative Scotland
0141 302 1708
07970 962 322