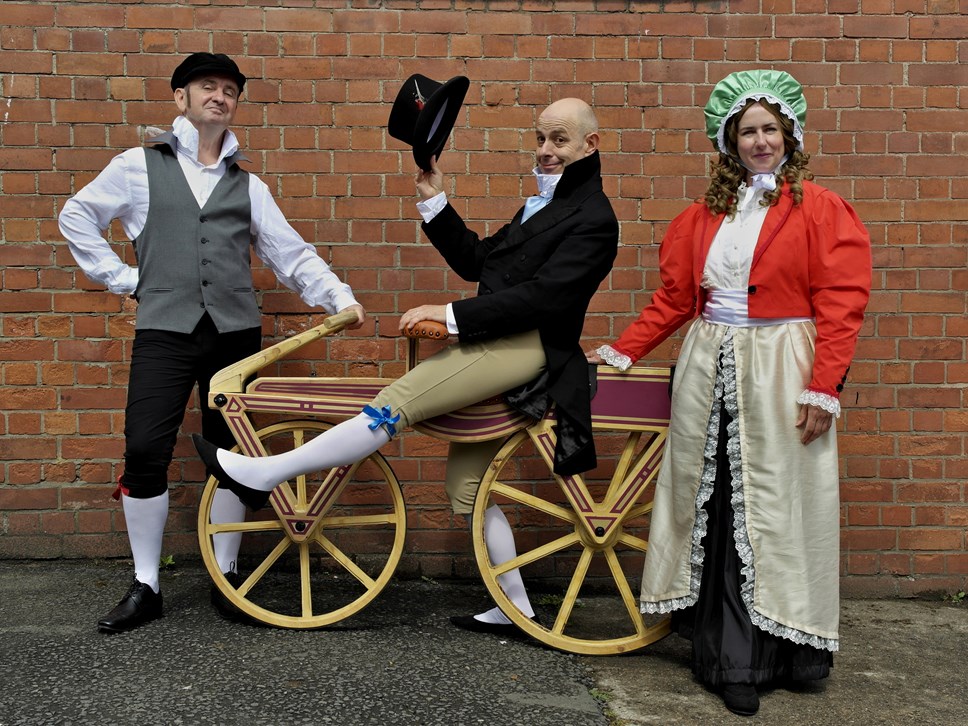 Freewheeling Summer Fun
58 creative projects receive over £1,368,000 in latest round of Creative Scotland's Open Fund
"A most marvellous invention. A veritable two-wheeled wonder! A transportational trailblazer! A first-class ticket to freedom! The world's two wheeled mechanical marvel"...the humble bicycle...is at the heart of a joyful, silly, absurd new piece of street theatre, The Reinvention of the Bicycle from live performance aficionados, Future Follies.
"We think it might just change the world!", exclaims Future Follies' ring master, Bruno Gallagher, "With the help of our hand-crafted, historic bicycle, our time travelling trio are preparing to entertain and inform audiences on all manner of bicycle related wit and wisdom.
"On a serious note, the simple act of cycling can help improve our health and well-being and play a vital role in environmental sustainability and we're so glad to be working with our friends at Bikes for Refugees, Critical Mass Edinburgh and The Edinburgh Festival of Cycling to take our show on the road."
Ready to freewheel their way to festivals and events this summer, the trio's latest outdoor, free and unexpected community performances are all ready to roll at Bridgend Farmhouse community-owned centre for learning, eating and exercise; as part of the Edinburgh Festival of Cycling, and Glasgow's Merchant City Festival.
Future Follies is among 58 creative practitioners, organisations and projects receiving a total of over £1,368,399 in the latest round of Creative Scotland's Open Fund. At a glance:
Stirlingshire's Doune the Rabbit Hole festival, taking place in partnership with ground-breaking new artists and champions of creative social inclusion, 14-17 July
Scottish rap artists showcase at Europe's biggest conference of urban music, New Skool Rules Netherlands, 7-9 October
The return of BUZZCUT, Glasgow's festival of live art, including the Double Thrills monthly performance programme
Pianodrome's brand new, bespoke 78-seater amphitheatre, constructed entirely from upcycled pianos, at the Old Royal High, Calton Hill, as part of a three-month Resonancy
Paul Burns, Interim Deputy Director of Arts & Engagement at Creative Scotland said: "Thanks to the generosity of National Lottery players, who raise over £30 million for good causes across the UK every week, this month's round of Open Fund funds a variety of fun, innovative and thought-provoking projects, raising important questions on topics affecting our society."
The full list of Open Fund recipients in this round is available on the Creative Scotland website.
Contact Information
Olivia Carr
Media Relations & PR Coordinator
Creative Scotland
0141 302 1708
07970 962 322
Notes to editors
Creative Scotland is the public body that supports the arts, screen and creative industries across all parts of Scotland distributing funding provided by the Scottish Government and The National Lottery. Further information at creativescotland.com. Follow us on Twitter, Facebook and Instagram. Learn more about the value of art and creativity in Scotland and join in at www.ourcreativevoice.scot
Image credit: Bruno Gallagher via Future Follies.