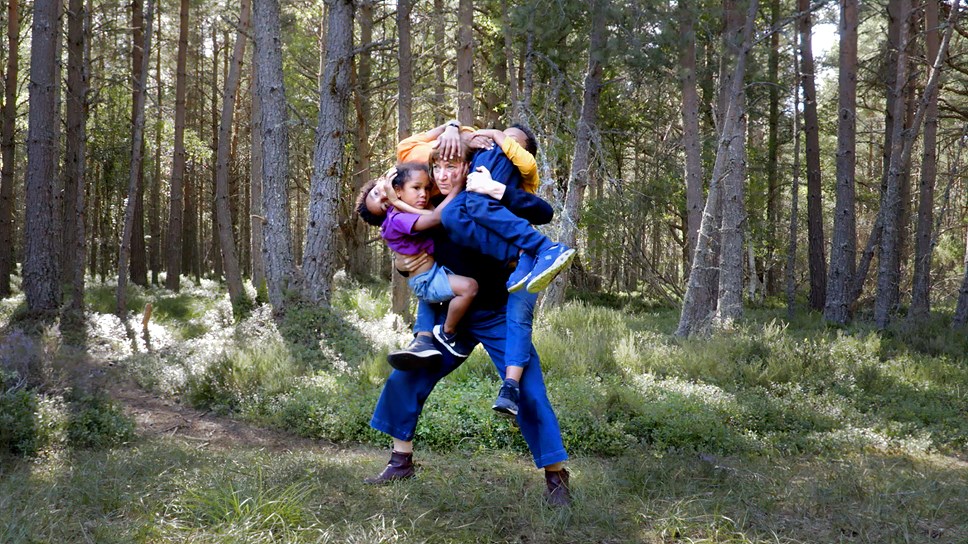 Fair Work Innovation for Caregivers
Six creative organisations and businesses across the country are piloting new initiatives to improve working conditions for people with caregiving responsibilities in the arts, screen and creative industries.
Projects are receiving grants of up to £15,000 from The National Lottery through Creative Scotland's Radical Care action research programme.
The funding will see Highland creative writing centre Moniack Mhor, Aberdeenshire production facility, Scottish Sculpture Workshop, in partnership with Glasgow-based contemporary music festival Counterflows and Arbroath contemporary art facility Hospitalfield offer residency opportunities for artists and creative practitioners with caregiving responsibilities.
Edinburgh based Puppet Animation Scotland will create opportunities for freelance creatives including care givers to work with the organisation enabling both them and the senior leadership team to balance caregiving responsibilities with programming duties.
Glasgow based contemporary dance company Barrowland Ballet will test the implementation of bespoke "Care Riders" for those with caring responsibilities to identify and articulate their needs. A range of provisions such as adjustments to working roles, shared responsibilities, childcare, and domestic support will be tested in order to increase understanding and destigmatise the communication of these needs.
While Glasgow based dance company The Work Room will offer a programme of peer support including workshops, networking and advisory sessions for artist-parents who are at the stage of 're-emerging' into their working practice as freelance dance artists, after taking time away to care for children.
Creative Scotland's Ashley Smith-Hammond said: "The pandemic has highlighted the pressure on carers, with gendered patterns of working becoming even more acute.
"The Radical Care initiative is a necessary intervention to support changes in the creative sector, which has known challenges around unsocial working hours, fluctuating patterns of work and higher than average levels of freelancing.
"All of these elements combine to create barriers for people working in the arts, screen and creative industries to manage work and care responsibilities.
"This funding will provide caregivers the time and space to progress their work in residencies and programmes tailored to their needs and enable the sector to rethink fair working systems and improve peoples' work/life balance.
"Learning from the projects will be shared so that the impact can be understood by a wider range of people and organisations."
Creative Scotland in partnership with Parents and Carers in the Performing Arts (PiPA) will host an online event on Wednesday 9 February, 10:00 – 11:30am, for those working in the performing arts to learn more about their work in supporting people with caregiving responsibilities in the arts, screen and creative industries. Read more about the event and book your free place online.
This initiative represents one of a series of measures being put in place to improve fair working practices and opportunities across the creative sector.
Creative Scotland has commissioned Culture Radar to undertake research into Fair Work in the arts, screen and creative industries. The results of this project will inform Creative Scotland's future policy, helping to create the conditions for more meaningful and sustainable opportunities for work in Scotland's creative and culture sectors.
Contact Information
Olivia Carr
Media Relations & PR Coordinator
Creative Scotland
0141 302 1708
07970 962 322
Notes to editors
Full information about the Radical Care Fund including criteria and application details can be found on the Creative Scotland website. The total budget for the Radical Care Fund is up to £75,000. Applications opened at 2pm, Tuesday 2 November 2021 with a deadline of 2pm, Friday 26 November 2021.
Parents and Carers in the Performing Arts Covid Report revealed that 72% of parents and carers are considering abandoning their career in the performing arts due to the challenges they face. Women are 50% more likely than men to be uncertain about their futures in the sector.
In 2019, Creative Scotland launched Radical Childcare, a project developed in response to evidence from Creative Scotland's report Understanding Diversity in the Arts (2016), which cited childcare and caring responsibilities as a barrier to working in the arts and creative industries. Full findings from the research are available on the Creative Scotland website.
Building on the Scottish Government's focus on Fair Work in the 2021-22 Programme for Government , Creative-Scotland's Annual Plan 2021 22 (p8) outlines key development activity around Fair Work in 2021/22 including:
Strengthening Fair Work criteria across all our funding programmes
Commissioning of Fair Work and Workforce Development Research to inform a detailed action plan
Publishing of a Best Practice Guide to Recruitment, including entry routes and volunteering
The National Lottery has raised more than £41 billion for more than 565,000 good causes across the UK since 1994. Thanks to National Lottery players, up to £600 million has been made available to support people, projects and communities throughout the UK during the Coronavirus crisis.  https://www.national-lottery.co.uk
Creative Scotland is the public body that supports the arts, screen and creative industries across all parts of Scotland distributing funding provided by the Scottish Government and The National Lottery. Further information at creativescotland.com. Follow us on Twitter, Facebook and Instagram. Learn more about the value of art and creativity in Scotland and join in at www.ourcreativevoice.scot
Image credit: Barrowland Ballet presents Family Portrait. Image by Robbie Synge.