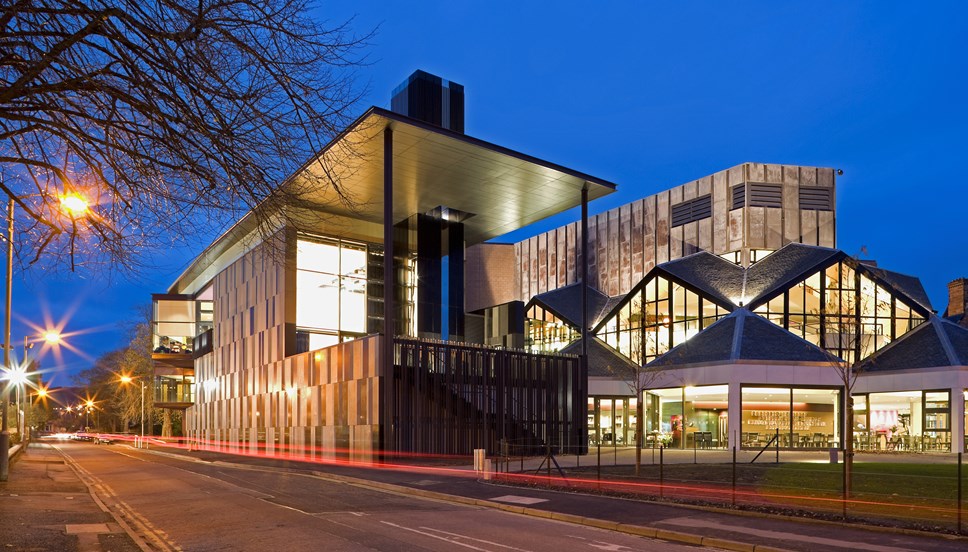 Emergency Scottish Government relief funds to support performing arts venues reach the Highlands and Islands
Designed to support performing arts venues that cannot yet re-open due to the ongoing impact of the Covid-19 pandemic, the fund is helping to:
remove the threat of insolvency prior to the end of March 2021 to enable the development and delivery of activity as soon as practicable
allow for specialist / core staff to return from furlough or avoid redundancy to work on future sustainable activity plans
increase commissioning and employment opportunities for freelance artists and creative practitioners (between now and end of March 2021) to support continued public engagement while closed.
James Mackenzie-Blackman, Chief Executive, Eden Court, said:
"This investment from the Scottish Government and Creative Scotland indicates the vital role Eden Court plays in the creative and cultural life of the Highlands. We are relieved and grateful. Over the coming weeks we will share more on how we will use the funds to stabilise the organisation, reimagine our business model and provide opportunities for freelance and independent artists."
Culture Secretary Fiona Hyslop said:
"Theatres and performing arts venues are vital to individuals, communities and our country. Our performing arts venues effectively had to close overnight, with an almost complete loss of income. There is no doubt that in doing so they saved lives, and for that I am extremely grateful.
"We know the impact of this crisis will be long-term so ambitious action to support the future of these organisations, as well as our wider cultural infrastructure, is key. This funding will be a vital lifeline to help performing arts venues continue to weather the storm."
Recipients of the second strand of the Performing Arts Venues Fund, an open fund of £5m, will be announced in due course.
Iain Munro, CEO, Creative Scotland said:
"There are significant challenges facing Scotland's culture sector, due to the ongoing Covid-19 pandemic. This funding for performing arts venues is much needed and will help organisations tackle these challenges but we are aware that budgets are finite and it is not possible to provide financial assistance to every organisation through this route at this time.
"The Covid-19 emergency funds announced for the culture sector so far are not, by any means, the end of the support to be offered and there will be more announcements to come, not least in terms of how the £97m Scotland has received for culture and heritage as a result of the UK Government's funding package is to be applied. The precise nature of this is still being determined and, beyond what has already been made available, Creative Scotland is working closely with the Scottish Government to actively discuss further support for the culture sector, including for those who may not have received funding previously."
Image: Eden Court. Credit: Keith Hunter
Contact Information
Katya Speight
Media Relations & PR Co-ordinator
Creative Scotland
01413021743
Notes to editors
1. Awards made to Eden Court and An Lanntair from the first strand (£7.5m) of the Scottish Government's Performing are as follows:
Eden Court: £750,000
An Lanntair: £100,000

2. Full details on the £12.5m Performing Arts Venues Relief Fund, including all twenty venues to have received support from the first strand, can be found here. Allocation of this fund is as follows:
£7.5m targeted funding for performing arts venues in Scotland currently in receipt of Regular Funding through Creative Scotland. More information about the Regular Funding Network 2018-21 can be found here.
£5m open fund for application from Scotland based performing arts venues not currently in receipt of Regular Funding. This open fund has been developed with input from the Federation for Scottish Theatre
3. Further details about COVID-19 funding and resources can be accessed via the FindBusinessSupport.gov.scot website, and through Creative Scotland's Resource Directory for COVID-19.
4. On Sunday 5 July 2020, the UK Government announced £97million funding for Scotland's culture and heritage sector. On Thursday 9 July 2020, the Scottish Government announced a separate £2.2m fund specifically aimed at independent commercial music venues. On both of these, we are working with the Scottish Government and the sector as regards how funding will be accessed, with more details to follow.
5.The Performing Arts Venues Relief Fund is an important part of Creative Scotland's ongoing response to the country's creative community as a result of the immediate impacts being felt due to the COVID-19 outbreak:
6. Creative Scotland is the public body that supports the arts, screen and creative industries across all parts of Scotland on behalf of everyone who lives, works or visits here. We distribute funding provided by the Scottish Government and The National Lottery. Follow Creative Scotland:
Twitter:https://twitter.com/CreativeScots
Facebook:facebook.com/CreativeScotland
Instagram:www.instagram.com/creativescots