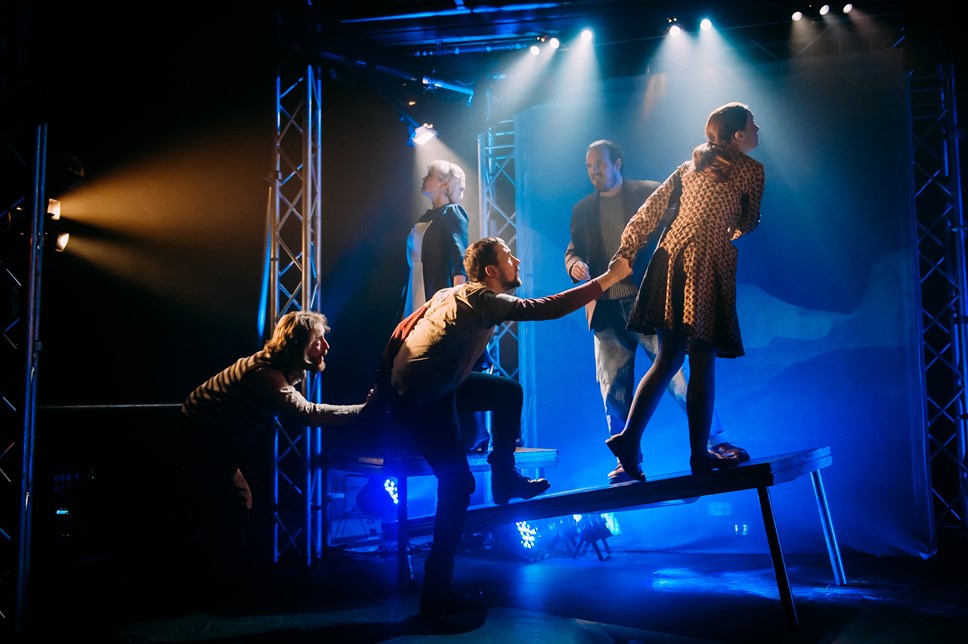 Creative Scotland's Gaelic Language Plan
Creative Scotland has published its Gaelic Language Plan, detailing commitments for support of Gaelic language and culture across the arts, screen and creative industries over the next three years. https://www.creativescotland.com/resources/our-publications/plans-and-strategy-documents/gaelic-language-plan
The organisation's second Gaelic Language Plan 2019-22 builds on existing support for Gaelic language and culture and sets out how the organisation and the people and organisations it supports will help deliver the aims set out in the National Gaelic Language Plan 2018 – 2023.
Mairi Kidd, Interim Head of Literature, Languages & Publishing, Creative Scotland said:
"We're pleased to publish this plan during the 2019 UNESCO International Year of Indigenous Language - an important platform for us to acknowledge and promote the importance of Gaelic within Scotland's cultural and creative landscape.
"Gaelic language and culture form a key part of Scotland's identity, and of our diversity and distinctiveness. With the support of Gaelic-speaking specialist staff we support the work of organisations and individuals in the Gaelic arts across all artforms, on screen, in the creative industries and through our funding programmes.
"We've recently provided funds to ring-fence a Weston Jerwood Creative Bursary for a Gaelic speaker – the programme aims to transform the leadership potential of the next generation of artists, curators, producers and creatives from under-represented backgrounds. We're also working on a new programme which creates new training opportunities for Gaelic-speaking arts critics. We look forward to saying more about both opportunities within the coming months." .
Deputy First Minister John Swinney said: "I welcome the engagement and support for Gaelic outlined in Creative Scotland's Language Plan. Gaelic is flourishing in the cultural activities that take place across the country and Creative Scotland has an important role to play in supporting the language."
Ends
Contact Information
Claire Thomson
Media Relations & PR Officer
Creative Scotland
+44 141 302 1708
07747606146
Notes to editors
Image Credit - Shrapnel, Theatre Gu Leòr. Photo: Le Mihaela Bodlovic
About Creative Scotland's Support for Gaelic
Creative Scotland supports the development and promotion of Gaelic language and culture through funding, advocacy and through its operations. Creative Scotland will continue to support Gaelic, helping promote awareness of the language, increase learning of the language and increase its use.
The promotion of Gaelic language and traditional culture is core to work of funded organisations such as TRACS (Traditional Arts and Culture Scotland, including the Scottish Storytelling Centre), Fèisean nan Gàidheal, An Lanntair, Taigh Chearsabhagh Trust, The Gaelic Books Council, The National Piping Centre, Fèis Rois, Celtic Connections, Hands up for Trad, the Scottish Poetry Library, Playwrights Studio, the Scottish Book Trust and a host of other organisations whose work supports Gaelic language, and Gaelic artists, as part of what they do. Individual artists and musicians are supported through Project Funding to create, record and distribute new Gaelic material – for example Mary MacMillan recently received support to record an album of traditional Gaelic songs.
Funding has been dedicated to enable a Gaelic speaker to participate in the Weston Jerwood Creative Bursary programme, which aims to transform the leadership potential of the next generation of artists, curators, producers and creatives from under-represented groups. Creative Scotland is also set to announce an exciting new training opportunity for Gaelic-speaking arts critics.
Scotland's Gaelic and traditional artists are ambassadors for Scotland across the globe. Creative Scotland supports traditional musicians, with Gaelic as a key part of that, to showcase their work internationally through the highly successful Showcase Scotland initiative at Celtic Connections and at international festivals such as Lorient in France and WOMEX, the world music showcase.
In Screen, Gaelic language is supported through Gaelic language TV and initiatives such as Film G. Creative Scotland has a very positive and productive relationship with MG Alba, including co-funding the returning drama 'Bannan' and documentary productions such as 'Hamish' and 'An Drochaid – the Bridge Rising' and works with MG Alba on major events such as the annual Trad Awards and Celtic Connections.
About Creative Scotland
Creative Scotland is the public body that supports the arts, screen and creative industries across all parts of Scotland on behalf of everyone who lives, works or visits here. We enable people and organisations to work in and experience the arts, screen and creative industries in Scotland by helping others to develop great ideas and bring them to life. We distribute funding provided by the Scottish Government and the National Lottery. For further information about Creative Scotland please visit www.creativescotland.com. Follow us @creativescots and www.facebook.com/CreativeScotland