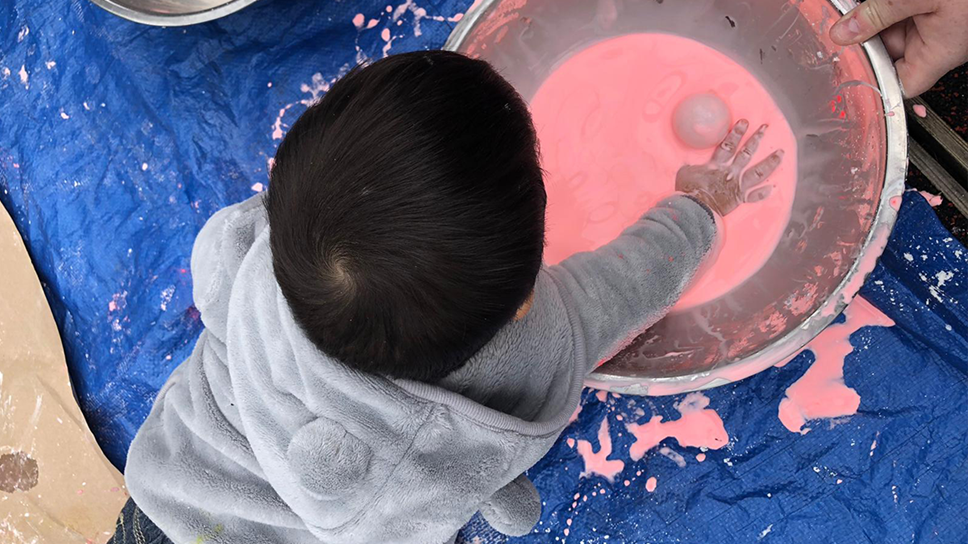 Creative approaches to improve wellbeing of children and young people in East Renfrewshire schools
Creative Scotland and Education Scotland today, Thursday 11 November 2021, outline a refreshed Action Plan to embed creativity at the centre of Scottish education and adopt a collaborative culture to empower more learners to grow skills and confidence through creative activity.
With learners' mental health and wellbeing a key priority of the Action Plan, Creative Scotland and Education Scotland also confirmed over £80,000 Creative Wellbeing Funding to school groups and creative partners to enable them to work together to find innovative solutions to increasing learner wellbeing.
Artist collective, Culture Junction will work with schools in East Renfrewshire to support learners through commissioned creative programmes.
Karen Hunter, Depute Head Teacher, St Luke's High School  in East Renfrewshire said: "We are looking forward to working with our partner, Culture Junction, in the production of drama, music and art pieces to promote and support the Health & Wellbeing of our young people. Pupil Voice will be at the heart of the project as they will be involved in all aspects from scripts, performing, musical choice, design and promotion. It is an exciting project to be part of and we are excited about the year ahead." 
Kat Wilson of Culture Junction commented: "Culture Junction are delighted to be working with St Luke's High School and cluster primaries. Our first step is to form a steering group of St Luke's pupils, who will advise us on some of the issues affecting young people at their school and help us to shape the project. Pupils will be able to participate in a variety of ways- primarily by taking part in arts workshops, but we also hope to create smaller, subtler ways to engage, so that all pupil's voices can be heard."
Iain Munro, CEO of Creative Scotland said: "Creative thinking and activities make an invaluable contribution to the health and wellbeing of children and young people – both physically and mentally. Alongside social benefits and life skills, they can help children and young people deal with feelings of anxiety, isolation and stress, which is crucial during the ongoing pandemic.
"Artists and creative practitioners offer unique skills in creative facilitation that can help shape conversations and deal with difficult situations, giving a central voice to children and young people. Our partnership with Education Scotland reinforces the importance of the arts and creativity to the country's future as we emerge through the pandemic."
HM Chief inspector and Chief Executive of Education Scotland, Gayle Gorman welcomed the new agreement and said: "Since 2015, our partnership with Creative Scotland has gone from strength to strength and I am delighted that we are now committed to working together for at least another three years.
"Our shared vision - to ensure the system can enable everyone to recognise, develop and apply their creativity in an increasingly complex and fast-changing world - continues to gain pace and increase the amount of creative learning opportunities for children and young people in Scotland.
"At present, creativity plays a key role across the education recovery agenda and it is so important that every child in Scotland gets the chance to find, use and develop their creativity through learning.
"Working together, we are hopeful that more and more of our children and young people have inspired learning experiences that not only support their health and wellbeing but ensure they are empowered, creative and confident."
Contact Information
Sophie Bambrough
(+44) 07747 606 146
Notes to editors
Image credit: Paint Joy at Starcatchers' Expecting Something session.
About the Action Plan
Scotland's Creative Learning Plan was first published in 2013, setting out a shared vision for the importance of creativity in education and as a result we have seen growth in a shared language and common understanding of creativity and creativity skills.
The landscape is now very different, and the impact of COVID-19 has required a rapid rethinking of Scotland's education, skills employability and careers provision. We therefore believe that the Plan is more important than ever and have refreshed the vision to ensure the Scottish education system enables everyone to recognise, develop and apply their creativity to ensure they thrive in an increasingly complex and fast-changing world, with 3-year outcomes committing to:
Creativity embedded in curriculum design
Learners' mental health and wellbeing is improved
Learners confidently applying creativity skills in all contexts
Learners directly influencing their own creative learning
Quality cultural experiences accessible to all learners
About the Creative Wellbeing Fund
Schools and funded early learning and childcare providers were invited to apply for this unique funding opportunity in June. A call out for creative partners to collaborate with the selected schools with expressions of interest was issued in August 2021.
Six grants of £13,500 have been awarded to regional networks of schools across the country to work together with a creative partner to find innovative solutions to increasing learner wellbeing and a wider sense of achievement. For further information please visit Education Scotland's website
Projects also include:
The programme will see The Book Whisperers give voice through story-telling to young people across West Lothian secondary schools.
Seven Fife primary schools working with creative learning and cultural education hub, Articulate
Impact Arts with schools in North Ayrshire use poetry to understand the negative impact that social media can have on youngsters and feelings of isolation experienced throughout the pandemic.
Visual artist and filmmaker Helen McCrorie working with schools in Angus to enhance wellbeing through ambitious and innovative development of school grounds.
Trail blazing Starcatchers working with Argyll and Bute primary schools and Gigha's Coastal, Countryside and Community Nature Reserve to create change through engagement in intergenerational and inclusive arts practice.
About Creative Scotland
Creative Scotland is the public body that supports the arts, screen and creative industries across all parts of Scotland distributing funding provided by the Scottish Government and The National Lottery. Further information at creativescotland.com. Follow us on Twitter, Facebook and Instagram. Learn more about the value of art and creativity in Scotland and join in at www.ourcreativevoice.scot
About Education Scotland
Education Scotland is an executive agency charged with supporting quality and improvement in Scottish education and thereby securing the delivery of better learning experiences and outcomes for Scottish learners of all ages. A 3—18 Curriculum Impact Report on Creativity defines creativity within the context of Scotland's Curriculum. This report and further information on Education Scotland can be found on https://education.gov.scot/. Follow them on twitter @educationscot.
About the National Lottery
The National Lottery has raised more than £41 billion for more than 565,000 good causes across the UK since 1994. Thanks to National Lottery players, up to £600 million has been made available to support people, projects and communities throughout the UK during the Coronavirus crisis. https://www.national-lottery.co.uk/