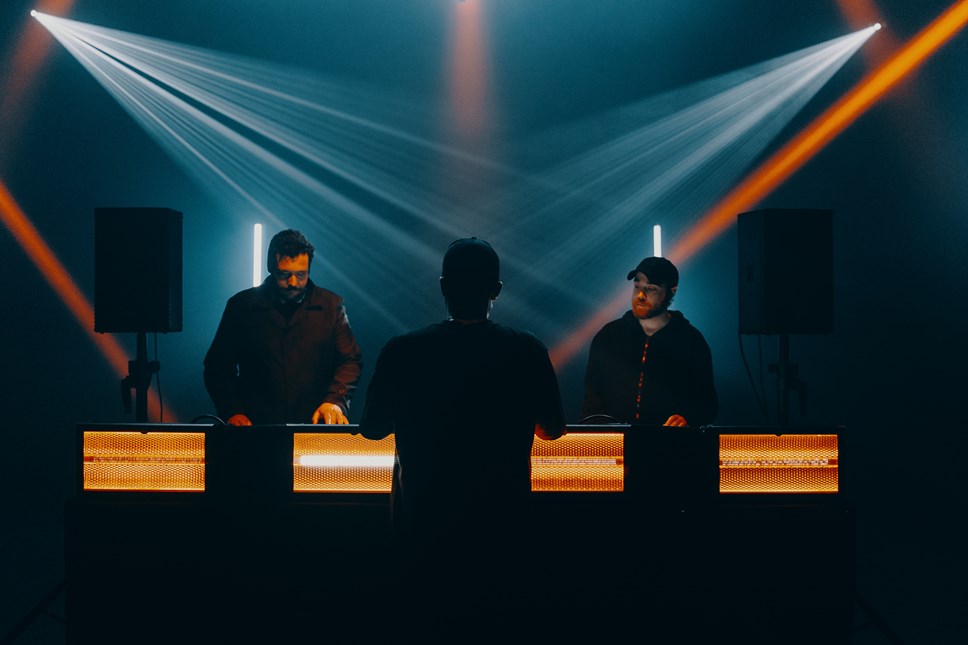 Creating Inclusion
46 groups and individuals receive over £535,200
Improving access to career progression, promoting diversity, and increasing visibility and representation is at the heart of creative work by 46 groups and individuals in the latest round of awards made through Creative Scotland's Create:Inclusion Fund. The fund is supported by the National Lottery.
Coinciding with Pride Month this month, Miss Annabel Sings brings her puppet and human friends together to host The Safe Space Pop Up presents: Queer Joy for Kids with Miss Annabel Sings – a fast paced afternoon of stories, play, song, dress up, puppet shows and dancing for rainbow families with children under 12 and/or who identify as LGBTQIA+. "Everyone deserves to explore who they are and celebrate the joy of being Queer in a safe space," says Miss Annabel Sings.
Shut Up & King's new KINGcubator three-month development programme for emerging drag artists is offering tailored practical help and skills support to ten emerging Scottish drag kings as they work towards debuting stage acts for a New Kings showcase. "Building confidence and capacity is such an important part of the process for breaking into the scene", says Dorian T. Fisk, the creator and driving force behind the project, "we'll be there every step of the way with 1-2-1 mentorship, specialist workshops on topics such as act devising, performance and makeup techniques, costume/prop making and creating music mixes, as well as providing access to professional resources such as accessible rehearsal spaces and a photoshoot, all designed to help maximise their creative potential and increase their confidence and chances of making successful approaches to booking agents and producers." 
Elsewhere, following the award-winning success of Turn The Table's electronic music project The Homelessness DJ Project which supported people facing homelessness in Scotland through a series of DJ workshops, and live performance opportunities. Turn The Tables returns this year with a production-based project that will boost eager participants DJ careers. Taking in all genres of electronic music from Hiphop to dance music, those taking part will work with legendary producer MZ Boom Bap at Turn The Table's studio, working towards producing and releasing their own original music. Each release will come with a PR package that will see participants tracks being spun by club and Radio DJs across the world. "Music production is the next step for any DJ wanting to further their career, and if you can imagine what hearing your own song on the radio would do for your self-esteem it was the obvious next step for our social inclusion-based project and we are so grateful to Creative Scotland for supporting our vision once again" says Robbie Tolson, Turn The Tables Director.
Providing a vital opportunity for Scottish artists identifying as Black, POC or African/Caribbean, the Project X Artist Voice Residencies will support their professional and creative development through a four-week long residency. This is part of the Artist Voice programme which, through different projects, works to amplify and support artists working with dance and movement of the African Caribbean Diaspora. Project X commented: "The residency will include dedicated studio time to enable the artists to research and develop new performance work as part of the Project X Choreographic Platform."
"It's 2099 and all disabilities have been 'phased out' in society. A young woman unearths the story of her great-great-grandmother, who was a wheelchair user with Cerebral Palsy in the early 2000s. Phased Out is a play set in the future based on playwright, Janice Barbour's own lived experience. "The play seeks to tell not only my own but the stories of many other people with Cerebral Palsy – so under-represented on stage and screen. Nobody would ever know our stories otherwise." Barbour says. "As I have limited vocal abilities, the set will be dominated by large-scale projections, movement and archival boxes containing my life in photographs, letters, sounds and videos, challenging the audience to ask!. I am super excited and happy to have been awarded the Creative Scotland Grant and cannot wait to start on the journey to my dream"
The full list of recipients in this round of Create:Inclusion funding, totalling £535,230 can be found on the Creative Scotland website.
Iain Munro, CEO of Creative Scotland said:
"This fund is an important step towards creating more accessible entry to, and progression of careers through the arts and creative industries ensuring a more diverse range of people and communities see themselves better reflected across the cultural life of Scotland."
Contact Information
Sophie Bambrough
(+44) 07747 606 146
Notes to editors
1.Create:Inclusion fund guidance can be accessed on the Creative Scotland website.
Create:Inclusion prioritises the professional and creative development of applicants who self–identify as sharing one or more protected characteristics defined by the Equality Act 2010, and projects from groups or organisations which are either minority-led or which focus on working with and for those who share one or more protected characteristics. The Equality Act 2010 covers nine protected characteristics: age, disability, gender reassignment, marriage and civil partnership, pregnancy and maternity, race, religion or belief, sex, sexual orientation.
This is the third round of awards made through the Fund. Round 1 was awared in May 2019; Round 2 was awarded in July 2020.
Image credit: Image via Turn The Tables.