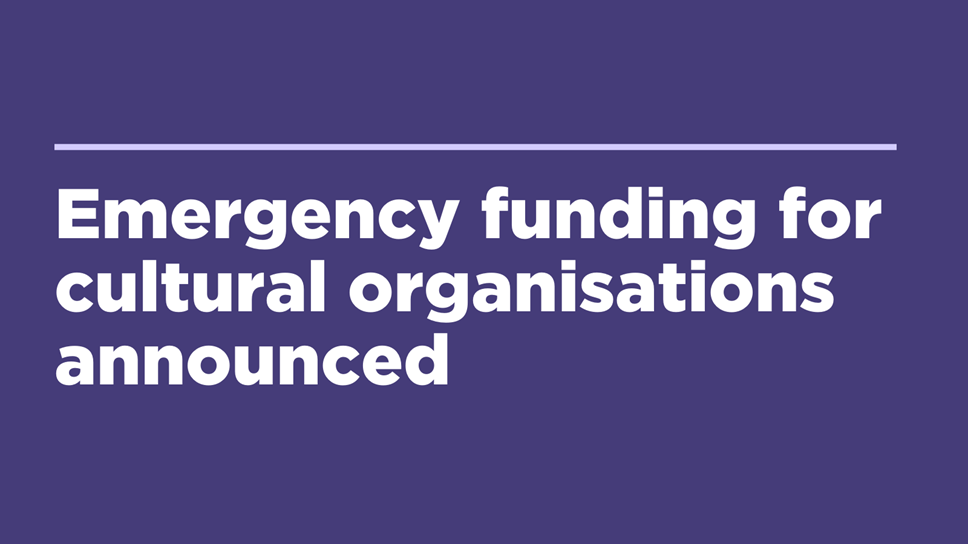 COVID emergency funds for culture
Creative Scotland welcomed the Culture Secretary, Angus Robertson's announcement on Monday 3 January of £31.5m in funding support for Cultural Organisations. This funding is specifically for organisations which have lost income due to cancellation or deferral of performances or cultural activity as a result of the necessary steps taken to mitigate the impacts of the Covid-19 pandemic.
Today, 13 January, we can confirm that guidance for the Cancellation Fund for Cultural Organisations will be published at 2pm on Wednesday 19 January. The fund will then open for applications at 2pm on Wednesday 26 January and payments to organisations will begin from 31 January.
£25m has been allocated to the Cancellation Fund for Cultural Organisations, with the remaining £6.5m being held in reserve for further sector recovery, including for independent cinemas, details of which will be made available over the coming weeks.
This follows on from the £10m Cancellation Fund for Freelancers, which opened for applications on Thursday 6 January, and remains open for cultural freelancers who have lost income due to cancellations, to apply to.
Iain Munro, Creative Scotland Chief Executive, said:
"The winter period is a critical time for many cultural organisations when a significant proportion of their annual income is generated, so this emergency funding from the Scottish Government is a lifeline for them. We are working quickly to make this fund live, which will enable organisations to continue to operate and, importantly, plan ahead for the time when our cultural sector can reopen its doors to audiences across the country."
Contact Information
Olivia Carr
Media Relations & PR Coordinator
Creative Scotland
0141 302 1708
07970 962 322
Notes to editors
Creative Scotland is the public body that supports the arts, screen and creative industries across all parts of Scotland distributing funding provided by the Scottish Government and The National Lottery. Further information at creativescotland.com. Follow us on Twitter, Facebook and Instagram. Learn more about the value of art and creativity in Scotland and join in at www.ourcreativevoice.scot