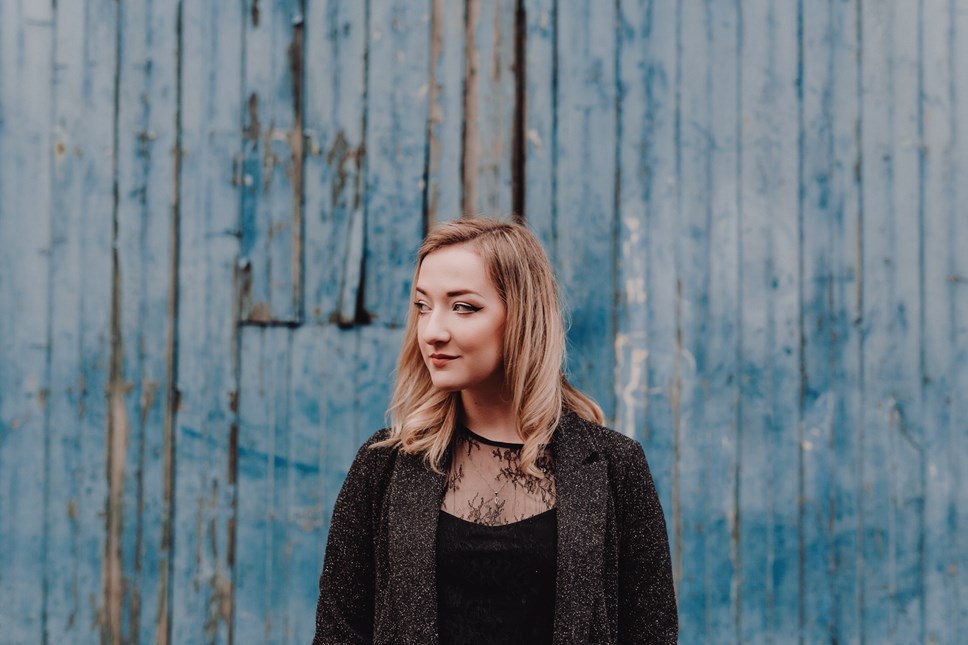 Aberdeenshire folksinger, Iona Fyfe Launches Crowdfunding Creativity Campaign
20 creatives launch new campaigns and bid for up to £10,000 match funding
Award-winning Huntly-born folksinger, Iona Fyfe is raising funds for her second album through a worldwide crowdfunding campaign, thanks to a coaching and match-funding scheme run by Creative Scotland in partnership with Crowdfunder.
Iona is one of twenty projects across the country taking part in the Creative Scotland Crowdmatch programme, which has seen the creatives build their campaigns with coaching support from Crowdfunder over the past four weeks.
Now 'live', once projects raise £1,000 from at least 30 supporters they will receive £1,000 match funding from the National Lottery through Creative Scotland. Further match funding is potentially available, up to a maximum of £10,000 per project, for those that reach additional funding targets, until the total sum available of £75,000 is allocated.
Iona's second album will feature some of Scotland's finest folk musicians and will be produced by Graham Rorie (Gnoss). The album will feature songs from The James Madison Carpenter Collection - folksongs and ballads collected from the North East of Scotland by the American folklorist, James Madison Carpenter.
Donators can opt for rewards such as early release signed CD's, posters, stickers, Scots Language badges, Zoom Singing Lessons, Zoom House Concerts, live show tickets, meet and greets, and the chance to have their name embossed onto the actual album disk.
Iona's album project, if fully funded, will employ over 21 creative freelancers whose income and livelihoods have been severely impacted due to the pandemic. Find out more: https://www.crowdfunder.co.uk/ionaalbum

Fyfe recently made headlines after her success in campaigning for Spotify to add the Scots language to its list of languages.
Commented on the campaign Iona said: "I'm delighted to be in with the chance of accessing match funds from Creative Scotland but need all the support I can get from public crowdfunders first. If you are considering supporting the Crowdfunder, please try to choose your perks and donate within the first few days. This will give me greater chance of raising more funds in the least amount of time and will allow me to access the Creative Scotland match funds. This is just as much about supporting my collaborators by creative employment opportunities as it is about creating a new album."
Jason Nuttall, Programme Director at Crowdfunder said:
"Working with Creative Scotland in 2020 was a very positive experience so we're pleased to be collaborating once again on what is shaping up another fantastic round of crowdfunding.
"We had a huge response to this year's call for entry, with an amazing range of ideas submitted for big and small creative projects across Scotland. Throughout the COVID crisis we have worked with thousands of organisations, so we know that crowdfunding has many positive benefits, even during tough times.
"Good luck to all the entrants, we're looking forward to sharing the highs, lows, and surprises over the coming weeks.
Jackie Stewart, Creative Industries Officer, Creative Scotland said:
"We're delighted to continue working with Crowdfunder to help more creative businesses in Scotland gain a deeper understanding of crowdfunding by giving them the coaching and tools to launch their own campaigns. This is a fantastic opportunity for the projects selected to grow their networks, increase awareness of their work and build stronger connections with their customers and audiences.
"The arts and creative industries have been hit hard by the consequences of the pandemic and crowdfunding offers creative individuals and businesses a viable way to generate the income required for creative projects and to sustain and grow a business.
"Thanks to the generosity of National Lottery players, who raise £30 million for good causes across the UK every week these creative projects will be supported to deliver a fantastic range of work."
Contact Information
Sophie Bambrough
Notes to editors
Image credit: Iona Fyfe by Elly Lucas
Iona won the title of Scots Performer of the Year at the Scots Language Awards in 2020 and was the youngest ever winner of Scots Singer of the Year at the MG ALBA Scots Trad Music Awards in 2018. Find out more: https://ionafyfe.com/
For further information about the Creative Scotland Crowdmatch initiative please visit. Further information and resources on crowdfunding including some of the best creative industry crowdfunding examples can be found on the Crowdfunder website.
Crowdfunder is transforming the way people raise money in the UK for the causes that matter most to them. With a passion for tackling society's challenges, Crowdfunder supports projects that are aiming to make a positive difference in the world. Crowdfunder believes that everyone in the UK is a philanthropist in the making and that they should have the power to make positive change in their communities. Over £130 million has been raised on Crowdfunder by thousands of businesses, social enterprises, charities, community groups, and individuals across the UK. Further information at www.crowdfunder.co.uk
Creative Scotland is the public body that supports the arts, screen and creative industries across all parts of Scotland on behalf of everyone who lives, works or visits here. We enable people and organisations to work in and experience the arts, screen and creative industries in Scotland by helping others to develop great ideas and bring them to life. We distribute funding provided by the Scottish Government and the National Lottery. Further information at www.creativescotland.com. Follow us @creativescots
The National Lottery has raised more than £42 billion for over 625,000 good causes across the UK since 1994. Thanks to National Lottery players, more than £1.2 billion has been awarded in the last year to support communities and thousands of organisations across the UK to cope with the impact of the Coronavirus pandemic. https://www.national-lottery.co.uk/
Media Contact:
Sophie Bambrough, Media Relations & PR Officer, Creative Scotland
M: 07747 606146 | E: sophie.bambrough@creativescotland.com